INTERNATIONALLY RENOWNED VICTORY WORLD CHURCH LAUNCHES: VICTORY WORLD MUSIC
First Project SHAKE HEAVEN Scheduled For Late August Release And Features R&B Legend Montell Jordan

Dove Nominated Recording Artist Beckah Shae And The Victory World Church Worship Team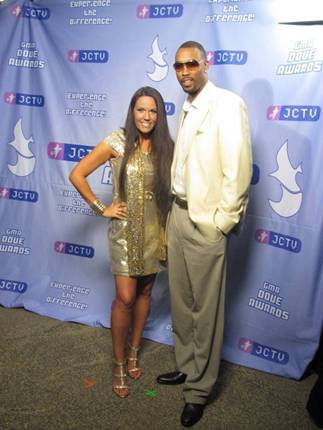 Left To Right: Beckah Shae, Montell Jordan
NEWS SOURCE: Bozeman Media
April 28, 2011
Atlanta, GA (April 27, 2011) ----- One of the nation's fastest growing worship centers, Victory World Church is on an incredible growth track and is internationally active through missions, leadership training and pastoral mentorships. Now Victory World Church will continue this outreach through the power of music with this mission being embraced through the launch of Victory World Music. Senior Pastors Dennis & Colleen Rouse announced today that the new music ministry's debut project is Shake Heaven, which is spearheaded by R&B legend Montell Jordan, worship pastor at Victory World Church. The project will be the church's first studio album with the entire worship team and the title track is the first single that spotlights a duet with Dove nominated recording artist, Beckah Shae and Jordan. The song will be going for adds at radio in mid-May and will be promoted by industry vet, Chris Chicago. The CD is scheduled for release in late August.
"Victory World Church is a place where worship is a lifestyle, therefore the music that comes from here is a reflection of the lives that people are living," says Jordan. "My only objective at Victory and with this project is to create an atmosphere of worship where God truly inhabits the praises of His people."
"Since the very beginning of our church, we've always felt that God would open doors of worship that would cross generational and cultural barriers," says Dennis Rouse, Senior Pastor "and through Montell's leadership, we're seeing that happen with more than 105 nationalities coming together in a worship experience each weekend."
Montell Jordan brings his seventeen years of music business expertise to Shake Heaven, as Jordan was one of the leading R&B artists and producers from 1994 to 2010, when he left the industry to join Victory World Church's worship ministry. Jordan released seven albums between his two record labels, Def Soul and Koch Records, and his mega-hit "This Is How We Do It," garnered one Grammy nomination and two MTV award nominations. Jordan produced such high-profile acts as Deborah Cox, Whitney Houston, Gladys Knight, Boyz II Men, Christina Milian, 98 Degrees, Sisqo', Dru Hill, and appeared in such films as The Fighting Temptations, The Nutty Professor, and Standing In The Shadows Of Motown. He was born in Los Angeles and graduated from Pepperdine University.
Victory World Church is known for its multi-cultural and multi-generational congregation that currently numbers around 9,500 in weekend attendance from over 105 nations. The ministry has expanded with a new satellite campus, Victory @Hamilton Mill in Buford as well as additional church plants in Georgia that include; Victory North in Kennesaw and Classic City Community Church in Athens. Worship is an integral part of the weekly worship service and the styles of music vary from week to week to touch the hearts of all the cultures in attendance. The main campus offers five worship services from Saturday night through Sunday evening which includes a Spanish service, Victory Vida, on Sunday evenings. Spanish translation is available in all services and French translation in the 11:00 am service only.
For more information about Victory World Music please visit online at www.victoryworldmusic.com. Additional information on Victory World Church is available at www.victoryatlanta.com.
#####


[2022]
Jan. | Feb. | March | April | May | June | July | Aug. | Sept. | Oct. | Nov. | Dec.
[2021]
Jan. | Feb. | March | April | May | June | July | Aug. | Sept. | Oct. | Nov. | Dec.
[2001 - 2021]
Visit our complete MUSIC NEWS ARCHIVE