DAVE & JESS RAY'S MUSIC FOR THE RADIO
BRINGS GOSPEL TO SOUTHERN SUDAN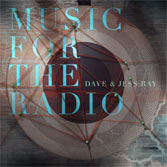 NEWS SOURCE: Turning Point PR
May 3, 2011
HOUSTON— Husband-wife recording duo/worship leaders Dave & Jess Ray emerge with Music For The Radio, a six-song EP releasing May 15, offering hope to the people of Sudan. In partnership with Aid Sudan, all proceeds will go towards purchasing hand-held radios, which will enable people in southern Sudan to access the Gospel, as well as vital community information.
Produced by Scott Williamson (Lincoln Brewster, FFH), Music For The Radio features the debut single, "Better," along with "Into The Night," "Music For The Radio," "Never Gave Up" and "Breathe." All selections were written by Dave Ray, with "Breathe" co-written by Jess Ray.
The thematic centerpiece of the collection, "Asinita," was inspired by the Sudanese woman whose impact on the couple influenced their decision to make a difference in the country. On a mission trip to Sudan in 2008, the Rays visited a village that had been decimated by a tribal raid. Asinita, wife of a local pastor, had material possessions consisting of only six chickens, one of which she gave to the mission team as a parting gift.
"Asinita's sacrifice had a significant impact on us," says Dave. "We started asking the question, 'What would it cost us to give one sixth of everything we own?' We came home hoping to join our music with our love for the Sudanese people."
"It's one thing to say you love, but another to act it out," adds Dave. "There's truth in that, and that's what Christ did for us. He brought light into the darkness and called for us to carry that on. After Sudan, I wanted to say 'yes, I'll do that.' I wanted that to be the album's message to other Christians. It takes the whole Church to bring light into the world."
Aid Sudan's radio station project will potentially impact countless people in southern Sudan. Radios provided through the Music For The Radio campaign will broadcast Gospel messages, Bible stories, and vital community information to people throughout the region. The radios receive signals from Aid Sudan's base in Uganda, relayed throughout southern Sudan via repeater stations. Each hand-held radio costs $20 and can reach 10–15 people.
Based in Houston, Dave & Jess Ray lead worship at Tallowood Baptist Church, where Dave serves as Worship Associate. Dave & Jess Ray's prior recordings include 2008's self-titled debut as well as 2009's The Doorpost Songs: Next Generation.
Music For The Radio is available at www.daveandjessray.com or www.musicfortheradio.org. For further information on Dave & Jess Ray, visit www.turningpointpr.com. For further information on Aid Sudan, visit www.aidsudan.org.
# # #


[2022]
Jan. | Feb. | March | April | May | June | July | Aug. | Sept. | Oct. | Nov. | Dec.
[2021]
Jan. | Feb. | March | April | May | June | July | Aug. | Sept. | Oct. | Nov. | Dec.
[2001 - 2021]
Visit our complete MUSIC NEWS ARCHIVE