THE "NOT A FAN" WORLDWIDE WEBCAST EVENT FROM PASTOR KYLE IDLEMAN OF SOUTHEAST CHRISTIAN CHURCH WITH, SPECIAL GUEST, LEE STROBEL AND A PERFORMANCE BY MARK HALL FROM CASTING CROWNS TO BROADCAST ONLINE, LIVE, ON SUNDAY, MAY 22
"Jesus doesn't want fans. He wants completed committed followers"- Kyle Idleman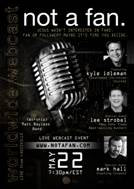 NEWS SOURCE: Rogers & Cowan
May 3, 2011
LOS ANGELES, CA. (May 3, 2011) – Pastor and author, Kyle Idleman will hold a live webcast and audience event from the well known, 29,000 member, Southeast Christian Church in Louisville, KY on Sunday, May 22, to share the message of "Not a Fan," which has been made popular through his messages, DVD teaching series and new book releasing on May 31 through Zondervan (ISBN: 0310331951). The event is in reaction to a growing movement in churches across the nation as congregations declare that they are "Not a Fan" of Jesus. The night will also include a personal message from New York Times bestselling author, Lee Strobel, and a special performance of "Until the Whole World Hears" by Mark Hall of the Grammy Award-winning band "Casting Crowns."
With the "Not a Fan" movement, Kyle is addressing the celebrity-driven fan culture that is permeating Christianity. The word "fan" is defined in the dictionary as "an enthusiastic admirer," but Kyle preaches that Jesus isn't interested in fans that push the 'like' button on Christianity – Jesus wants completely committed followers. Using the passage in Luke 9:23, of Jesus' invitation to follow Him, Kyle challenges his audience to ask themselves, "Am I a fan or a follower?"
"Fans may be fine with repeating a prayer, attending church once a weekend and slapping a Jesus fish on the back of their bumper, but Jesus wanted a deeper relationship that that," preaches Kyle. "Fans don't mind Jesus making some minor change in their lives but Jesus wants to turn our lives upside down. Fans don't mind him doing a little touch up work, but Jesus wants a complete renovation."
WHAT: Worldwide webcast event of "Not a Fan" presented by Pastor Kyle Idleman. Special guests include New York Times bestselling author, Lee Strobel, and Mark Hall from the Grammy Award-winning band Casting Crowns. Matt Bayless Band to lead worship.
WHEN: Sunday, May 22, 2011 at 7:30 – 8:15 p.m. EDT
WHERE: www.notafan.com
Youth groups, families, Sunday night small groups and individuals are invited to log on to www.NotaFan.com on Sunday May 22 at 7:30 p.m. EDT to hear this powerful message that is already moving through churches across America. The "Not a Fan" website will grant access to the entire event as well as an interactive chat room where viewers can discuss their thoughts LIVE at the same time.
Media is invited to attend this LIVE event in person or via the internet. Interviews with Kyle Idleman are available. For more information please visit www.notafan.com or www.facebook.com/notafan
About Kyle Idleman
Kyle Idleman is the Teaching Pastor at Southeast Christian Church in Louisville, Kentucky, the 5th largest church in America, and speaks to over 20,000 each weekend. He is the author and presenter of the award-winning video curriculum series H2O: A Journey of Faith and The Easter Experience. Kyle and his wife, DesiRae, have four young children.
About Lee Strobel
Lee Strobel is an award-winning legal editor of The Chicago Tribune and a New York Times bestselling author. After years of nonfiction bestsellers, he is publishing his debut fiction novel, a legal thriller. Lee is a Yale Law School graduate, accomplished journalist and world-renowned speaker. Visit: www.leestrobel.com
About Mark Hall
Mark Hall is a true storyteller and a teacher with a heart for ministry. He is the lead singer and songwriter for the Grammy Award-winning band Casting Crowns, whose first three albums sold nearly four million copies. He has been in ministry for nearly 20 years and has served at Eagle's Landing First Baptist Church in McDonough, Georgia, for the last eight years. Mark and his wife of 19 years, Melanie, who also serves as Casting Crowns' road manager, homeschool their three children, John Michael, Reagan, and Zoe.
###


[2022]
Jan. | Feb. | March | April | May | June | July | Aug. | Sept. | Oct. | Nov. | Dec.
[2021]
Jan. | Feb. | March | April | May | June | July | Aug. | Sept. | Oct. | Nov. | Dec.
[2001 - 2021]
Visit our complete MUSIC NEWS ARCHIVE