FAMILY FORCE 5 SHOW TO STREAM LIVE FROM WORLD FAMOUS RAVE IN MILWAUKEE ON MAY 13

BAND ON SPRING TOUR DEEMED TOURantula
VANS WARPED TOUR 2011 DATES
NEW LIMITED EDITION EP OUT NOW
NEW STUDIO RECORD COMING THIS SUMMER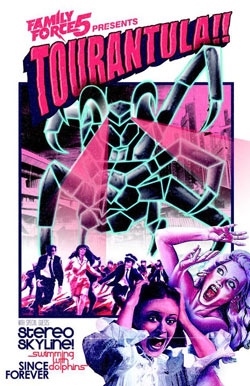 NEWS SOURCE: Independent Music Media
May 4, 2011
Here's your chance to see what all the kids are talking about. Family Force 5 to stream full concert live from The Rave on May 13. Stream will include band interview and full set where Family Force 5 will be playing brand new tracks from their upcoming late summer CD release. The stream is $2.99 if purchased in advance, and $3.99 if purchased day of show. Visit http://www.theravelive.com to be a part of this exclusive event.
TheRaveLive.com has been broadcasting live concerts from The Rave/Eagles Club since 2009, including acts like Shinedown, Hinder, Insane Clown Posse, Rusted Root, Alesana, Fear Factory, Hot Hot Heat, Benni Benassi, Underoath, and many more. "There are fans all over the world that often don't get their favorite band to come to their city," says Tommy Wilde, project manager for The Rave Live. "It's great to have an outlet to bring the live concert to those fans, as well as fans who may have already seen the concert in their city and want to re-live the experience again."
"Thanks to The Rave, all of our fans in the cities we didn't get to hit on this tour will be able to be a part of it. One day when we can magically transfer from city to city without travel we can hit everyone in the world up on each tour, but until then, it's great that we can reach fans via the internet and they can be a part of this epic tour!" - Derek Mount "Chap Stique"
Family Force 5 now on TOURtantula with special guests Stereo Skyline, Swimming with Dolphins and Since Forever (remaining dates below). Band recently released limited edition EP titled 'lll' only available on the Tourantula tour & their online store http://familyforce5.myshopify.com.
Later this summer see the band on Van's Warped Tour 11 from July 20 – August 14.
TOURantula:
5/4 – Highline – New York, NY
5/5 – Trocerdaro - Philadelphia, PA
5/6 – Paradise – Boston, MA
5/7 – Chameleon Club – Lancaster, PA
5/9 – Rex Theater – Pittsburgh, PA
5/11 – Eagle Ballroom – Detroit, MI
5/12 – House Of Blues – Chicago, IL
5/13 – The Rave – Milwaukee, WI
5/14 – First Avenue – Minneapolis, MN
5/15 – Beaumont Club, Kansas City, MO
For more info on Family Force 5, visit the JFH Artists Database.


[2020]
Jan. | Feb. | March | April | May | June | July | Aug. | Sept. | Oct. | Nov. | Dec.
[2019]
Jan. | Feb. | March | April | May | June | July | Aug. | Sept. | Oct. | Nov. | Dec.
[2001 - 2018]
Visit our complete MUSIC NEWS ARCHIVE