"WELL: DONE CELEBRATION"
AT RYMAN RAISES MORE THAN $100,000 FOR ONGOING WORK OF
BLOOD: WATER MISSION IN AFRICA
Platinum Selling Band Jars of Clay Host A Memorable Night of Music
And An Array of Musical Friends.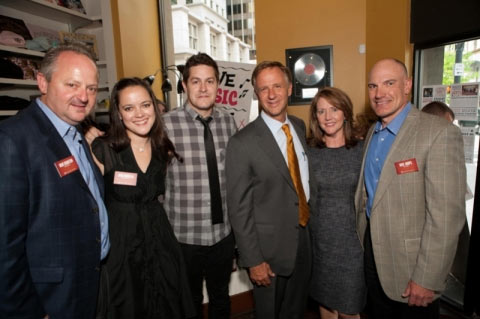 Photo ID: Jars of Clay's Dan Haseltine (third from left) joins in the 'Well: Done Celebration' with (left to right) Rich Hoops, Chairman of the Board of Blood: Water Mission; BWM Director Jena Nardella; Governor & Mrs. Bill Haslam; Mike Hamilton, Althletic Director at the University of Tennessee and BWM Board member.
NEWS SOURCE: Provident Music Group
May 11, 2011
(Nashville, Tennessee) –May 11, 2011 –Blood: Water Mission—the organization that began as the vision of GRAMMY® winning, platinum selling Christian band Jars of Clay's Dan Haseltine to impact Africa with safe water in the fight against HIV/Aids—had reason to celebrate last night (10th) in Nashville. The concert staging of the "Well: Done Celebration" was held in honor of the successful completion of the '1000 Wells Project' now providing fresh water wells in communities throughout Africa and directly providing positive impact to the lives of over 600,000 through the work of Blood:Water Mission. The event held at the historic Ryman Auditorium raised over $100,000 Tuesday night and brought praises from Tennessee Governor Bill Haslam who was on hand for the celebration.
Jars of Clay band members, surrounded by an all-star assembly of musical friends that included pop group sensation, HANSON, Brandon Heath, Derek Webb, Sandra McCracken, Christopher Williams and Charlie Peacock, filled the air of the historic Ryman Auditorium to capacity with music ranging from familiar best selling hits to the resounding exotic African drum beat of special guest artist Eric Wainaina. Organizational guest speakers from Africa and extensive footage of Blood:Water Mission's work on the Sub-Saharan field also highlighted the presentation.
Governor Bill Haslam, on hand with Mrs. Haslam noted in remarks earlier in the evening at a private dinner for organizational donors that his heartfelt support of the ongoing work of Blood: Water Mission pre-dates his current role as Tennessee governor.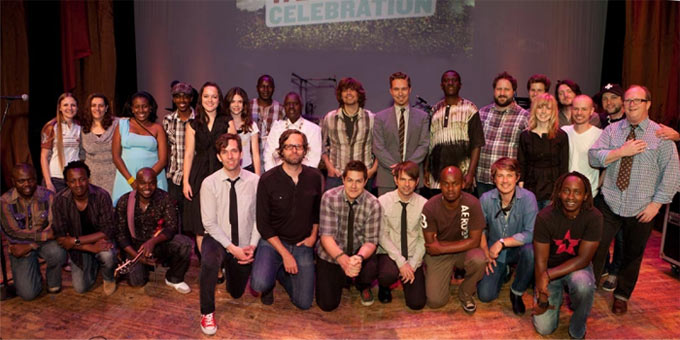 Dan Haseltine of Jars of Clay surrounded with the friends & fellow artists from 'Well: Done Celebration' in Nashville. Included in photo are fellow Jars members Charlie Lowell, Steve Mason and Matt Odmark, HANSON, Eric Wainaina and band, Brandon Heath, Charlie Peacock, Derek Webb, Sandra McCracken, and Blood: Water Mission Director, Jena Nardella.
As a visionary and founder of the organization, Dan Haseltine, surrounded by music and friends beamed from the stage of the Ryman: "The first 1000 wells are only the beginning."
About Blood:Water Mission & The '1000 Wells Project.'
Blood:Water Mission is a non-profit organization based in Nashville, Tennessee established to address the HIV/AIDS and water crises in sub-Saharan, Africa through grassroots efforts. Founded by multi-platinum GRAMMY® Award winning band, Jars of Clay, the Mission began in 2005 as a call to personalize the HIV/AIDS crisis in Africa. After discovering the vital link between those living with HIV/AIDS and how their health is compromised with the lack of clean water, Blood:Water Mission launched the '1000 Wells Project' as a nation-wide effort to provide funds for clean water, hygiene and sanitation to 1000 communities in sub Saharan Africa.
Notes Jars of Clay lead vocalist and Blood: Water Mission founder, Dan Haseltine in talking about the '1000 Wells Project': "As I look back and see how far Blood:Water Mission has come—and how many lives have been impacted—I'm overwhelmed. "We celebrate this milestone but do not consider it a place to pause. Knowing this goal was attainable, compels us even more to tell the stories of our friends in Africa: of their villages being turned around due to the present of a functioning water well; of children who can now read and women who have learned a trade and are able to grow their village's economy, all because they no longer have to walk miles to draw water—what that isn't even safe to drink. We're thankful to all who have joined us in this effort and ask you continued support as we continue to look and march ahead for our brothers and sisters in Africa." (www.bloodwatermission.com)
About Jars of Clay:
Jars of Clay, made up of members Dan Haseltine (vocals), Charlie Lowell (keyboards), Steve Mason (guitars), and Matt Odmark (guitars), launched its breakout career with the multi-format hit "Flood" in 1995. Since then, it has amassed more than 6 million in career sales (5 Gold, 2 Platinum and 1 Double Platinum certification), three GRAMMY Awards (from 8 nominations), an American Music Award nod, six GMA Dove Award nominations, 17 No. 1 radio hits, and numerous film credits and BMI honors for songwriting and performing. The band's GRAMMY-nominated 10th album, The Long Fall Back to Earth, was followed by the recent release of the compelling and community-minded project, Jars of Clay Presents The Shelter. Jars of Clay have headlined thousands of sold-out shows and festivals, and is currently taking the "Shelter Tour" around the country with Matt Maher, Derek Webb and Audrey Assad.
While celebrated for its music and writing, Jars of Clay is most concerned with the needs in Africa. Compelled to make a difference, the group successfully launched the Blood:Water Mission, a non-profit organization promoting clean blood and water in Africa. Since the band's debut, Jars of Clay has built an extraordinary career based on the uncompromising integrity of its music, worldview, and humanitarianism. For more information, please go to www.jarsofclay.com.
# # #
For more info on Jars of Clay, visit the JFH Artists Database.


[2022]
Jan. | Feb. | March | April | May | June | July | Aug. | Sept. | Oct. | Nov. | Dec.
[2021]
Jan. | Feb. | March | April | May | June | July | Aug. | Sept. | Oct. | Nov. | Dec.
[2001 - 2021]
Visit our complete MUSIC NEWS ARCHIVE