BEBO NORMAN DEBUTS MUSIC VIDEO FOR
"GOD OF MY EVERYTHING"
RADIO SINGLE BEGINNING TO CLIMB CHARTS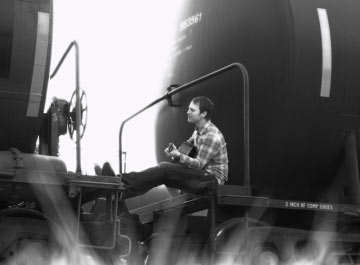 NEWS SOURCE: Overture Media
May 17, 2011
NASHVILLE, TN…MAY 17, 2011...BEC Recordings Bebo Norman is premiering the debut music video from his release Ocean today. The music video for "God of My Everything" can be seen on Bebo Norman's site beginning today along with the story behind the poignant song (http://bebonorman.com/god-of-my-everything/). This radio single is currently climbing the charts as it lands at No. 5 on the Inspo chart and New and Active on AC Indicator this week.
"God Of My Everything," is a prayer inspired by a personal story about his brother's fifteen-year struggle with prescription drug addiction. Bebo wrote this song from his brother's perspective on where to find hope and value - to let God be the God of Everything in our lives. You can also read more about his brother's story as well as more about this song on the site.
Bebo wants people to be able to share their struggles and create a forum where individuals are able to talk about what is his or her 'everything.' On Bebo's site along with the debut of his music video, he invites people to share their story. Bebo asks, "My brother's 'everything' is prescription pills, mine is my questions and doubt, what is YOUR 'everything'?"
In September 2010, Bebo released Ocean as it was touted as his "finest effort" and one of the "top overall album(s) of 2010." Ocean explores the theme of finding one's real identity - where we find it, who we are, and where we draw life from. Follow Bebo's journey on Twitter @ bebonorman as well as his blog http://www.bebonorman.com with song descriptions and stories from Ocean.
- ### -
About Bebo Norman:
Norman's 1999's national debut, Ten Thousand Days, landed Norman on the cover of CCM—a rare honor for a new artist. The follow-up, Big Blue Sky, was voted No. 1 Christian album of 2001 by the editors at Amazon.com. Myself When I Am Real (2002) earned seven Dove Award nods and charted the defining hit, "Great Light of the World." Recent projects Try (2004) and Between the Dreaming and the Coming True (2006) continued the steady climb, the latter gaining a near-perfect score at ChristianMusicToday.com, which called it "his best." In 2007, Norman partnered with Seattle's BEC Recordings to release his first Christmas project that garnered another Dove nomination. In 2008, Bebo Norman released another critically acclaimed project (self-titled) receiving such reviews as "…feels like the beginning of a vibrant new chapter in an already distinguished career" (Billboard). In 2010, Bebo received a Dove Award for "Inspirational Recorded Song" for his song "The Only Hope" from his self-titled project. Norman resides in Tennessee with his wife and two children.
For more info on Bebo Norman, visit the JFH Artists Database.


[2022]
Jan. | Feb. | March | April | May | June | July | Aug. | Sept. | Oct. | Nov. | Dec.
[2021]
Jan. | Feb. | March | April | May | June | July | Aug. | Sept. | Oct. | Nov. | Dec.
[2001 - 2021]
Visit our complete MUSIC NEWS ARCHIVE