NEWSBOYS' CD BORN AGAIN RECLAIMS THE #1 SPOT ON THE CHARTS
The "Born Again Experience" Spring Tour Closes Tonight, Newsboys Continue Touring With Summer and Fall Dates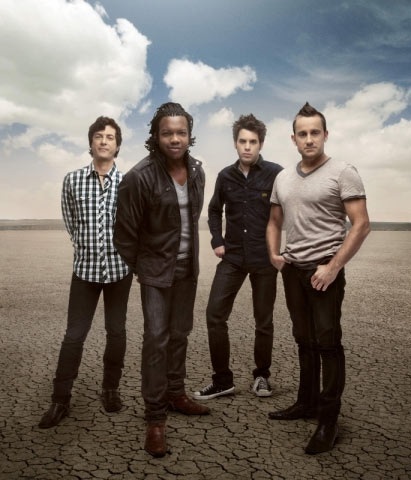 NEWS SOURCE: Savvy Media
May 19, 2011
Nashville, TN - 19 May 2011 - After an astounding 44 weeks since its initial release, Born Again, the best-selling project by Newsboys, has once again reclaimed the #1 spot. According to Soundscan, Born Again was the best-selling album on both the AC and Contemporary Christian Soundscan charts for the week ending May 15th.
The CD has produced back to back #1 hit singles with "Born Again" and "Way Beyond Myself," and their newest single, "Save Your Life," is already #23 on Christian CHR Radio and goes for adds at Christian AC Radio May 27th. Newsboys' unprecedented touring schedule and massive radio support has pushed Born Again to more than a quarter million in sales in just ten months.
After headlining this year's Winter Jam, the #1 tour in the world according to Pollstar, Newsboys took a well-deserved 24-hour break before kicking off the "Born Again Experience Tour," which closes tonight in Casper, WY after 25 shows. Known for their over-the-top live show, Newsboys fans agree that they have outdone themselves on this tour.
"I turn around at the end of the runway, just to watch the show," says Newsboys' front man Michael Tait. "After all these years, I can't believe this is possible." More than 58,000 people have joined with band and tour sponsor, Compassion International, in changing the lives of more than 2,100 children around the world.
When the tour was announced in January, the tour promoted the message of "A Night For The City To Serve The City." Redefining the live show experience, there is no question the Newsboys lived up to their promise to get audiences on their feet while offering the concert's mission to offer hope, service and compassion to the community, for one another and for those in need. Additionally, with the band's partnership with Compassion International, proceeds from the VIP Born Again Experience special tour package are going towards supplying a water filtration system for the poor community of Santo Domingo, located in the Dominican Republic.
Upon completion of the "Born Again Experience Tour," the band will be heading to the United Kingdom, The Netherlands, and Slovakia for a week of shows, then returning to the states for a number of summer and fall festival dates. For the most updated shows and information, please visit here.
ABOUT Newsboys:
This GRAMMY®-nominated and Dove Award-winning band has achieved what few artists have in their lifetime, selling almost 7 million units, garnering five Gold albums and 28 #1 radio hits. Since Newsboys' 2010 CD release of Born Again, their 15th studio project, its first week out was the largest street week of their careers by selling an astounding 45,311 units and hitting #4 on Billboard's overall chart. Its self-titled single topped the charts for weeks, having more than 8 million impressions to date, and the second single, "Way Beyond Myself," made history by garnering the most adds at Christian CHR radio in a single reporting period.
Just released April 5th was the release of Newsboys' Born Again: Miracles Edition. This expanded version features new songs, the music video for "Miracles," and exciting remixes in addition to the dozen songs currently found on the original Born Again CD, and a limited edition 3-D cover available at retail.
To view Newsboys' brand new music video for their single "Miracles" and find out more about the band and the most updated tour dates, please visit c.com.
# # #
For more info on Newsboys, visit the JFH Artists Database.


[2022]
Jan. | Feb. | March | April | May | June | July | Aug. | Sept. | Oct. | Nov. | Dec.
[2021]
Jan. | Feb. | March | April | May | June | July | Aug. | Sept. | Oct. | Nov. | Dec.
[2001 - 2021]
Visit our complete MUSIC NEWS ARCHIVE