REBECCA ST. JAMES –BRINGS NEW WORSHIP MUSIC TO WILLOW CREEK COMMUNITY CHURCH-- CHICAGO AREA –MAY 28-29TH
NATIONAL "MEGA CHURCH" TOUR GIVES GRAMMY WINNER A UNIQUE OPPORTUNITY TO MAKE NEW WORSHIP MUSIC MORE PERSONAL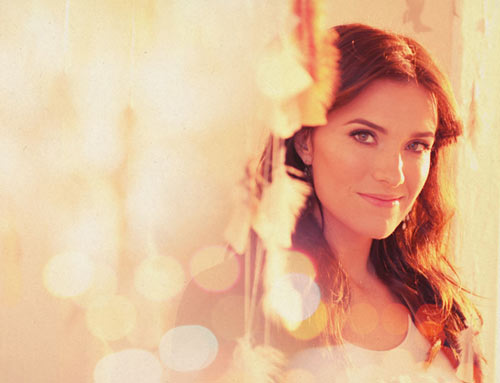 NEWS SOURCE: MorningStar PR
May 23, 2011
(Nashville) -- May 23, 2011 – In the era of instant 'down-loadable contact,' with the music of favorite artists,Grammy® Award winning Christian singer, Rebecca St. James has been on a unique cross country course of personal connection with her audiences to present the new worship music from her recently released CD I Will Praise You (Reunion/Provident Label Group).
Since the CD's April release, St. James has taken her new music from I Will Praise You and her passionate heart for its presentation directly to the platforms of America's churches—including high visibility appearances at a series of the country's largest "mega churches" where she has been presented as a specially featured guest artist during worship. The ambitious 'mega' tour schedule will bring her this coming weekend-- May 28-29th to the Chicago's area's Willow Creek CommunityChurch.
Willow Creek, with six unique satellite regional campuses around the Chicago area that have grown from the original South Barrington, Illinois campus planted by founding pastor Bill Hybels, is the third largest church in America with weekend services averaging 24,000 worshippers.
At the Willow Creek services this coming weekend, Rebecca will be part of an extended worship service at the South Barrington campus for services scheduled Saturday at 5:30 P.M. and Sunday at 9:00 A.M. and 11:15 A.M.
In the midst of her presentation at churches,large and small, St. James is vocal in her appreciation of every opportunity her focus on worship has brought. "Every church body and audience has its' own personality and culture," she notes, "so it's really interesting to be a part of a new worship experience with unique 'bodies' of believers all over the world. I love the fact that worship is so interactive. When a group of believers collectivity sing of their love for Jesus and enjoy His presence together, it's a taste of heaven."
"Rebecca's concert and ministry among us was absolutely outstanding—a huge encouragement in faith and discipleship…I encourage any church to partner with Rebecca and her team in this vital ministry…"
Notes like those above from Dr. Rick Booye, Sr. Pastor of Trail Christian Fellowship in Eagle Point, Oregon are a constant source of encouragement to the singer and best selling Christian author and indicative of her reach extending far beyond even the bigger platforms such as the one in Chicago this weekend.
I Will Praise You, produced by Mark A. Miller (Casting Crowns) and St. James' first album release for the Provident Label Group, offers listeners an intimate invitation to come inside her heart for worship. "The album is very personal to me as I wrote songs for it that related to things I have been personally learning in my own walk with God," notes Rebecca. "I am singing songs from it that are especially close to my heart."
Newly married in April, Rebecca continues a busy schedule of special events at both churches and as a national spokesperson for pro life at a 2011 series of speaking/performance appearances at Crisis Pregnancy appearances around the country. An appearance earlier this month on Fox New Channel's Hannity came just days after she returned from her honeymoon –a sure signal that Rebecca St. James will remain an outspoken media voice for Christian faith and values issues in the weeks and months to come.
Her new I Will Praise You CD continues to connect with listeners as does St. James' current radio single from the album –the title track song.
For more information on Rebecca St. James May 28-29th appearance at Willow Creek Community Church resource: http://www.willowcreek.org/home1.aspx
Resource Rebecca St. James online: www.rsjames.com
For more info on Rebecca St. James, visit the JFH Artists Database.


[2022]
Jan. | Feb. | March | April | May | June | July | Aug. | Sept. | Oct. | Nov. | Dec.
[2021]
Jan. | Feb. | March | April | May | June | July | Aug. | Sept. | Oct. | Nov. | Dec.
[2001 - 2021]
Visit our complete MUSIC NEWS ARCHIVE