The Afters' "Lift Me Up" Reaps Strong Welcome At Radio
Music Video for Song Also Released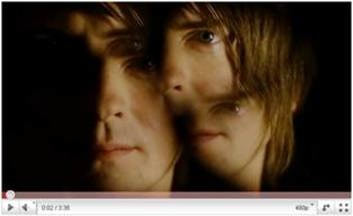 NEWS SOURCE: The M Collective
May 23, 2011
Nashville, Tenn. May, 23 2011… On the heels of their No. 1 hit "Light Up the Sky," The Afters' latest radio single "Lift Me Up" has also lit up the airwaves with over 60 stations supporting the song such as KLTY Dallas, JoyFM St. Louis, AIR-1 and Way-FM among others.
In support of the song, The Afters recently released a music video that was filmed in Canada. "The Afters' 'Lift Me Up' is inspiring on it's own," comments producer Gavin Michael Booth of Mimetic Entertainment, Inc. "It's a tough gig to find visual stories and issues that will enhance a song this powerful. Myself, with the band, aimed to bring stories that had an ability to relate and connect on a widespread basis amongst viewers." To view or embed the video, visit http://www.youtube.com/watch?v=KBy2D8p5Kpw.
"For the storyline, we pulled common themes that we hear in stories from our fans," explains The Afters' front man Josh Havens. "Stories from people who's lives have been hit hard by the economy, stories from people dealing self image problems, cutting and stories from people that have lost loved ones and are dealing with loneliness. We wanted this video to reflect the realities of life. We all have stories and most of us have experienced pain and hardship at some point. While our stories might not be the same, the thing we all share in common is that when we face the things in life that are too much for us to handle on our own that God is with us, God is for us and God will never fail us. I hope that this video is an encouragement to people and a reminder of God's faithfulness." To hear more about "Lift Me Up" from Havens, visit http://www.youtube.com/user/INORecords?blend=3&ob=5#p/search/1/Uere3wFwRwI
The Afters have been tackling an aggressive touring schedule as part of the Rock & Worship Road Show and Way FM's "Compassion Tour" with Sanctus Real. They will be appearing at all major summer festivals and opening for Casting Crowns this fall. For the most up to date tour schedule, visit http://theafters.com/tour/.
# # #
Texas-based band The Afters were propelled into the national spotlight with their INO/Sony Music Label Group debut I Wish We All Could Win. The project spawned the swirling, melodic hit "Beautiful Love," earning the band an enthusiastic following when the song was selected as the theme track for MTV's "8th and Ocean." "Beautiful Love" was also the most downloaded track of 2006 on the iTunes ® Inspirational charts and garnered the band an mtvU award as well. The Afters' sophomore release Never Going Back To OK (INO/Columbia Records) debuted in the Top 50 on the Billboard Top 200, and proved to be sensation on the silver screen with "Grey's Anatomy" (ABC), "Dr. Phil," "Army Wives" (Lifetime) and "Rachael Ray." The band's third record Light Up the Sky bolstered the No. 1 hit "Light Up the Sky." A slew of media including Rolling Stone, Seventeen.com, E! News Live, TV Guide, Premiere Radio and more also picked up on covering The Afters.
www.theafters.com
www.myspace.com/theafters
www.twitter.com/theafters
www.youtube.com/theaftersVEVO
www.facebook.com/theafters
For more info on The Afters, visit the JFH Artists Database.


[2022]
Jan. | Feb. | March | April | May | June | July | Aug. | Sept. | Oct. | Nov. | Dec.
[2021]
Jan. | Feb. | March | April | May | June | July | Aug. | Sept. | Oct. | Nov. | Dec.
[2001 - 2021]
Visit our complete MUSIC NEWS ARCHIVE