THE KATINAS RELEASE LATEST PROJECT, COLLAGE, JUNE 21
MISFiT Tour 2011 explodes with messages of hope to youth in word,
song and deeds in communities this Fall featuring The Ambassador,
Da' T.R.U.T.H., Sean Simmonds & Mali Music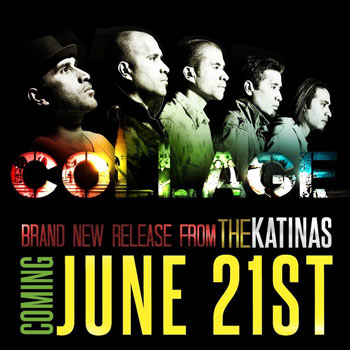 NEWS SOURCE: Brimstone Services
May 31, 2011
Nashville, TN - May 31, 2011 - Five-brother singing group The Katinas will release its first studio album in three years, Collage, on June 21. The project is The Katinas most collaborative record to date, with contributions by some of Christian music's biggest names.
Produced by Dan Needham, Otto Price and The Katinas, Collage features The Katinas signature catchy hooks and colorful, eclectic sound paired with influences from the brothers' journey these last 21 years. James Katina, the group's bassist and vocalist comments, "The title couldn't be more fitting because that's what it is-a collection of all the different things we do musically. We've met so many great people along the way and experienced so much together, and that's all reflected in our new songs."
Among those great people The Katinas have met along the way are fellow top artists including TobyMac, Jeremy Camp, CeCe Winans and B. Reith, who all make an appearance on Collage. The extensive collaborations helped to bring new perspective to this latest effort.
"Adding new people to the mix helped stretch us out of our musical comfort zones," explains vocalist John Katina. "Since we've been making music together for so long now, we know where each of us is going to go with a song. So working with all these artists was one of those iron-sharpening-iron situations that helps keep things from getting stale."
Songs include "Surrender," about finding our ultimate hope through a relationship with Christ; the fun summer jam "Every Bit of You;" the praiseworthy strains of "Jehovah;" and covers of two of The Katinas' favorite worship songs, David Crowder's "How He Loves" and Delirious' "Majesty."
The Katinas are already debuting songs from Collage out on the road for eager fans, playing new tune "Home" during altar calls at evangelist Greg Laurie's "Harvest Crusade" events. The group also plans to release a single from the project to radio audiences nationwide this summer. The band has started a pre-order campaign their new album. When ordering the Collage CD, you will receive a free download of "HOME" and can enter in a drawing to win an autographed acoustic guitar by The Katinas. Click here for more details of the free download. For more information on The Katinas and Collage, check out www.thekatinas.com.
About The Katinas:
Hailing from the small island of American Samoa, The Katinas comprises brothers John (vocals), Jesse (vocals), Sam (keyboards), James (bass) and Joe (drums). The group stepped onto the music scene nearly 21 years ago and has since released 10 English language studio albums, garnering two Gospel Music Association Dove Awards, six radio hits, and selling more than 1 million career albums. The group has also shared the stage with such high profile artists as Michael W. Smith, CeCe Winans, dc Talk, and Amy Grant just to name a few. In addition to its long list of musical accolades, The Katinas is equally well known for its philanthropic efforts, partnering with ministry organizations including Samaritan's Purse, Greg Laurie's Harvest Crusades and World Vision. For more information on The Katinas, visit www.thekatinas.com. Also follow The Katinas at www.facebook.com/thekatinas and www.twitter.com/thekatinas.
###
For more info on The Katinas, visit the JFH Artists Database.


[2022]
Jan. | Feb. | March | April | May | June | July | Aug. | Sept. | Oct. | Nov. | Dec.
[2021]
Jan. | Feb. | March | April | May | June | July | Aug. | Sept. | Oct. | Nov. | Dec.
[2001 - 2021]
Visit our complete MUSIC NEWS ARCHIVE