Xist and UpLift! Present Zondervan Author
Pastor Chris Durso's MISFIT in Word and Song
MISFiT Tour 2011 explodes with messages of hope to youth in word,
song and deeds in communities this Fall featuring The Ambassador,
Da' T.R.U.T.H., Sean Simmonds & Mali Music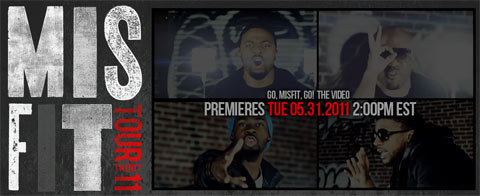 NEWS SOURCE: Judi Durand
May 31, 2011
New York, NY (May 31, 2011) Xist Music (Xist) and The UpLift! Group (UpLift!) are proud to announce a partnership with Pastor Chris Durso, author of the Zondervan bestseller MISFIT: Dealing With Our God-given Discomfort, to present MISFIT Tour 2011 this Fall, from September through November. The nationwide tour is a fierce, creative explosion of seven of today's leading voices in Christian music and spoken word and will feature Hip Hop artists including three-time Stellar winner Da' T.R.UT.H. and Christian Hip Hop pioneer and GRAMMY® nominee The Ambassador, R&B/Soul phenomenon Mali Music, R&B/Hip Hop artists Sean Simmonds and Rhema Soul, powerful spoken-word artist Oraia and the visionary behind MISFIT Tour 2011, Pastor Chris Durso. Tour activities will not only consist of the word and song presentations at each venue, but also volunteer activities or service projects carried out by the tour participants with community members in each city, to demonstrate, together, the positive attributes of being a MISFIT.
"As a pastor and author, the message I intended to share with the MISFIT book was a story of "common uncommonality," that I hoped would resonate with readers in a unique, personal way," said Pastor Chris Durso, the author of MISFIT. "I am humbled to see not only the book embraced by thousands already, very early in its release, but also the anticipation of this powerful tour, which will bring the MISFIT message to life across the country."
This past weekend at MISFIT: The Conference, hosted by Durso in New York City at Christ Tabernacle Church, there was a large gathering of people who proudly identify themselves as MISFITS which is described in the book as those who are uncomfortable with their surroundings and who realize and embrace the fact that they are disturbingly different. The sold-out conference featured an amazing line up of musical artists and powerful speakers, and it also celebrated the new bestselling release of Durso's book, MISFIT. An electrifying performance of the tour's anthem GO, MISFIT, GO! by Da' T.R.U.T.H., The Ambassador and Efrain of the rock band DOUBLEDGE, kicked off the event. There was also a simultaneous preview of the GO, MISFIT, GO! music video, which features MISFIT Tour 2011 tour mates Mali Music and Sean Simmonds. The video will make its world premiere debut today, Tuesday, May 31 at 02:00 PM EST on the tour website, www.misfittour.net.
MISFIT is a movement that Durso conceived, to revolutionize America's communities of all cultures, ethnicities and socio-economic and academic statuses, by challenging and equipping youth and young adults across the nation to courageously pursue Godliness in the face of all that seems and often is uncomfortable, unfamiliar, unattractive and unpopular. MISFIT Tour 2011 will bring excitement, inspiration and a strong transformative and rallying message to America's youth and young adults through media tours, inner-city civic engagement and outreach and dynamic musical performances that will engage any audience.
With branding partner designbySPIRIT (DBS) by their side, Xist and UpLift! have many surprises planned for MISFIT Tour 2011 attendees that will provide a uniquely interactive experience online and at each event. For more information on the tour and how promoters can bring the experience to their city or sponsor the tour nationwide, visit www.misfittour.net.
About Xist
Xist Music is the recording label of Xist Worldwide, which produces innovative projects from our award-winning artists, who are leaders in the inspirational urban music industry. Xist Worldwide was founded by Terverius Black and Sean Simmonds to become the leading producer of inspirational urban entertainment, lifestyle and media content. With properties in music, film, publishing and other lifestyle projects, Xist Worldwide acquires, produces, markets and distributes inspirational urban content. Visit Xist at www.xistmusic.com for more information and follow them at www.twitter.com/xist_music.
About The UpLift! Group
The UpLift! Group is a management, marketing consulting and coaching firm that partners with individuals and organizations to help them See their vision, Soar towards it and Succeed at bringing it to pass. A ministry-focused firm, UpLift! develops and strive to provide the best in spiritual and personal development resources and lifestyle products in partnership with a stellar portfolio of clients including: GRAMMY® nominated Christian Hip Hop artists Da' T.R.U.T.H. and The Ambassador, award-winning producer and Pop artist JR, Essence bestselling author and Certified Empowerment Coach Felicia Scott, dynamic spoken-word artist Oraia, Lamp Mode recording artist shai linne and Thomas Nelson author and Women of Faith speaker Kim Cash Tate. Visit UpLift! at www.upliftgroup.com and follow them at www.twitter.com/UpLiftGroup.
About Pastor Chris Durso
Pastor of Youth Explosion ministries of Christ Tabernacle church, Chris Durso reaches hundreds of youth and young adults each week through the teaching of the gospel. His creativity and ability to forecast trends allows him to lead and speak to this generation in a way they understand, while at the same time elevating them from where they are. On a mission to "raise up spiritually healthy & mature teenagers so when they are out of high school they will be ready for the world," Pastor Chris' calling is to help change people's perception on life so they can see that God is freedom and not religion or law. Visit Pastor Chris at www.youthexplosion.com and follow him at www.twitter.com/ChrisDurso.
About designbySPIRIT
designbySPIRIT is a husband and wife team that offer high-end branding solutions covering both web and print. Consultant and award winning Art Director, Christophe Pierre has over ten years of graphic and web design experience and Project Manager Sharron Pierre has a wide range experience in both the public and private sector. With their combined skill sets and a small but powerful team of programmers and designers they are able to deliver print and online visual solutions to take your business to the next level. The dynamic couple currently runs offices both in London and Trinidad and Tobago servicing a variety of international clients in the US and beyond. Visit DBS at www.designbySPIRIT.com and follow them at www.twitter.com/designbySPIRIT.
###


[2022]
Jan. | Feb. | March | April | May | June | July | Aug. | Sept. | Oct. | Nov. | Dec.
[2021]
Jan. | Feb. | March | April | May | June | July | Aug. | Sept. | Oct. | Nov. | Dec.
[2001 - 2021]
Visit our complete MUSIC NEWS ARCHIVE