LINEUP FOR 7th ANNUAL SWITCHFOOT BRO-AM PRESENTED
BY HURLEY WILL INCLUDE THE HOWLS, THE ROMANY RYE,
THE SILENT COMEDY AND JON FOREMAN & FRIENDS
SURF CONTEST AND FREE CONCERT WILL BE HELD SATURDAY, JUNE 18, IN ENCINITAS, CA

MUSIC SPONSOR ULTIMATE EARS WILL PREMIERE CLIPS FROM
VICE VERSES, SWITCHFOOT'S NEW ALBUM,
AT ONSITE LISTENING STATIONS

TICKETS ON SALE NOW FOR BELLY UP AFTER-PARTY
WITH FICTION FAMILY, JOHNNY RZEZNIK AND
LITTLE HURRICANE

JUNE 16th AUCTION NIGHT SOIREE TICKETS AVAILABLE

ALL EVENTS WILL BENEFIT
SAN DIEGO AREA CHAPTERS OF STANDUP FOR KIDS


SWITCHFOOT SUMMER TOUR SCHEDULE ANNOUNCED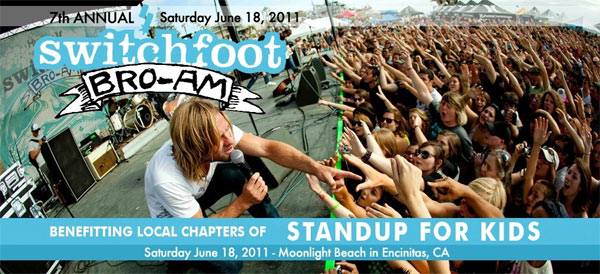 NEWS SOURCE: Hoganson Media
June 6, 2011
The Howls, The Romany Rye, The Silent Comedy and Jon Foreman & Friends will perform at the seventh annual Switchfoot Bro-Am Presented By Hurley. Ultimate Ears, the official music partner of the event, will be premiering clips from SWITCHFOOT's upcoming album, Vice Verses, at onsite listening stations at the surf contest/beach concert, which will take place on Saturday, June 18th, at Moonlight Beach in Encinitas, CA. The weekend's activities were conceived by GRAMMY® winning rock band SWITCHFOOT to give back to their local community and benefit the San Diego and Oceanside chapters of StandUp For Kids (www.standupforkids.org), a national nonprofit volunteer outreach organization dedicated to making a difference in the lives of at-risk, homeless and street kids.
While admission to the beach event is free, funds will be raised from sponsorships, beach vendors, an Auction Night Soiree (set for June 16th at a private La Jolla Farms residence) and a post-concert after-party held June 18th at the Belly Up Tavern in nearby Solana Beach. Johnny Rzeznik (Goo Goo Dolls), Fiction Family and Little Hurricane will play the after-party, which will be hosted by SWITCHFOOT.
For the first time, Bro-Am is working with Square, a San Francisco-based company revolutionizing everyday transactions. At the Auction Night Soiree and at Moonlight Beach, volunteers will be wearing T-shirts that say, "Square Up for StandUp For Kids— Ask Us How To Donate," and they'll have iPhones enabled with card readers on hand, allowing attendees to donate directly to StandUp For Kids right then and there.
Tickets for the Auction Night Soiree and the Belly Up after-party are on sale now at www.switchfoot.com/c/bro-am. Through an alliance with SWITCHFOOT's e-commerce provider, Bandfarm, fans purchasing tickets to Auction Night Soiree will be invited by Dympol's Charitable Checkout application to add a donation for StandUp For Kids to the shopping cart. In return, fans who decide to give will get an exclusive Fiction Family download and digital gift cards from Hurley equal to the value of their donations. When fans activate their Hurley gift cards they also have the opportunity to get the band to publicly thank them on their Facebook pages.
Since its inception in 2005, the Bro-Am has raised more than $400,000 for San Diego-based children's charities. Last year's event was the most successful to date, drawing over 7,500 attendees and raising more than $135,000 for the local chapters of StandUp For Kids.
"We are so grateful that our friends The Howls, The Romany Rye and The Silent Comedy can join us for an incredible day of music and surf that will benefit a remarkable group of kids," says SWITCHFOOT'S Jon Foreman.
David Bakelman, CEO, StandUp For Kids, notes, "StandUp For Kids is again proud to be chosen as the recipient of the proceeds from this year's Bro-Am. Jon, Tim, Chad, Jerome and Drew show the true commitment of impacting homeless youth in Southern California."
San Diego-based Sustainable Waves will again provide cutting-edge solar-powered sound and staging for the Switchfoot Bro-Am. By using solar power rather than a diesel generator or grid power, the Bro-Am will avoid emitting approximately 1,000 lbs of CO2 into the atmosphere (the equivalent of not driving your car approximately 1,100 miles or the annual sequestration of 66 trees).
Four-person surf teams secure their participation via sponsorship donation to StandUp For Kids. This year's teams will include riders representing Hurley, Billabong, Surfer Magazine, Transworld Surf, Surf Ride, Jetpilot, AKA, Shaper Studios Surfboards, Macbeth, Surfline.com and members of SWITCHFOOT. For the second consecutive year, the Bro-Am will feature a junior division in the surf contest. The beach day will also feature a nerf surf jousting exposition and an expression session. For additional details about the Switchfoot Bro-Am Presented By Hurley, please visit http://www.switchfoot.com/c/bro-am.
Beach vendors include:
Surfrider Foundation, Surfaid, Sundt Memorial Foundation, To Write Love On Her Arms, H.O.C., Inc – Believe In Something, Wahoo's Fish Taco, Adeline Records, Pizza Port, Surf Ride, CQ Mixers, Jedidiah, Clif Bar, Harney Sushi, Honest Tea, Macbeth, Keep A Breast, Sun Bum, San Diego Padres and Hill Street Café.
ABOUT SWITCHFOOT
SWITCHFOOT is Jon Foreman (vocals/guitar), Tim Foreman (bass), Chad Butler (drums), Jerome Fontamillas (keys/guitar) and Drew Shirley (guitar). The band won its first GRAMMY award earlier this year for Hello Hurricane, which entered at #13 on The Billboard 200 and contained the Modern Rock hits "The Sound (John M. Perkins' Blues)" and "Mess of Me." Vice Verses, the follow-up to Hello Hurricane, will be released later this year. SWITCHFOOT just wrapped up an international tour of Australia, Singapore, Indonesia, Malaysia and the Philippines and a 10-city, major market Canadian tour. (See the summer tour itinerary listed below.) For more information, visit http://www.switchfoot.com.
ABOUT THE HOWLS
San Diego's The Howls have only been around for a few years, but their reputation already precedes them — The Howls' sound is reminiscent of those timeless early Wilco and Ryan Adams albums, with some boozy old-school Stones thrown in for good measure. Over the last few months The Howls have shared the stage with Telekinesis, Portugal, The Man, Union Line, Fitz and the Tantrums, Love Language and many others.
ABOUT THE SILENT COMEDY
In 1996, brothers Jeremiah and Joshua Zimmerman's preacher father launched the family on a worldwide adventure that afforded the boys innumerable performance opportunities – from playing folk instruments in the Himalayan foothills to drawing crowds around pianos at Spanish shopping malls. Ten years later, they formed The Silent Comedy — a solid quintet that turns heads with their wild live shows and genre-bending sound. The resulting buzz from sold-out pressings of two records, and sold-out shows around California, have resulted in the band sharing the bill with such diverse performers as Mumford and Sons, The Black Keys and MGMT.
ABOUT THE ROMANY RYE
Raised in the rustic mountain community of Big Bear, California, located outside Los Angeles, Luke MacMaster grew up listening to his dad's vinyl record collection and soon began crafting his own songs. From its vintage looking album art and organic instrumentation, to its deeply personal ruminations on life, love and despair, Highway 1, Looking Back Carefully recalls the L.A. songwriters of the 60s and 70s who first fused the intimacy of folk music with the vibrancy of rock and roll – and then blows through that intersection to blaze its own path. "MacMaster is a classic songwriter, at heart, writing songs that are rumblers, toned by the rainy days and a weepy, but hardly withered soul," says daytrotter.com.
ABOUT JOHNNY RZEZNIK
Singer, songwriter, guitarist, and producer JOHN RZEZNIK has become one of the most globally respected and influential forces in popular music history, selling more than 10 million albums since 1986 with his band, GOO GOO DOLLS. The Grammy-nominated, multi-format chart toppers have enjoyed a string of hits that have earned the band the all-time airplay record for "The Most Top 10 Hit Singles in History," according to Billboard's Nielsen BDS-based Adult Top 40 chart. As a composer, Rzeznik has penned hundreds of songs including an unprecedented string of 14 consecutive Number One and Top Ten multi-format hit singles. Rzeznik has recently been named the recipient of the Hal David Starlight Songwriter Award. Past recipients of the prestigious award include: Rob Thomas, Alicia Keys, John Mayer and John Legend. The Goos are currently touring the world in support of their current album, Something for the Rest of Us.
ABOUT STANDUP FOR KIDS
The mission of StandUp For Kids is to end the cycle of youth homelessness. The organization's volunteers go to the streets in order to find, stabilize and otherwise help homeless and street kids improve their lives by providing and connecting them with lifesaving services. StandUp For Kids has been recognized by both the George W. Bush and Bill Clinton administrations and the U.S. Justice Department for the impact and scope of its programs. Charity Navigator recently recognized StandUp For Kids as one of the most efficient and effective nonprofits in the United States. To find out more, visit www.standupforkids.org.
ABOUT HURLEY
"Hurley is a company based on inclusion," says chairman and founder Bob Hurley. This philosophy applied to Bob Hurley's early years as a Huntington Beach shaper, working with friends alongside the world's best athletes to make a better surfboard. It applied to the company's launch in 1999, when Hurley decided to start a brand that was a true microphone for youth. In 2002, Hurley was acquired by Nike — the largest and most influential sporting brand in the world. Inclusion remains a guiding principle of the company today, where innovative products like Phantom Boardshorts and game-changing events like the US Open of Surfing continue to redefine what is possible in our world. Hurley headquarters are in Costa Mesa, CA with international offices in Sydney, Tokyo, Barcelona and Bali. For more information, visit www.hurley.com.
ABOUT ULTIMATE EARS
Ultimate Ears makes listening devices that let people enjoy music the way it was meant to be heard. The company first appeared on the scene in 1995, making something totally different—something that protected musicians' hearing while allowing them to perform better. Instead of standing in front of speakers on stage, artists were able to have customized micro-speakers fitted directly into their ears. In 2005, Ultimate Ears introduced three high-end universal fit earphones, each model based on the same speaker technologies and sound signatures found in the professional stage earphones. This innovation allowed emerging artists to perform like pros and gave discerning listeners the chance to hear what everyone was raving about. In 2008, Ultimate Ears was acquired by Logitech International (SIX: LOGN) (NASDAQ: LOGI), a world leader in personal peripherals, driving innovation in PC navigation, Internet communications, digital music, home-entertainment control, gaming and wireless devices. Today, Ultimate Ears is the leading supplier of custom in-ear monitors for professional musicians and an emerging provider of premium earphones and headsets for the consumer market. For more information, visit www.ultimateears.com.
ABOUT SQUARE
Square has revolutionized millions of everyday transactions between buyers and sellers with its free app for the Android, iPhone and iPad. Square Register and Card Case are transforming the relationship between buyers and sellers. Founded in 2009, and headquartered in San Francisco, Square is currently available in the U.S. More information is available at squareup.com http://squareup.com/.
SWITCHFOOT SUMMER TOUR ITINERARY:
06/15/2011 Stone Mountain, GA Stone Mountain
06/17/2011 Del Mar, CA Del Mar Fairgrounds
06/18/2011 Encinitas, CA Bro Am 2011 - Moonlight Beach
06/23/2011 Mineral City, OH Atwood Lake Park
07/05/2011 Milwaukee, WI WLUM Summerfest
07/09/2011 Doswell, VA Kings Dominion - Kings Fest
07/13/2011 Willmar, MN Willmar Civic Center Grounds
07/22/2011 Enumclaw, WA Enumclaw Expo Center
07/30/2011 Chicago, IL Ignite Festival 2011 - Fielders Stadium
08/05/2011 Midland, TX Rock the Desert Festival Field
08/06/2011 Gilford, NH Gunstock Mountain Resort - Soulfest
08/11/2011 Muskegon, MI Unity Festival
09/10/2011 St. Louis, MO Six Flags St. Louis, MO
09/23/2011 Leesburg, VA Awakening Festival
###
For more info on Switchfoot, visit the JFH Artists Database.