WATCH THE VIDEO PREMIER OF
"FEED THE MACHINE" ON ARTISTDIRECT.COM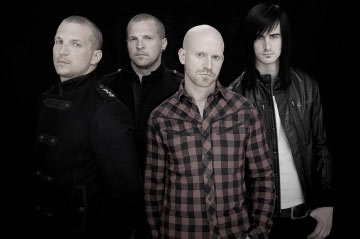 NEWS SOURCE: Provident Music Group
June 6, 2011
Twice GRAMMY-nominated hard rock outfit RED is currently premiering its new video for "Feed The Machine" on ARTISTdirect.com. The song comes off the band's latest album, Until We Have Faces, which is in stores now. View the video at http://is.gd/WFwntJ.
The video is more of a short film than your typical music video. When asked by Rick Florino, Editor-In-Chief of ARTISTdirect.com what the inspiration for the video was, RED guitarist Anthony Armstong said the following:
"We're movie fanatics! 'Feed the Machine' is an intense song, and we wanted the video to be equally, if not more intense, than the actual song itself. The band actually came up with the idea. It wasn't anything that we got a treatment for from a director. The idea belonged to us. We teamed up with the Irwin Brothers and gave them the vision of what we wanted to do. It's a pretty intense video."
"Feed The Machine" | Music Video
Purchase Until We Have Faces | Amazon
RED is out on tour the entire summer. Catch the band live when they are in your city! Full tour dates below.
RED TOUR DATES
June 5 Cedar Falls, IA @ The Wheelhouse
June 7 Saint Paul, MN @ Station 4
June 8 Madison, WI @ The Annex
June 10 Fort Wayne, IN @ Piere's Entertainment Center
June 11 Indianapolis, IN @ The Emerson Theater
June 12 Chicago, IL Bottom Lounge
June 16 Wilmore, KY @ Ichthus Farm
June 17 Jacksonville, NC @ Hooligan's Music Hall
June 18 Fayetteville, NC @ The Rock Shop
June 19 Nashville, TN @ Exit/In
June 21 Birmingham, AL @ Zydeco
June 22 Jackson, MS @ Fire Club
June 24 Flint, MI @ The Machine Shop
June 25 Ionia, MI @ Big Ticket Festival
June 26 Pittsburgh, PA @ Diesel
June 29 Baltimore, MD @ Ram's Head Live
June 30 Shirleysburg, PA @ Creation Festival
July 6 Osh Kosh, WI @ Lifest
July 7 Mason, OH @ SpiritSong Festival
July 8 Virginia Beach, VA @ Paramounts Kings Dominion
July 9 Ripley, WV @ U-Turn
July 21 Enumclaw, WA @ Creation Festival
July 23 Spokane, WA @ Knitting Factory
July 24 Boise, ID @ Knitting Factory
July 26 Salt Lake City, UT @ The Complex
July 27 Colorado Springs, CO @ The Black Sheep
July 29 Dodge City, KS @ Dodge City Civic Center
July 30 Longmont, CO @ Heaven Fest
July 31 Zion, IL @ Ignite Festival
August 3 Darien Center, NY @ Kingdom Bound
August 4 Gilford, NH @ SoulFest
August 6 Austell, GA @ Six Flags Over Georgia
August 12 Lebanon, PA @ Purple Door Festival
August 13 Anaheim, CA @ Angels Stadium
Stay updated on all things Red:

###
For more info on RED, visit the JFH Artists Database.