SANCTUS REAL LEAD SINGER MATT HAMMITT RELEASES FIRST SOLO ALBUM, EVERY FALLING TEAR, SEPT. 13!
Hammitt's "All of Me," First Heard on ABC News with Diane Sawyer, Available Now from Digital Retailers

Proceeds From Single, Album to Benefit Whole Hearts Foundation, Providing Assistance for Families of Children Affected by Congenital Heart Defects

NEWS SOURCE: Hoganson Media
June 7, 2011
Multiple GRAMMY-nominated, Dove Award winning Sanctus Real lead vocalist Matt Hammitt announces the release of his first solo album, Every Falling Tear, on Sparrow Records Sept. 13. Organically sparked by the rich joy and pain of life over the last year that strengthened Hammitt's faith and solidified his resolve to lead his family well, these new songs are his most deeply personal to date.
Encouraged by his Sanctus Real band mates to release these songs and to share his story through the songs that are meant to provide hope for people that are in crisis, Hammitt's journey to the new album started with the current, critically acclaimed and best-selling Sanctus Real album, Pieces of a Real Heart.
"The bridge lyric in 'Redeemer' says, I don't have every answer in life / But I'm trusting You one day at a time / 'Cause You can make a weak heart stay alive forever," reflects Hammitt regarding the current hit radio single from Pieces of a Real Heart that is Top 15 and continuing to ascend the Billboard radio charts. "Those lyrics, along with songs like 'Keep My Heart Alive,' 'Dear Heart,' and then the album with a broken heart on the cover, came out on March 9 of 2010. One month later on April 12 my wife, Sarah, and I found out that our son, Bowen, was going to be born with a severe congenital heart defect called Hypoplastic Left Heart Syndrome."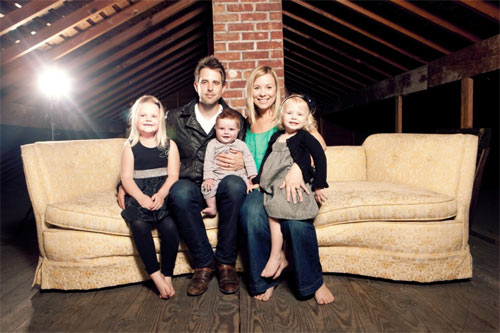 Pictured (l-r) are: Emmy, Matt, Bowen, Sarah and Claire Hammitt.
The whole album became a prophetic glimpse into what the Hammitt's were about to go through, and proved to be a source of hope as Matt and his wife, Sarah, take care of Bowen "small victorious one," who was born Sept. 9, 2010 and has now gone through two heart surgeries, an infection and other complications since being born.
"I will never forget the night of his first open heart surgery - we got a call in the middle of the night that Bowen's heart had stopped beating," says Hammitt on a SanctusReal.com video blog encouraging people to share their stories of redemptions. "The redemption that was for me, in probably this most broken time of my life, was that all the treasure in this world, everything I put my hope in here in this life, was burned away in that moment. I could clearly see that the only real treasure I have is the hope that I have in Jesus Christ. Bowen's doing great now, he's making an incredible recovery and the fact that we still have him; we thank God for that every day. We're eager to see what God continues to do through his life."
Born out of the heart of a father, wrestling with his pain, but buoyed by his faith and love for his family, Hammitt's main impetus for writing the songs on Every Falling Tear was to play them at Bowen's bedside in the hospital, with the hope that they would be a source of comfort for his family, as well as a reminder of God's faithfulness in the midst of their uncertainty.
"A lot of what we went through with Bowen was really hard on my wife and I emotionally, and I felt and understood the pain of others going through similar circumstances as us. We also met families at the hospital [C.S. Mott Children's Hospital in Ann Arbor, MI] whose children had either just died or were on the verge of dying, and it felt like they were losing hope. One of the main reasons for recording these songs was to go back to the hospital and hand out the music to help lift these families out of despair."
Having already recorded and handed out demos of songs in the hospital, Hammitt also sang "All of Me" on ABC World News with Diane Sawyer http://www.youtube.com/watch?v=WoeGKOXeO-s. The studio recording of this song is now available for the first time through digital retailers, including iTunes (http://is.gd/S6vnni) and Amazon.com (http://is.gd/ef9NcL). "All of Me" will be the first of four tracks from Every Falling Tear to be released each month leading up to the full album release in September.
A portion of the proceeds from the sale of Every Falling Tear and its singles will go to benefit the Whole Hearts Foundation, a new foundation Hammitt has set up to help families going through similar challenges as himself. Providing assistance for families of children affected by congenital heart defects, additional details on the foundation will be announced soon.
As his solo project's first single is released today, Sanctus Real's fastest-selling GRAMMY and Dove-nominated, fifth studio album Pieces of a Real Heart continues to sell over 130% ahead of the band's last GRAMMY-nominated album. The album has also sparked two No. 1 songs, "Forgiven" and "Lead Me," the latter having been heard by well over 100,000,000 people at radio and receiving the first-ever song endorsements from Focus on the Family and FamilyLife, as well as gathering two "Song of the Year" Dove nominations. The success of the singles helped pave the way for the band to become Billboard's No. 4 most played Christian band of 2010 at radio. In all, Sanctus Real has gathered 14 No. 1 and Top 5 radio hits so far.
Sanctus Real creates compelling, authentic music that lives up to the meaning of its name: to be Holy (Latin meaning of "Sanctus"), and its members are about living out their lives as "real" Christians, not only on the stage and as they interact with fans, but also in the quieter moments of their lives as husbands and fathers. Matt Hammitt's solo album carries this idea forward.
For all the latest on Matt Hammitt and his family, see www.bowensheart.com.
For all the latest Sanctus Real news, go to www.sanctusreal.com, www.myspace.com/sanctusreal, and www.emicmg.com.
###
For more info on Matt Hammitt, visit the JFH Artists Database.