GO FISH BRINGS 'MINIVAN MUSIC JAM' TO
SIOUX FALLS ARENA AUGUST 3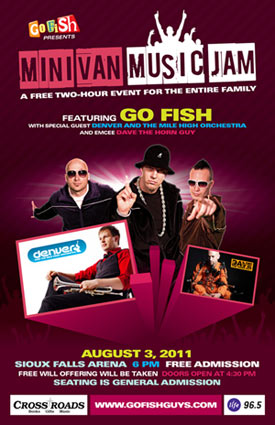 NEWS SOURCE: Turning Point PR
June 23, 2011
SIOUX FALLS, SD— Acclaimed family entertainers Go Fish are slated to present the first-of-its-kind "Minivan Music Jam" August 3 at 6 pm at the Sioux Falls Arena. Created for the entire family, the free event will feature Go Fish, along with special guest Denver & The Mile High Orchestra, as well as emcee Dave The Horn Guy.
The "Minivan Music Jam" is sponsored by Sioux Falls' Crossroads Book & Music and Life 96.5. Doors open at 4:30 pm for general admission seating.
"Our goal is to put on the coolest rock and roll show for families that has ever been produced," said Go Fish's Jamie Statema. "Along with that, we have a message that every family in America needs to hear, which is why we have decided to make this a free event."
"This is a brand new concept for us, and we chose Sioux Falls because it's a city that has been supportive of the Go Fish guys from the very beginning," Statema continues. "We couldn't think of a more appropriate place to launch the very first 'Minivan Music Jam!'"
Since the release of their 2003 children's music debut, Splash, Go Fish's Jamie Statema, Jason Folkmann and Andy Selness have been committed to making "great music for kids that won't drive parents bonkers." Their live performances attract sell-out crowds around the country, and Go Fish has been covered by such national media as NBC's "TODAY," American Profile and Focus on the Family Magazine, among other outlets. A fan-produced video of the group's popular song, "Christmas With A Capital 'C'" (featuring comedian Brad Stine), has been viewed on YouTube more than 17 million times.
Go Fish recordings include Kickin' It Old School, Party Like A Preschooler, Snazzy, Snow, Snooze, Showtime (DVD) and Superstar, among others. In addition, the group's "Kickin' It Old School" and "Backstage With The Bible" Vacation Bible School curriculums have been used by thousands of churches in the United States and Canada.
Christian music's premier Big Band, Denver & The Mile High Orchestra has performed extensively around the world, including at events in conjunction with two Olympic Games. In 2007, the group earned a third-place finish on the FOX TV series "The Next Great American Band." Formed by Denver Bierman at Nashville's Belmont University in 1999, Denver & The Mile High Orchestra's previous recordings include Good To Go, Timeless Christmas, Stand, and the band's 2000 debut, Act The Scat. The group's gfk Records debut and first recording for children, Groovy, will release later this summer.
Dave Enns, also known as Dave The Horn Guy, has appeared on "The Tonight Show with Jay Leno" and was a first season semi-finalist on NBC's "America's Got Talent." A noted songwriter, studio musician, and orchestrator of more than 200 compositions, Enns utilizes 25 chromatically tuned custom-made bulb-horns as Dave the Horn Guy.
For further information visit www.gofishguys.com or www.turningpointpr.com.
For more info on Go Fish, visit the JFH Artists Database.