The Global Non-Profit the Not for Sale Campaign teams up with Fuse Concerts and the nation-wide Air1 Radio Network for a 20-City Summer Tour featuring Chosen Records Recording Artists' The Wrecking To Present:

The Summer Is Not For Sale Tour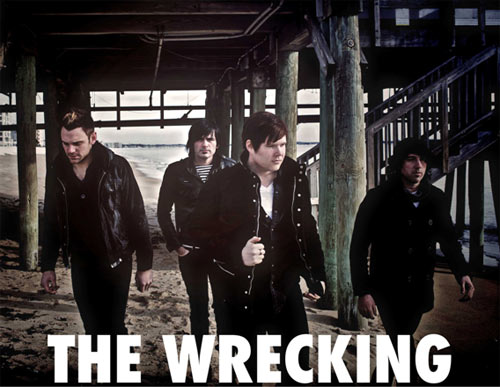 NEWS SOURCE: BLOOM ARTIST AGENCY
July 6, 2011
July 6TH, 2011 (Portland, Maine)---Chosen Records national recording artists and musical abolitionists' The Wrecking, (who hail from Portland, Maine), are making a difference this summer by partnering with the global non-profit the Not For Sale Campaign for The Summer Is Not For Sale Tour. The 4-pack of musicians (previously named "Rising Stars" by iTunes and featured on leading industry sites CRAZED HITS, KINGS OF A&R), will further their march as featured artists with the Not for Sale Campaign by hitting the road this summer and headlining a 20-city road tour. The free tour will route the east coast region July 13 - 31st, with a mission to impact local communities, while raising funds and awareness towards the fight to end human trafficking around the world.
Tour dates and cities are as follows:
Wed, 13 Jul Orrington, ME Calvary Chapel Bangor
Thu, 14 Jul Milton, NH Milton Assembly of God
Fri, 15 Jul Farmington, ME Living Waters Assembly of God
Sat, 16 Jul Feeding Hills, MA Lighthouse Christian Center
Sun, 17 Jul Manchester, CT Southern United Methodist Church
Mon, 18 Jul E Providence, RI Zion Gospel Temple
Tue, 19 Jul New York City, NY TBD
Wed, 20 Jul Landenburg, PA Vineyard Christian Fellowship
Fri, 22 Jul North Shores, MI The Journey Community Church
Sat, 23 Jul Leo, IN Church of the Good Shepherd
Sun, 24 Jul Leo, IN Church of the Good Shepherd
Sun, 24 Jul Bartlett, IL Good Shepherd Methodist Church
Tue, 26 Jul Louisville, KY TBD
Wed, 27 Jul Lexington, KY TBD
Thu, 28 Jul Fairmont, WV Palantine Park Downtown
Fri, 29 Jul Rockville, MD TBD
Wed, 03 Aug Gilford, NH The Soulfest
Fri, 05 Aug Gilford, NH The Soulfest se
"We are very excited about The Summer Is Not For Sale Tour. It combines two things we're passionate about; sharing music with others that speaks to our love and desperate need for Christ, and engaging in the abolition of slaves around the world," says lead singer of the band, Doug Elder…"With an estimated 30 million slaves around the world, we believe the tour is a very tangible way to get involved. This is a fight we must win."
Additionally, The Wrecking will be performing select new songs from their upcoming album release "So Much For Love" including "Fire," "Let Everything Sing," "View From The Top," "The Antidote," and "Electricity." Touring close to 200 dates per year, the band was recently selected as guest artists at a Grammy U event in NYC, where they spoke about their touring mission as musical abolitionists. Their past radio singles "About To Fall" and "You Remain" charted as Top 10 hits on the nation-wide Air1 Radio Network. Their new single "View From The Top," will be released for airplay and on iTunes July 22, 2011. Current early online voting for the new single is at Effect Radio (www.effectradio.com).
###
The Wrecking - (Doug Elder, Darren Elder, Karl Anderson, Chris James)
The Wrecking has cultivated a truly unique sound that is readily accessible by interlocking hook-driven rock with urban grooves and futuristic adventurism. They have emerged from the East Coast music scene as a national critically acclaimed powerhouse, touring close to 200 dates a year across the U.S. from churches to sold out music festivals in front of thousands; alongside like acts such as Sanctus Real, Jars of Clay, Third Day and more. With a stunning debut recording and a reputation for an exacting live show, The Wrecking is releasing some of the most buzz worthy song craft emerging from today's alternative music scene. www.facebook.com/thewrecking //Twitter.com/thewrecking
Not For Sale Campaign - NOT FOR SALE equips and mobilizes smart activists to deploy innovative solutions to re-abolish slavery in their own backyards and across the globe. Together, we can end slavery in our lifetime. www.notforsalecampaign.org
Fuse Concerts - Fuse Concerts is a not-for-profit, non-denominational ministry that exists to serve churches, ministries, and other organizations through the planning, promotion, and production of concerts, conferences, and special events in order to reach New England with the message of Jesus Christ. www.fuseconcerts.org
Air 1 Radio - Air 1 is a non-denominational, non-profit, listener-supporter radio network. Today, Air1 is heard on 210 radio stations in 40 states and is one of the most listened to radio stations on the internet. www.Air1.com
For more info on The Wrecking, visit the JFH Artists Database.