CENTRICITY MUSIC ARTIST ANDREW PETERSON TO JOIN STEVEN CURTIS CHAPMAN FALL TOUR "SONGS & STORIES"
PRESENTED BY SHOW HOPE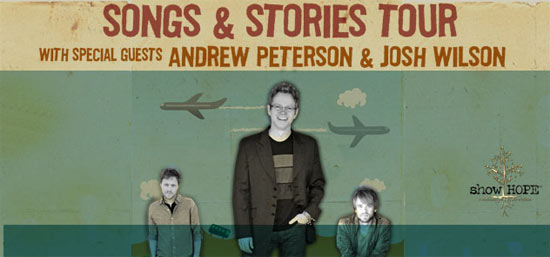 NEWS SOURCE: Bozeman Media
July 17, 2011
Nashville, TN (July 17, 2011) ---- Centricity Music artist Andrew Peterson will bring his thought provoking lyrics and storytelling when he joins Steve Curtis Chapman's upcoming fall tour, Song & Stories, presented by Show HOPE. The 24-city tour will run September 29-November 3, 2011 and will also feature Chapman's labelmate Josh Wilson. The concept of the tour is a comfortable one for Peterson, as it will feature individual artist segments with a collaboration finale of all three artists "in the round," which is sure to be a once-in-a-lifetime treat for audiences.
"I can't think of a tour I'd rather be a part of," says Peterson. "I've long admired Steven (can I call him Steven? Really?), and it's a huge honor to share the stage with him."
Peterson is a tour favorite and his performances are a hit whether in a theater, church or arena. His songs and stories evoke the wonder and beauty of everyday life and resonate with fans in multiple genres of music. His current CD, Counting Stars, is the highest selling album of his career and debuted at #1 on iTunes and #6 on Billboard magazine. The Top Ten single from the project, "Dancing In The Minefields," remains a popular song and video with over 500,000 views online.
Peterson is also a master storyteller with the written word, as he has published three books in the Wingfeather Saga series. The second book, North! Or Be Eaten won the 2010 Christy Award for Young Adult Fiction and the third installment, The Monster In The Hollows is already being hailed a classic after releasing in May. According to Examiner.com, "The storyline grabs you from the opening line and doesn't let go until the 'I didn't see that coming!' twist of an ending. Be forewarned; don't start this book if you don't have a full weekend set aside." The fourth and final book of the series will release in 2012.
As if all of this creativity activity doesn't keep Peterson busy enough, he will host the second annual Hutchmoot conference in Nashville September 22-25, 2011, which sold out in six hours! This year's event will once again spotlight live music, great food and a series of discussions centered on art, faith, and the telling of great stories across a range of mediums. The special guest will be the New York Times best-selling author, Sally Lloyd-Jones, who wrote The Jesus Storybook Bible.
For more information on Peterson please visit www.andrew-peterson.com and for more information on the Songs & Stories Tour, http://www.stevencurtischapman.com.
####
The Songs & Stories Tour Dates

9.29.11 Indianapolis, IN Traders Point Christian Church
9.30.11 Cordova, TN Hope Church
10.01.11 Alma, AR Alma Performing Arts Center
10.02.11 Brandon, MS Pinelake Baptist Church
10.06.11 Lancaster, PA Calvary Church
10.07.11 Milford, CT Kingdom Life Christian Church
10.08.11 Barre, VT Barre Municipal Auditorium
10.13.11 St. Peters, MO Church on the Rock
10.14.11 Valparaiso, IN Valpo Nazarene Church
10.15.11 Pewaukee, WI Spring Creek Church
10.16.11 Rochester, MN Autumn Ridge Church
10.22.11 Littleton, CO Mission Hills Church
10.25.11 Eagle, ID Eagle Christian Church
10.26.11 Twin Falls, ID Twin Falls Reformed Church
10.28.11 Vancouver, WA Crossroads Community Church
11.01.11 Roseville, CA Bayside Church
11.01.11 Roseville, CA Bayside Church
11.02.11 Valencia, CA Real Life Church
11.03.11 San Bernadino, CA California Theatre
For more info on Andrew Peterson, visit the JFH Artists Database.