GROUP 1 CREW TO LAUNCH INTO ORBIT THEIR FIRST HEADLINING TOUR, THE OUTTA SPACE LOVE TOUR 2011
Tour To Kick Off On September 29 in Knoxville, TN And Will Also Feature Rachael Lampa, Rapture Ruckus, and Shonlock

The Trio's New Single "Let's Go" Now At CCM Radio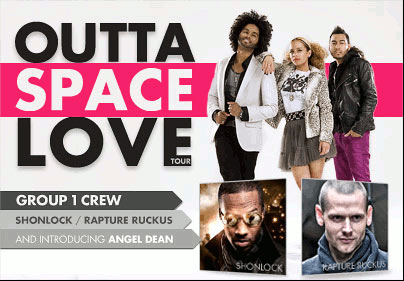 NEWS SOURCE: Warner Music Nashville
August 9, 2011
Nashville, TN – (August 9, 2011) – Fervent Records' breakout Urban sensation and Dove Award winning trio Group 1 Crew (Blanca, Manwell and Pablo) are ready to launch into orbit their first ever headlining tour as they hit the road this fall with their 2011 Outta Space Love Tour. The talented group will be bringing their signature energy, irresistible beats and substantive lyrics to the 15-city tour as they perform selections from their current release Outta Space Love, available everywhere now. The album features their brand new single "Let's Go" now at CCM radio and Top 5 hit "Walking On The Stars." Sponsored by Mocha Club and Southeastern University, the tour kicks off September 29 in Knoxville, TN and will wrap in Manvell, TX on October 22. Opening for Group 1 Crew will be Rachael Lampa, Rapture Ruckus and Shonlock.
"Touring is absolutely exhilarating and we love meeting each and everyone who comes to our shows," shares Manwell. "We are thrilled to have Rachael, Rapture and Shonlock joining us. Are you ready for this?"
Blanca adds, "When you break our songs down and listen to the words, they have amazing messages about friendship, messages about love and also just being in a broken place and needing God. To be able to deliver these messages face-to-face with our live show is what we live for."
Group 1 Crew has become one of the leading Hip-Hop focused acts in the Christian music scene, broadening the parameters of faith-based music with songs that percolate with energy and resonate with the truth of God's grace. To date, the talented trio had three hit singles break into the Top 5 on Billboard's Christian CHR Charts, including "Walking On The Stars," "Keys To The Kingdom" and "Movin'." Their third Fervent Records release Outta Space Love further pushes the envelope sonically and lyrically, debuting at No.1 on the Soundscan Christian Digital Chart and No. 4 on the overall Christian Album Chart. This album delivered the smash "Walking On The Stars" as well as fan-favorites "Breakdown" and "Live It Up." They have earned five Dove Awards; three for the Rap/Hip-Hop Album Of The Year category and two for the Rap/Hip Hop Recorded Song with "Movin' " and "Walking on the Stars." With a mutual respect for each other's gifts, and a shared passion for not only encouraging believers, but also being salt and light to a hurting world, the trio is committed to ministry. Group 1 Crew made their national TV performance debut on The Mo'Nique Show and their music has been featured in a variety of popular television shows, including NBC's America's Got Talent, FOX's The Simple Life, Style Network's Kimora Lee Simmons: Life in the Fab Lane, MTV's Run's House, and The CW's One Tree Hill.
Outta Space Love 2011 Tour:
9/29: Knoxville, TN Redemption Church
9/30: Bristow, VA: Manassas Assembly of God
10/1: Williamson, WV: West Williamson Softball Park (Phneumafest)
10/2: Hampton, VA: Liberty Baptist Church
10/6: Cincinnati, OH: Xavier University (Group 1 Crew Solo, Youth Summit)
10/6: Bluffton, OH: Bluffton University
10/7: Cincinnati, OH: The Underground
10/8: Latrobe, PA: The Underground
10/9: Cuyahoga Falls, OH: Community of Believers
10/13: Bluefield, VA: Bluefield College
10/14: Williamsport, MD: Gateway Ministries
10/15: Smithfield, NC: Johnston Community College
10/21: Corpus Christi, TX: Solid Rock Church
10/22: Manvell, TX: New Hope Church
For more information about Group 1 Crew and to purchase tickets, visit www.Group1Crew.com
Facebook: www.facebook.com/group1crew
Twitter: www.twitter.com/group1crew
YouTube: www.youtube.com/Group1Crew
About Rachael Lampa:
Dove-Award winning artist Rachael Lampa burst onto the pop scene in 2000 and amassed four number one Christian radio singles, five top ten tunes and appearances on "The Tonight Show," the title of "#1 young New Female Artist" by CCM Magazine and multiple tour appearances alongside Destiny's Child, Nickel Creek and more. This fall she will release a new album including her recent hit, "Remedy," as well as a special song collaboration with Grammy-winner, Jonny Lang.
About Rapture Ruckus:
Native to New Zealand, electro/hip-hop/pop outfit Rapture Ruckus debuted in 2002 at New Zealand's Parachute Festival (one of the largest music festivals in the Southern Hemisphere) breaking the event's record for highest-selling new act. Rapture Ruckus has continued touring, supporting bands throughout North America, Europe, Africa and Asia. Already releasing three albums since their 2002 debut, and winning the 2007 New Zealand Music Award for Best Gospel Album, Rapture Ruckus released their music to the United States via BEC Recordings in 2010. The self-titled EP was nominated for a 2010 GMA Dove Award. The group is now set to release their full-length debut with BEC Recordings on September 27, Open Your Eyes. This first Stateside LP serves as the official culmination of the past ten years spent overseas. Rapture Ruckus is Brad Dring (vocals, frontman), Mike Aitofi (keyboard, guitar) and Josh Stein (drums). Visit: http://www.facebook.com/raptureruckus and http://www.twitter.com/raptureruckus for more information.
About Shonlock:
Breakout member of TobyMac's Diverse City, Shonlock skyrocketed to #1 at Christian CHR with the hit, "Something in Your Eyes," making him the first rhythmic hip-hop artist to land a #1 CHR single in almost 10 years. As part of TobyMac and Skillet's record-breaking "Awake Tonight" he added to his growing list of collaborations. His debut album, NEVERODDOREVEN (Universal Christian Music Group) was released in June 2011 and has already spawned a second hit with single, "Hello."
About Mocha Club:
Mocha Club is a new generation of activists giving up the cost of two mochas a month - or $7 - to fund relief and development projects in Africa. Mocha Club works in five main project areas: Clean Water, Education, Child Mothers + Women At Risk, Orphan Care + Vulnerable Children, and HIV/AIDS + Healthcare. Their vision is to provide a way for people who don't have hundreds or thousands of dollars to make a difference in Africa. The community-based website allows members to start a team and invite friends to join them in giving up the cost of 2 mochas a month to support their chosen project. Mocha Club knows that today's tech-savvy generation can have a huge impact by using the viral nature of the web. So they decided to equip Mocha Club members themselves to grow awareness and support for Africa by inviting friends. Visit www.themochaclub.org.
###
For more info on Group 1 Crew, visit the JFH Artists Database.