LEGENDARY GOSPEL ICON SANDI PATTY TAKES HER SANDI PATTY & FRIENDS TO SEA
February 18-25- Natalie Grant, Mark Schultz, Anita Renfroe, Laura Story and Other To Join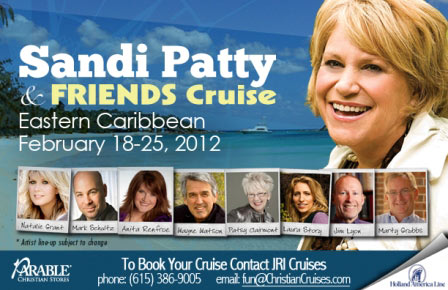 NEWS SOURCE: Big Machine Media
August 9, 2011
NEW YORK, NY – (August 3, 2011) -- The legendary music Icon Sandi Patty will be taking her audience friendly "Sandi Patty and Friends" to the Caribbean sun and sea to cruise from February 18- 25th. During the 7 night voyage, cruisers can expect to hit Grand Turk, San Juan, St. Thomas, and Half Moon Cay (private island in Bahamas) during this exciting sail to the seas. "Alright kids! It's official and we have an amazing line-up of friends coming on the cruise, PLUS my family. So bring your family (and their homework-ha) and join us for an UNFORGETTABLE week! "exclaims Sandi.
Sandi will be welcoming the best in Christian Music- Natalie Grant, Laura Story, Mark Schultz, Wayne Watson, and of course herself to entertain her guests. These chart breaking top selling acts will be not only performing their present day hits but also will be taking a walk down memory lane with their career hits as well. "The Sandi Patty and Friends " brand has toured throughout the US and has been a sold out hit with Christian Music lovers alike.
Along with these chart topping artists, notable authors and speakers have will join Sandi including, comedian Anita Renfroe (known for her video sensation "Mom-Sense" ), Women of Faith Speaker and Author Patsy Clairmont, Anderson, IN hometown church Pastor Jim Lyon (Author of GO AHEAD, ASK ANYTHING.) and present home Pastor Marty Grubbs. Cruisers can expect not only the best in Christian entertainment but will be moved by the Word that will be delivered by these inspirational men and women of God.
Early bird specials and cabins can be booked at www.cruisewithsandipatty.com or by calling 1-800-288-4778.
Follow Sandi Patty on Twitter www.twitter.com/sandipattyp, friend her on Facebook http://www.facebook.com/sandipatty, or check her out on MySpace www.myspace.com/sandipatty
For more information, and to stay up to date on Sandi Patty please log onto www.sandipatty.com.
###
About Sandi Patty:
Sandi Patty has won 40 Dove Awards, five Grammy Awards, four Billboard Music Awards and became a Gospel Music Hall of Fame inductee in 2004. Her albums have sold more than 11 million units, garnering her three platinum and five gold recordings. As the most-awarded female vocalist in contemporary Christian music history, her voice is still the gold standard by which all who follow are measured. Her forthcoming Pops album "Broadway Stories" will be released on October 18, 2011.
About Natalie Grant:
Natalie Grant is one of the most recognizable voices in contemporary Christian music. Her voice and ministry work gained promienced as evidenced by four consecutive Dove Awards, Gospel music's highest honor, for Female Vocalist of the Year and with her signature song, Held. Her eighth album, Love Revolution, was released in 2010.
About Mark Schultz:
Mark Schultz has been nominated for numerous Dove Awards, winning his first at the 2006 Dove Award when the CD/DVD Mark Schultz Live: A Night of Stories & Songs was named Long Form Music Video of the Year. He will soon add author to his long line of credentials when his forthcoming book "Letters From War" is released in 2011. As one of Christian music's most notable singers, songwriters and musicians, his latest project "Renaissance" will his instrumental debut.
About Anita Renfroe:
Anita Renfroe, who some have described as "this generation's Erma Bombeck" has been a featured comedian on ABC's "Good Morning America" and has filmed a sitcom pilot for Sony/ABC co-starring Ryan Stiles and the late Dixie Carter. Known for her sensational YouTube video "Mom-Sense" Renfroe's talent has been embraced by such top media outlets as "Dr.Phil," CBS's "The Early Show," Fox News Channel's "Fox & Friends," XM Satellite Radio Network's "Oprah & Friends,"Inside Edition," The Gospel Music Channel and others.
About Wayne Watson:
Wayne Watson's connection with his audience has to date produced a history of 23 #1 singles at Christian radio—including Friend Of A Wounded Heart, When God's People Pray, Almighty, Be In Her Eyes, Watercolour Ponies, More Of You, Another Time, Another Place, and Home Free (which became the most played song at Christian radio in 1991). The man whose voice and songs helped define an entire genre of Christian music throughout the '80s and '90s is re-connecting with his music with a new passion seemingly born at the intersection of age and wisdom.
About Laura Story:
There's no denying some of the blessings in Laura Story's life. She wrote the No. 1 worship hit "Indescribable" recorded in 2004 by Chris Tomlin, married a handsome athlete named Martin Elvington the next year, and began working in music and women's ministry at the 4,000-member Perimeter Church in Atlanta. After signing an artist deal with the INO Records, her 2008 national debut won a Dove Award for Inspirational Album and earned Laura two consecutive nominations for Female Vocalist of the Year—all blessings, indeed. Her current release "Blessings" includes one of the most played songs on Christian radio today.
About Patsy Clairmont:
Patsy Clairmont-petite, profound, and playful. These words help to describe her size, her message, and her humor. She has a command of God's word and with her quick wit and fast Patsy Clairmont paced humor she will keep everyone laughing. As she captivates Women of Faith audiences around the country, this light touch combined with scriptural knowledge makes Patsy an unusual package.
About Jim Lyon:
Jim Lyon graduated from Seattle Pacific University in 1974 (with a bachelor's degree in Political Science) then entered the University of Washington Law School. Always fascinated by politics and the public interest, he has worked in many civic and church-related fields, even completing a brief term as a member of the Washington State House of Representatives (1982). Currently, Jim serves as the Senior Pastor at Madison Park Church of God in Anderson, IN and also hosts the internationally syndicated radio program ViewPoint. His debut title "Go Ahead. Ask Anything." was released in June of 2011.
About Marty Grubbs:
Marty Grubbs serves as the Senior Pastor to Crossings Community Church in Oklahoma City, Oklahoma. Marty first joined the staff of Crossings CC in 1981 when he served as Minister of Youth and Music. In 1985 Marty became the Senior Pastor.
###