GOSPEL ICON SANDI PATTY UNVEILS FORTHCOMING BROADWAY ALBUM: BROADWAY STORIES AND COLLABRATES WITH JACK EVERLEY
Recorded in Historical Prague To Release on Oct 18th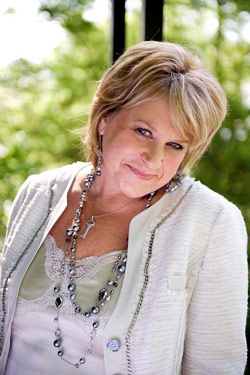 NEWS SOURCE: Big Machine Media
August 25, 2011
New York, NY – (August 25 2011) Multi Platinum Icon, Sandi Patty readies to release her debut Broadway album, Broadway Stories. Patty who has had a very successful symphony touring career over the past years has parlayed that experience into an album for fans to enjoy. "It has been a lifelong dream to record such amazing Broadway songs and stories. To be able to work with such legends in the Theatrical world has been not only an honor but a privilege. I have been surrounded with only the best of the best in this speciality and I'm so excited to to give this project to my fans and new friends in the Broadway Community. And, the experience of recording this album in historical Prague has been such an amazing memory!" gushes Patty.
Patty enlisted respected Pops Maestro Jack Everly as conductor to guide this breathtaking orchestra and rhythm section on this musical journey from its conception to its final note. Everly, recently seen as the conductor of the National Symphony during it's annual "A Capitol Fourth" telecast, is best known as the Principal Pops Conductor of the Baltimore and Indianapolis Symphony Orchestras, Naples Philharmonic Orchestra and National Arts Centre Orchestra (Ottawa.) His Broadway debut occurred when he was chosen to conduct the iconic Carol Channing in Hello Dolly on Broadway and continued influencing the genre by scoring The Goodbye Girl, They're Playing Our Song, and A Chorus Line. Everly also brings his rich classical background with his 14 years of experience conducting the American Ballet Theatre, as appointed by the legendary Mikahail Baryshnikov.
"There are conductors, there are musicians, and there are artists. Jack Everly is all of the above. It is a joy to make sweet music with him and to tell the stories in this wonderful Broadway music!" says Patty of Everly. It seems that the equal admiration shines from Everly about Patty, "For a conductor, it doesn't get any better when you have a MAGNIFICENT singer, GREAT music and arrangements combined with a beautiful symphony. This experience was singulary and personally one the most fulfilling experiences I have had."
Patty and Everly, along with all the players, made the perfect confection and captured the tapestry of their recording location of the picturesque and historical Prague in the Czech Republic. Under the baton of Everly, The City of Prague Philharmonic Orchestra soars with beautiful melodies of American standards paired with Patty's incomparable vocals.
Broadway Stories takes the listener on a journey down the great white way with the tunes that have a special memory for Patty. The album will include:
Can't Help Lovin' Dat Man
Smile
Swingin Love Medley- I Just Found Out About Love, This Can't Be Love, Our Love Is Here To Stay
All of Me
The Man I Love
Sound of Music Medley- Sound OF Music, My Favorite Things, Do-Re-Mi, Edelweiss, Climb Every Mountain
A Doll Sings The Guys- Willkommen, If I Were A Rich Man, Ya Got Trouble, Oh, What A Beautiful Mornin', Get Me To The Chruch On Time, Bring Him Home
Send In The Clowns
Love Is Only Love
You'll Never Walk Alone
Broadway Stories will release on Oct 18th through Patty's Stylos Entertainment label worldwide.
Follow Sandi Patty on Twitter www.twitter.com/sandipattyp, friend her on Facebook www.facebook.com/Sandi.Patty.Music, or check her out on MySpace www.myspace.com/sandipatty
For more information, and to stay up to date on Sandi Patty please log onto www.sandipatty.com.
###