FAMILY FORCE 5 ANNOUNCE THE 2011 CHRISTMAS PAGEANT TOUR
WITH HAWK NELSON AND SPECIAL GUEST MANAFEST
LIMITED VIP TICKETS AVAILABLE NOW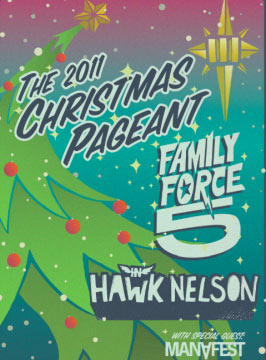 NEWS SOURCE: Merge PR
November 2, 2011
Seattle, Wa – November 02, 2011 –On the heels of their newest release, III, FAMILY FORCE 5 announce their third annual "The Christmas Pageant" tour experience beginning December 6 featuring Hawk Nelson and special guest Manafest. Tickets are available for advance purchase as well as exclusive VIP $50 tickets here.
More than half of the VIP tickets have already been sold offering fans a special time with FAMILY FORCE 5 and Hawk Nelson. VIP ticket holders will get to celebrate Christmas with the bands before anyone else with early entry into the show, hear acoustic sets from both bands, special Q&A session filled with Christmas treats, photo opportunities and a Christmas gift from FAMILY FORCE 5.
Touring the universe and electrifying crowds at big festivals like Sonisphere and the Vans Warped Tour, the band is back with their "Christmas Pageant" tour. This holiday extravaganza started in 2009 with the release of their album The Christmas Pageant. As true to the FAMLY FORCE 5 live show, "The Christmas Pageant" promises an evening of classic holiday tunes in their incendiary dance-rock style as well as possible snowstorms, over-sized presents and more fun-filled surprises. Check out this performance from last year's Pageant tour for a taste of the show.
FAMILY FORCE 5's new album III marks a dynamic shift and takes the group back to their rock roots, resurrecting the heavy guitars and bombastic beats of their debut. Unadulterated energy ties the band's unstoppable genre-hopping as FAMILY FORCE 5–brothers Jacob, Josh, and Solomon Olds, and Nathan Currin and Derek Mount–explore low-slung bass booms and harmonica howls.
FAMILY FORCE 5 have earned a loyal following culled from their endless touring and chart-topping albums. The group's previous album, 08's Dance or Die, debuted on the Billboard Top 200 chart at #30 and the Modern Rock chart at #8 with 13,000 copies sold in the first week. An Alternative Press magazine cover story followed and the group co-headlined the completely sold-out "Alternative Press Fall Tour" with 3OH!3 and The Maine. FAMILY FORCE 5 is currently headlining their "It's All Gold" tour through November.
For more information on FAMILY FORCE 5 visit: http://www.familyforce5.com, http://twitter.com/FamilyForce5 and http://www.facebook.com/familyforce5.
The 2011 Christmas Pageant Tour Dates:
December 6 Chattanooga, TN, The Warehouse
December 8 Columbus, OH, Newport Music Hall
December 9 Cleveland, OH, Willoughby Hills Friends Church
December 10 Cincinnati, OH, The Underground
December 11 Grand Rapids, MI, Radiant Church
December 13 St. Paul, MN, Northwestern College Maranatha
December 14 Des Moines, IA, Valley Church
December 16 San Antonio, TX, Tri Point
December 17 Corpus Christi, TX, Lord of the Harvest
December 18 Orange, TX, Community Church- Orange
About Hawk Nelson:
This powerhouse, pop rock foursome hailing from Canada has won the hearts of thousands since its debut release. Hawk Nelson has released five studio projects (Letters to the President, Smile It's the End of the World, Hawk Nelson is My Friend, Live Life Loud, and most recently Crazy Love). Crazy Love produced a three-week No.1 single with the title track at CHR radio earlier this year. Hawk Nelson was recently awarded two GMA Canada Awards for "Rock Song of the Year" – "Crazy Love" as well as for "Rock Album of the Year" (Crazy Love). Hawk Nelson has also appeared on NBC's drama "American Dreams," had a cameo appearance in the Nickelodeon film "Yours, Mine, & Ours," as well as had its songs featured on NBC's Stanley Cup promo spots, American Music Awards promotions, Nike NFL promotions and NBC Summer Olympic spots. Hawk Nelson is a Mocha Club and Compassion artist. For more information on Hawk Nelson, visit http://www.hawknelson.com, and follow the band on Twitter @ hawknelson.
About Manafest:
Over the past eight years, Chris Greenwood has used the moniker Manafest to organically build his fan base playing hundreds of shows on three continents. In 2006, Manafest released Glory from which the rock anthem "Impossible," featuring Thousand Foot Krutch's Trevor McNevan, became a global hit. In 2008, Manafest followed up with Citizens Activ, which catapulted success garnering multiple TV placements and his overall presence in the US and internationally. In 2010, Manafest released his most critically acclaimed project, The Chase. Earlier this year he received his second JUNO Award nomination for The Chase. This summer, Manafest released his first self-titled live DVD / CD. Touring worldwide Manafest has also traveled to the United Kingdom, Ireland, New Zealand, Japan and United States. Recently Manafest also won two 2011 GMA Canada Awards for "Rap/Hip Hop Album of the Year" (Live in Concert) and "Rap/Hip Hop Song of the Year" ("Avalanche"). For more information on Manafest, visit: http://www.facebook.com/manafest and follow him on Twitter @ manafest.
- ### -
For more info on Family Force 5 visit the JFH Artists Database.