The Big Gig: Big-Picture Thinking for Success
Zoro Transports Readers In An Inspirational Journey of Achievement From the Stage to the Page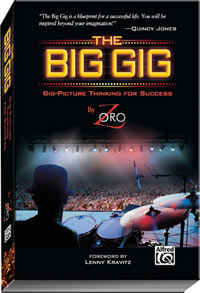 NEWS SOURCE: MorningStar PR
November 9, 2011
(LOS ANGELES) – November 9, 2011 – Internationally renowned rock musician Zoro transports fame from the stage onto the page in his highly anticipated, just released book The Big Gig: Big-Picture Thinking for Success. This one-of-a-kind insider's guide to vocational, personal and spiritual aspects of achievement is now available from Alfred Publishers to readers worldwide.
The Big Gig is written from the perspective of Zoro's worldwide career sitting on the drummer's throne commanding some of the most famous stages in the world of rock and R&B music. Zoro has toured and recorded with Lenny Kravitz, Bobby Brown, Frankie Valli and The Four Seasons, The New Edition, Jody Watley, Philip Bailey of Earth, Wind & Fire, Angie Stone, Vanessa Paradis, Sean Lennon, Lisa Marie Presley, and many others.
As a "state-of the-art bonus," every chapter in the newly released 440-page book includes a video interview with Zoro, accessible via QR code (traditional web URLs are also provided). As an added incentive to be interactive, readers can assess themselves with The Big Gig Quiz, a 50-question test to help determine if they have what it takes to score their own big gig.
A sample of the QR chapter prompted video links--Zoro speaking from Chapter 2 -- "Art of the Vision" --defining your dreams--can be resourced at http://4wrd.it/A.BG2
The Big Gig isn't limited to those pursuing a career in music. Yes, it provides an intriguing and comprehensive method for independent musicians who want to break into the highly competitive music industry. But of even wider scale importance, The Big Gig is a metaphor for the big picture of life. Thoughout the book's twenty-two chapters it's obvious the author is richly gifted as a communicator and motivational life coach on the subject of success.
On Zoro's remarkable 30 year odyssey of becoming a world famous drummer and virtual icon in the world of mainstream music, the man often referred to within industry circles as "Minister of Groove" can define his own secret to worldly fame and success in one simple word: God.
Zoro is passionate about increasing his sphere of influence—not for worldly acclaim—but for Jesus Christ. His own success in music has fueled his dynamic passion to use his platform of fame for reaching everyone within the sound of his voice with an articulate and 'self-lived' message of motivation and encouragement to "reach for higher ground!"
Growing up fatherless as one of seven children in the tough environment of L.A.'s poorer districts, Z got a glimpse of life's harsher underpinnings at an early age—but was buoyed by a devoted and loving mother who instilled in her child a deep faith and awareness of God's ability to transform lives and fuel dreams. It's an upbringing that served to keep him 'above' being entrapped in the haze filled world of sex, drugs, and rock 'n roll—even while in the midst of it.
He noted in a recent interview: "Any success I have achieved is a result of God's unmerited favor and applying biblical principals in every area of my life, including utilizing my gift of music."
Channeling music industry savvy and his years of experience at the top of his profession, Zoro artfully offers readers of The Big Gig keys to purposeful living, keeping it real, and following your vision without losing yourself.
Zoro is prolific in his passion for his craft. He has previously authored the No. 1 award-winning and best-selling book and DVD package The Commandments of R&B Drumming (with The Commandments of R&B Drumming Play Along Book and CD). His third book, The Commandments of Early Rhythm & Blues, is another award-gathering musicians' manual.
According to masters of the music business, Zoro has earned the credibility to inspire readers to aspire higher. What are the famous names of the music industry saying about the book?
Grammy-winning recording artist Lenny Kravitz writes in his foreword to The Big Gig: "Zoro's heart, discipline and passion are what propelled him to greatness. … His music and life lessons are about using your God-given talents to the maximum."
Multi-award winning producer and music icon Quincy Jones says of the book: "The Big Gig is a blueprint for a successful life. You will be inspired beyond your imagination!"
And Davey Johnstone, musical director and guitarist for Elton John, weighs in: "Because of his success and longevity as a player, author, educator, clinician and motivational speaker, Zoro is the only one I can think of who is legitimately qualified to cover the broad scope of this book with total authority. Zoro does an extraordinary job of merging the art of performing with the art of commerce and gives a blueprint for connecting heart, soul, mind and body to your craft and life's purpose."
In addition to Lenny, Quincy and Davey, The Big Gig is endorsed by dozens of highly successful personalities ranging from Philippe Schaeffer, president of Rolex France, to actor Stephen Baldwin to best-selling author and Bible teacher Joyce Meyer.
As a man who has 'walked in the world'—and in this case the landmine filled world of rock 'n roll music-- Zoro's personally lived life-map and vision for not only setting but attaining personal goals is one that offers insight and encouragement throughout the book. The Big Gig readers will go away from time with Zoro armed with a sharpened skill set and a renewed optimism about their own opportunities to succeed.
In his own personal life, Zoro's mission of 'encouragement' goes beyond his music. It is genuinely reflected in a heart of outreach to lift children from the ravages of the kind of poverty he saw as a child—as seen in his global work as a spokesperson for Compassion International in promoting the sponsorship of the world's neediest children.
View Zoro's welcome to the book on this video trailer: thebiggigbook.com
The Big Gig: Big-Picture Thinking for Success (00-37750) is now available for $19.99 at select U.S. booksellers, Amazon.com, Barnes & Nobles, Guitar Center music retail stores and online at: thebiggigbook.com.