NEW HORIZONS FOR DREAM RECORDS WITH SIGNING OF DARRELL EVANS
Dream Records / Universal Music Christian Group adds yet another influential and acclaimed artist, Darrell Evans, to its growing repertoire of talented bands and individuals.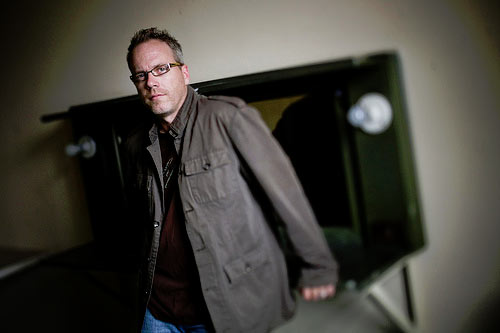 NEWS SOURCE: DREAM Records
November 16, 2011
Los Angeles, CA (November 2011) - This month, Dream Records has taken another huge step by officially signing on original writer of "Let the River Flow" and "Freedom," Darrell Evans, adding yet another talented individual to their arsenal of extraordinary artists who strive to change the world through their music of the Lord one person at a time.
Starting as a teenage worship leader to lead friends to the Lord in Olympia, Wash., Darrell Evans continued to lead worship on into college and then became worship pastor at a local church creating his first masterpiece, "Let the River Flow" in his 20's gaining a Dove award nomination at the GMA's. Darrell continued to make inspiring music for others to fall in love with God including "Your Love is Extravagant" and "Freedom" which also garnered a Dove award nomination.
For the past 15 or so years, Evans has evangelically been travelling the world both by himself and with the band inspiring people and helping them to walk closer with God through the powerful lyrics and music that he has created. Darrell's honesty, joy, passion for God and encouraging heart have been a pioneering force in the modern worship movement and his influence has crossed denominational, international and racial boundaries.
"I am excited about this new partnership with Dream to spread God's Word and His praises throughout the earth. The team at Dream has a big vision to reach people who need to see Jesus clearly that they would move closer to Him and to be encouraged in their journey of faith. I love being around people of big vision and genuine spirit. That's why I am partnering with Dream to record my 10th full length album." And January 2012, Evans will be back in the studio preparing this album for the public to much excitement, with the release coming out next summer May of 2012.
Evans' music comes from his heart and shows how God is good and faithful to us even in the midst of difficulty. With this new album, Evans believes his new album will minister life, encouragement, express great theology and inspire people toward worship. Yet, like his previous songs, he wants these ones to stick around for a very long time even after the album is set on the bookshelf. Evans' vision is that this music will connect with a much broader base of listeners from children all the way to the older generations. In this way, a larger amount of people will gravitate closer to God through the message of his lyrics. The hope is that they connect with the music in a very personal way.
Dream Records VP Lance Brown goes on to explain his excitement for Darrell Evans. "Dream is VERY excited about Darrell's signing! I've known Darrell for a few years now and I'm just blown away by his heart for God and his want to bless as many people as possible through his music. We can't wait to get him in the studio as fast as possible for his release. I feel honored to be working with him." - Lance Brown - Dream Records.
Now that Darrell Evans is signed on with Dream Records, his future plans are to continue creating music inspired by God and bringing it with him as he travels the world spreading God's name and love. Ministering in over 80 cities this year alone, and 150 in the previous two years, Evans hopes to keep "rockin" as long as he can with new albums, spreading his music to an even greater amount of people than he can possibly ever imagine.
For more information visit: www.DarrellEvans.com and www.DreamMusicGroup.com
About Dream Music Group: Dream Records
Dream Music Group (www.DreamMusicGroup.com), the umbrella company for Dream Records, DMG Booking, Dream Merchandise and One Moment Management, is quickly making a name for itself providing it's artists with a genuine approach to how real artist development should be done. By providing a partnership as a business model it's seeing it's artists empower themselves to develop and carry out a real vision for their lives as they affect other people's lives with their music and message. Incorporating social media, press, radio and touring it's allowing artist to help each by helping themselves grow together as a family.
###