Gideon To Tour with Sovereign Strength, As Hell Retreats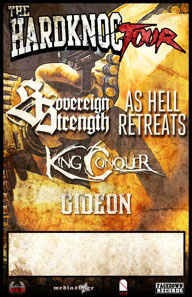 NEWS SOURCE: Facedown Records
November 17, 2011
Gideon has just announced their first tour of the new year will be with Sovereign Strength, As Hell Retreats, and King Conquer. Gideo will be supporting their current and debut Facedown album Costs.
Tour dates:
January 13th- Annapolis, Maryland @ MACC
January 14th- Virginia Beach, Virginia @ Shaka's
January 15th- Whitesburg, Kentucky @ Letcher County Tourism
January 16th- Greenville, South Carolina @ The Channel
January 17th- Jacksonville, Florida @ The Pit
January 18th- Lake Worth, Florida @ The Speakeasy
January 19th- Tampa, Florida - TBA
January 20th- Mcdonough, Georgia @ The Rock Show
January 21st- Baton Rouge, Louisiana @ Here Today Gone Tomorrow
January 22nd- Fort Worth, Texas @ Tomcats West
January 23rd- Midland, Texas @ The Pine Box
January 24th- Las Cruces, New Mexico @ Las Cruces Event Center
January 25th- OFF
January 26th- Las Vegas, Nevada @ Hypnotic Lounge
January 27th- San Diego, California @ SOMA
January 28th- Fullerton, California @ The Anchor
January 29th- Bakersfield, California @ Jerry's Pizza
January 30th- Cupertino, California @ The Refuge
January 31st- Redding, California - TBA
February 1st- Portland, Oregon - TBA
February 2nd- Seattle, Washington @ Studio Seven
February 3rd- Kennewick, Washington @ Rock Reactor
February 4th- Richland, Washington - TBA
February 5th- Boise, Idaho @ The Shredder
February 6th- Ogden, Utah @ Mojo's
February 7th- Albuquerque, New Mexico @ El Rey Theater
February 8th- Lubbock, Texas @ Jakes Backroom
February 9th- Arlington, Texas @ Live at Phil's
February 10th- Houston, Texas @ Anchor Church
February 11th- Decatur, Alabama @ Planet Avalon
February 12th- Nashville, Tennessee @ The Muse
For more info on Gideon visit the JFH Artists Database.