POINT OF GRACE RAISES SUPPORT FOR MILITARY ON THE "HOME FOR THE HOLIDAYS" TOUR PRESENTED BY A SOLDIER'S HOPE
As Part of their Annual Christmas Tour, the Trio Partners with American Bible Society to Provide Bibles to Deployed Troops

Phillips, Craig and Dean and Meredith Andrews Will Be Featured Artists on Select Tour Dates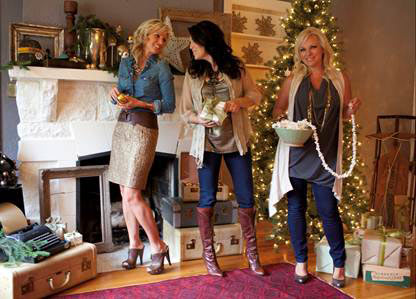 NEWS SOURCE: Warner Music Nashville
November 29, 2011
NASHVILLE, TN - (November 29, 2011) - Not everyone will be home for the holidays and that's why multi-platinum selling trio, Point of Grace (Shelley Breen, Leigh Cappillino, Denise Jones) is partnering with American Bible Society on their Christmas tour, "Home for the Holidays" Tour presented by A Soldier's Hope. The tour which will honor and help raise support for American military personnel who are not able to spend the holidays with their loved ones. Select dates will include appearances by Dove Award winning group, Phillips, Craig and Dean and artist, Meredith Andrews. With the help of the American Bible Society, show attendants are invited to help equip military chaplains with Bibles through the ministry's A Soldier's Hope campaign. Point of Grace's Christmas CD, appropriately titled, Home For The Holidays, is available everywhere now.
"Some of America's bravest-soldiers, sailors, airmen, guardians, and marines-will be spending Christmas far from their families so we can spend ours safely at home," said Point of Grace's Denise Jones. "We're partnering with American Bible Society to bring hope and encouragement to America's military."
For 195 years and through nine wars, American Bible Society has provided Scripture to millions of men and women in the U.S. Armed Forces. More recently, American Bible Society has helped provide more than 2.2 million scripture resources custom-tailored to meet the unique needs of military service personnel or veterans.
"It is a great honor to provide Bibles to those who give so much to protect our nation and our freedom," said Retired Col. Jim Puchy, American Bible Society. "I know firsthand of the incessant and unsettling pressures of military life and how only God's Word can help when faced with trauma, grief and painful experiences that are, unfortunately, a reality of military life."
Since forming at Ouachita Baptist University 20 years ago, the two-time GRAMMY® nominees have sold more than 7 million albums and earned 24 consecutive No. 1 singles (27 total including radio staples "Steady On", "The Great Divide" and "Circle of Friends"), a feat unmatched by any artist in any genre. They've won 13 Dove Awards, including 2011 awards for country recorded song of the year, country album of the year and Christmas album of the year for Home For The Holidays.
"Home for the Holidays" Christmas Tour
12/1 Montgomery, AL
12/2 - 12/3 Arkadelphia, AR
12/8 Lake Charles, LA
12/9 Katy, TX
12/10 Humble, TX
12/15 Nashville, TN
12/17 Greeley, CO
12/18 Reno, NV
12/19 Modesto, CA
About American Bible Society:
Headquartered in Manhattan, the 195-year-old American Bible Society exists to make the Bible available to every person in a language and format each can understand and afford, so all people may experience its life-changing message. One of the nation's oldest nonprofit organizations, today's American Bible Society provides interactive, high- and low-tech resources enabling first-time readers and seasoned theologians alike to engage with the best-selling book of all time. For more information, visit http://www.AmericanBible.org.
For more information about Point Of Grace, visit www.pointofgrace.net.
# # #
For more info on Point Of Grace visit the JFH Artists Database.