THE GREAT TRANSPARENCY ANNOUNCES DECEMBER TOUR WITH PLEASE PROMISE: THE GIVE TAKE & REBUILD LOVE TOUR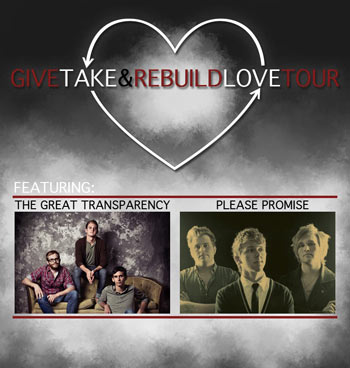 NEWS SOURCE: Razzbarry Records
November 30, 2011
The Great Transparency (Razzbarry) is ready to begin another busy month this December beginning with their three week-long tour with their good friends Please Promise of Kalamazoo, Michigan. November included a two week tour in Southern Florida, a music video shoot, their second radio release entitled "Chaos Parade" off of their new EP, and of course some time home for Thanksgiving. With November behind them, The Great Transparency is ready to begin yet another eventful month.
TGT will begin their tour December 2nd. The name of the tour, The Give Take & Rebuild Love Tour, is a combination of the title of TGT's EP Rebuild Your Love which features their newest single "Chaos Parade," and the title of Please Promise's EP Give and Take which was released October 8th.
TGT wasted no time shooting their first music video to their chart topping single, "Rebuild Your Love," which spent over 20 weeks on the Christian Rock Billboard Charts and peaked at the #1 spot. The band is eagerly anticipating the release of the video at the end of December to serve as a great wrap up to another eventful and blessed year.
GIVE TAKE & REBUILD LOVE TOUR
* Dec 2 New Philadelphia OH
* Dec 3 Kokomo IN
* Dec 4 Robinson IL.
* Dec 7 Wichita KS
* Dec 8 Norman OK
* Dec 9 Rockwall TX
* Dec 10 Canton TX
* Dec 11 Arlington TX
* Dec 12 Houston (Spring) TX
* Dec 16 Weathford TX
* Dec 17 Vidor TX
* Dec 18 Old Hickory TN
*All dates are subject to change
ABOUT THE GREAT TRANSPARENCY
The Great Transparency (Columbus, Ohio) consists of band members Tommy Clingan, Jameson Leasure, and Zack Zaborski. The band has toured the country while both independently selling over 2,000 copies of their first EP, If Worse Comes To Worst. The band recently released their newest EP, Rebuild Your Love, with the title track quickly reaching #1 on the Christian Rock Billboard charts.
ABOUT RAZZBARRY RECORDS
Razzbarry Records (Jacksonville, Florida) is an independent label and management company founded by Barry Blaze in 2007. Their current roster includes The Great Transparency, Code of Ethics, and Blaze's solo worship venture as Barry Blaze.