ROXR Records/INPOP Records To Release New Tidewater Three Song EP The Beautiful Life January 24, 2012
First Single From EP "Not Just Any Love" Goes For Adds At Radio January 23, 2012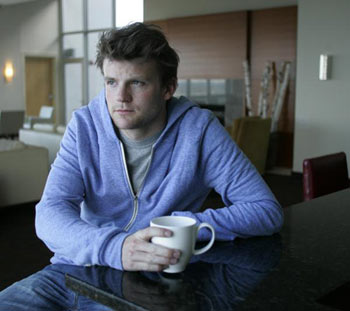 NEWS SOURCE: Bozeman Media
December 7, 2011
St. Louis, MO (December 7, 2011) ---- Exciting things are brewing in support of the new Tidewater release on ROXR Records. First, ROXR has signed a new distribution deal with one of Christian music's top labels, Inpop Records. Second, the timing is perfect as ROXR is releasing a new EP from Tidewater, The Beautiful Life, which features three new songs from Tidewater's Brett Allen and will be available at all online digital outlets January 24, 2012. The first single from the project, Not Just Any Love, will be going for adds at Christian radio January 23, 2012.
This is Tidewater's third project with producer Kevin Gales (Fiona Apple, Kid Rock, and Sarah MacLachlan) and their collaboration has led to an incredible level of success for an unsigned independent artist. Because of this success and their strong business relationship, Gales and Allen have now become close friends and feel that bond is evident in the new project.
"The recording process was different," says Allen. "Kevin and I were still getting to know each other with the previous studio sessions, so we sort of skipped the small talk this time around. This allowed us to jump straight into the music and develop what we feel is a stronger release."
"Any relationship that you enjoy I think gains confidence over time," adds Gales. "Because we trust each other we're both quite willing to aggressively bring ideas to the table, and then in turn challenge each other's ideas."
The Beautiful Life kicks-off with the single that is a beautiful ballad, which heralds the powerful love of our Father; the upbeat title track, The Beautiful Life spotlights The Beautiful Life of faith as seen in a beautiful day, a newborn's eyes, meeting a life mate; and the powerful song about our destructive wants and needs in Desire. Allen played all guitars, banjo, mandolin and bass on the EP and was joined by renowned drummer, Kenny Aranoff (John Mellencamp, Avril Lavign, Melissa Etheridge).
Tidewater is the one man band concept by Allen and although he lives in St. Louis, he is a full-time film student at Baylor University. He released Tidewater's debut full-length album in 2011, The Seas We Sail, which quickly found a home on a number of best-selling indie charts. Most notably, the album hit the Top 40 on iTunes singer/songwriter chart, while lasting three weeks on the top 40 of Smartpunk.com's bestseller list. At the same time, the full length project also sold over one-thousand CDs in the first month of release. One of the key tracks on The Seas We Sail, "Guard", had the companion video receive over sixty-thousand youtube.com hits in the first few months of release. Incredibly, all of this success happened without any promotional or distribution help from a label. Tidewater followed up the album debut with a three-song EP The Way That I Want You, which included the banjo, mandolin flavored cover of Beyonce's hit single, "Halo." The EP took off immediately and hit #4 on iTunes singer/songwriter chart.
At the same time, Tidewater garnered strong media support that included coverage in such high-profile outlets as Christianity Today, CCM Magazine, HM Magazine, Jesusfreakhideout.com, and Phantom Tollbooth who declares, With great lyrics and delivery, The Seas We Sail has made a home in my most recently played releases.
If 2011 was the year of feeling waves from Tidewater, 2012 should be the year of the full scale tsunami. Besides heading out on a major tour in summer 2012, Allen is looking forward to a radio promo tour earlier next year. "With The Beautiful Life this will be the first time I've done serious, intense, radio promotion," Allen explains. "The push will be behind the new single, 'Not Just Any Love,' and with being newly signed to ROXR Records and having a distribution deal with the renowned Inpop Records it's going to be a wild ride to see where this takes us."
For more information on Tidewater and upcoming tour dates please visit online at http://facebook.com/tidewaterfanpage.
About ROXR Records and Management
ROXR Records and Management is an independent record label and management company based in St. Louis, MO. ROXR has a distribution and marketing agreement with Inpop Records, which helps ROXR to facilitate its commitment to developing new talented artists, and release them to the marketplace with the strength of one of Christian music's top record labels. ROXR's roster includes Tidewater, Mandolyn Gales, Ashley Aucker, and Raymond Gregory. For more information, visit weareroxr.com.
About Inpop Records
Inpop Records is an independent music label based in Brentwood, TN and is home to some of the best-known bands in Christian music. Distributed by EMI Christian Music Group, Inpop Records has become one of the top-selling independent labels within the industry, having established a reputation for seeking out the best artists in emerging talent and for expanding the music marketplace with sound and ideas. Inpop's roster includes Newsboys, Mat Kearney, Jaci Velasquez, Tricia Brock, Jimmy Needham, and The Advice among others. For more information, visit inpop.com.
#####
For more info on Tidewater visit the JFH Artists Database.