FOR TODAY ANNOUNCE NATIONWIDE HEADLINING TOUR DATES
New Full-Length Album Slated For Release In 2012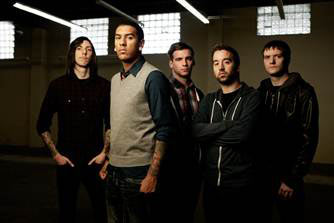 NEWS SOURCE: Razor & Tie
January 3, 2012
(New York, NY) - Christian metalcore band For Today are kicking off 2012 with the nationwide headlining "Fight The Silence Tour" presented by HK Army and Substream Magazine. The tour kicks off March 9th in Nashville, TN and runs through the end of April and will make stops throughout the country including the Never Say Never Fest, SXSW and New England Metal & Hardcore Festival before concluding on April 22nd (tour dates below). The tour features additional support from A Skylit Drive, Stick To Your Guns, MyChildren MyBride and Make Me Famous. Click HERE to watch a tour video with more info on the "Fight The Silence Tour."
For Today will also team up with several social justice organizations and sponsors to help raise money and awareness to help their cause. The mission statement of the Fight The Silence Tour is as follows: "There is no more revolutionary force on earth than a group of young people who are united and focused on one common goal. It's our heart's desire to provide a platform and a venue for the initiation of a scene-wide culture shift. The blind have lead the blind for too long now, so we issue this charge to all who will stand with us: It's time to change this system, not to fit in to it. You were born to fight the silence."
For Today will enter the studio this week with producer Will Putney to begin working on their fourth full-length album to be released via Razor & Tie in Spring 2012. Putney (Lamb Of God, Suicide Silence) previously worked on For Today's Breaker, their 2010 release. For Today formed in 2005 and has since released one EP and three full-length albums. The hardcore-influenced metal band is known for their non-stop touring, high energy live performance, and unrelenting message. Having played over 1000 shows in five continents, For Today has toured with Emmure, We Came As Romans, Winds of Plague, The Devil Wears Prada. The band headlined the Scream The Prayer Tour 2010 with Maylene and The Sons of Disaster and also was on the Motel 6 Rock Yourself to Sleep Tour with We Came As Romans this past year. To date, For Today has sold over 65,000 albums in North America. As forthcoming about their faith as they are about their musical prowess, For Today have become widely known as one of modern metal's most technically proficient bands. For Today is Mattie Montgomery (lead vocals), Ryan Leitru (lead guitar, vocals), Brandon Leitru (bass), Michael Reynolds (rhythm guitar), and David Morrison (drums, percussion).
For Today Tour Dates
3/9 Nashville, TN @ Rocketown
3/10 Douglasville, GA @ The 7 Venue
3/11 Jacksonville, FL @ Murray Hill Theatre
3/12 Pensacola, FL @ American Legion Hall
3/14 Mission, TX @ Never Say Never Festival
3/17 Dallas, TX @ South By So What Festival
3/20 Tucson, AZ @ The Rock
3/21 Anaheim, CA @ House of Blues
3/23 Simi Valley, CA @ 118 West
3/24 San Diego, CA @ Soma
3/25 Sacramento, CA @ Ace of Spades
3/28 Iowa City, IA @ Blue Moose
3/29 St Paul, MN @ Station 4
3/31 Joliet, IL @ Mojoes
4/1 Louisville, KY @ Expo Five
4/3 Memphis, TN @ New Daisy Theatre
4/4 Tulsa, OK @ Marquee Theatre
4/5 Sauget, IL @ Pop's
4/6 Dayton, OH @ The Attic
4/8 Buffalo, NY @ Xtreme Wheels
4/11 Toronto, ON @ Annex Wreckroom
4/12 Montreal, QC @ La Tulipe
4/13 New York, NY @ Gramercy Theatre
4/14 Allentown, PA @ Crocodile Rock
4/15 Sayreville, NJ @ Starland Ballroom
4/17 Raleigh, NC @ Lincoln Theatre
4/18 Charlotte, NC @ Amos
4/19 Richmond, VA @ Kingdom
4/20 Poughkeepsie, NY @ The Chance
4/22 Worcester, MA @ New England Metal & Hardcore Fest (FT/STYG)
LINKS

# # #
For more info on For Today visit the JFH Artists Database.