ANNIE MOSES BAND TO MAKE CARNEGIE HALL DEBUT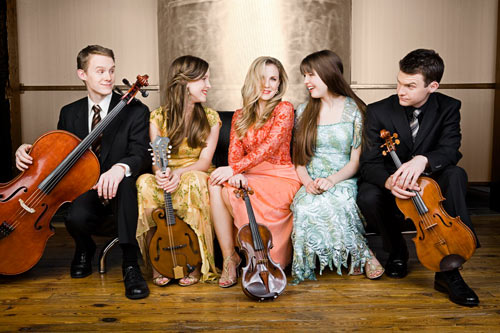 NEWS SOURCE: Turning Point Media
January 10, 2012
NEW YORK- Fresh off their popular annual Christmas tour, the critically-acclaimed pop/classical family ensemble, the Annie Moses Band, is slated to make their debut at New York City's internationally-renowned Carnegie Hall on Saturday, January 14. Joining them on the stage of the Isaac Stern Hall will be a plethora of promising young performers drawn from the ranks of the Annie Moses Band's annual Fine Arts Summer Academy, as well as The New American Chorus, a 250-voice choir under the direction of acclaimed conductor, Camp Kirkland.
"Performing in a legendary venue like Carnegie Hall is a life-long dream of every musician, and we couldn't be more excited," says Annie Wolaver, the band's lead singer/violinist.
Familiar to television audiences across the country, the Annie Moses Band has seen record-breaking success with their PBS special, Christmas with the Annie Moses Band, which has received more than 1,000 hours of airtime. Their album, This Glorious Christmas, has been listed on Billboard's Top Classical Crossover Albums chart, and a new PBS special, Pilgrims and Prodigals, is slated to release this spring in the United States, United Kingdom and Australia.
The Annie Moses Band is a family of Juilliard-trained musicians and award-winning songwriters dedicated to virtuosity in the arts. Led by lead singer/violinist Annie Wolaver, the band includes her five siblings: Alex, viola; Benjamin, cello; Camille, harp/keyboard; Gretchen, violin/mandolin; and Jeremiah, guitar and banjo. Add the veteran songwriting talents of their parents, Bill and Robin Wolaver, and you have a dynamic group with roots in classical, pop, and jazz. Together, they are leading an artistic renaissance in the Church through musical excellence, strength of family, and a message of faith, inspiring all generations to join in the discipline, beauty, and excitement of highly skilled musicianship.
For further information, visit www.anniemosesband.com.
# # #