AUTHOR DAVID TEEMS' NEW BIO INTRODUCES READERS TO MAN WHO GAVE US OUR ENGLISH BIBLE AND CHANGED OUR LANGUAGE FOREVER
Tyndale: The Man Who Gave God an English Voice Explores Life and Work of William Tyndale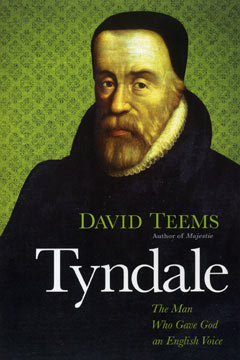 NEWS SOURCE: McCain & Co. PR
January 10, 2012
Nashville, Tenn. (Jan. 10, 2012) - Author and musician David Teems employs careful scholarship and a poet's imagery to introduce readers to one of the most important, yet least celebrated, heroes of the Christian faith in his new book, Tyndale: The Man Who Gave God An English Voice, released January 3 by Thomas Nelson.
In the early 16th century, an age of treachery and religious oppression, William Tyndale made the Holy Scriptures available to the English masses by translating them into a language they could understand. An English Scripture in 1526 was against the law in England. To possess, to memorize, and particularly to manufacture the Scripture incurred severe penalties, including death at the stake. Tyndale's courage, tenacity, and deep sense of calling birthed a vernacular Scripture that was revolutionary - not only bringing light and instruction to the masses, but changing an entire culture.
It was the age of Henry VIII and Anne Boleyn, of Thomas More and Martin Luther. The Reformation was on and ordinary people were eagerly seeking to learn what it really meant to be a Christian. In an act of defiance against a clergy who rejected any Scripture but a Latin one, Tyndale, a young Oxford-trained scholar who spoke eight languages, declared that he would see that the plowboy (the common English believer) knew more of the Scripture than they did. He made good on his promise.
To complete his translation, Tyndale was forced to write and publish in exile, hiding to avoid imprisonment. The Bible he offered the English-speaking world in 1526 was electric. It had to be smuggled into England in bales of cloth. But within this contraband were the expressions we grew up with and have treasured for five hundred years: Give us this day our daily bread; For Thine is the kingdom and the power and the glory; Behold the Lamb of God; I am the way, the truth, and the life; Blessed are the poor in spirit; Let not your hearts be troubled; The spirit is willing, but the flesh is weak; In Him we live, move, and have our being; Behold, I stand at the door and knock; Let not your hearts be troubled, and countless others. Indeed, for all its well-earned honors, the praise given to the King James Bible (KJV) rightly belongs to Tyndale.
Scholars estimate as much as 90 percent of the New Testament and up to 50 percent of the Old Testament in the KJV, the number one selling Bible translation of all time, can be attributed to Tyndale. In fact, Tyndale is credited with infusing the KJV with much of the poetic beauty that makes it so easy to memorize. Tyndale's was the original voice that most English Bibles have mimicked to this day.
Any study of Tyndale must also include his single-word innovations, including behold, brotherly, evangelical, godly, godliness, incorruption, intercession, Jehovah, network, Passover, peace offering, refused, scapegoat, servant, thanksgiving, and zealous. Even William Shakespeare used words coined by Tyndale. In fact, there is an old adage among scholars - "without Tyndale, no Shakespeare."
"Renowned literary critic and author Harold Bloom once said that William Tyndale is the 'only true rival of Shakespeare, Chaucer, and Walt Whitman as the richest author in the English language.' Only Shakespeare's prose 'is capable of surviving comparison with Tyndale's,'" says Teems. "That's a pretty stout endorsement given that most of the English-speaking world is totally unaware of the debt we owe to him. Tyndale: The Man Who Gave God An English Voice explores the rich endowment that William Tyndale bequeathed to the English speaking world, and raises him out of obscurity."
In the end, Tyndale died a martyr, strangled and burned at the stake for heresy. His 1526 translation liberated the English tongue, and infused nobility and majesty into a language that at the time was considered crude. His Bible became the foundation of our finest prose thereafter. All modern translations, including the KJV, follow Tyndale's initial work. Only the very latest translations (including paraphrased versions) depart from Tyndale.
Tyndale: The Man Who Gave God An English Voice is already garnering rave reviews.
"When I laid down the book, Tyndale, I found myself overwhelmed by the thought that I had just been re-introduced to one of the truly great men in history," says Church Report's Jim Miller. Teems is promoting Tyndale: The Man Who Gave God An English Voice alongside Discovering Your Spiritual Center, published by Leafwood Publishers, and Majestie: The King Behind the King James Bible, published by Thomas Nelson. Majestie was at the center of Thomas Nelson's recent 400th anniversary celebration of the release of the King James Bible in 2011. The biography has earned accolades from reviewers, including Publishers Weekly, who calls it "…a delightful read in every way," and Jim Cantelon, co-host of Canada's longest running daily talk show, 100 Huntley Street, who calls Majestie "…one of the best written books I've ever read. It's a page turner."
About David Teems:
Teems is the author of To Love is Christ (Thomas Nelson, 2005), And Thereby Hangs A Tale (Harvest House, 2010), Majestie: The King Behind the King James Bible (Thomas Nelson, 2010) and Discovering Your Spiritual Center (Leafwood Publishers). He earned his bachelor's degree in psychology from Georgia State University. A talented musician and songwriter, Teems has recorded eight albums, including three spoken word recordings: Hope, More Hope, and Speak To Me (Scripture and music). Teems, his wife Benita, and their family live in Franklin, Tenn.
About Thomas Nelson:
Thomas Nelson is a leading provider of Bibles, products, and live events emphasizing Christian, inspirational, and family value themes. For more information, visit thomasnelson.com. For more information about David Teems and Tyndale: The Man Who Gave God An English Voice, visit davidteems.com or thomasnelson.com.