JON McLAUGHLIN SIGNS NEW ALBUM DEAL WITH RAZOR & TIE
Forthcoming New Studio Album, Promising Promises To Be Releases On May 22nd
First Single, "Summer Is Over" Featuring Sara Bareilles Available Now On iTunes and
LISTEN HERE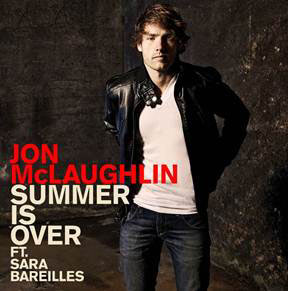 NEWS SOURCE: Razor & Tie
January 10, 2012
(New York, NY) - Razor & Tie announces the addition of singer songwriter Jon McLaughlin to its label roster for a worldwide, multi-album deal. McLaughlin's forthcoming new studio album Promising Promises is set for release on May 22nd 2012. The album's first single, "Summer Is Over" featuring Sara Bareilles is on sale now -Buy HERE and LISTEN HERE. "Summer Is Over" will impact Hot AC radio the week of February 27th. Jon McLaughlin recently wrapped up a national fall co-headlining tour with Stephen Kellogg & The Sixers and will tour extensively this year in support of this new release. v In September of 2011, McLaughlin released a self-financed/self produced independent album, Forever If Ever. The forthcoming album Promising Promises will be a completely updated and remixed/remastered version of that album which will include all new artwork and packaging, three brand new songs along with the addition of Jon's duet with Sara Bareilles on the album's lead single, "Summer Is Over."
"It's so refreshing to find a group of people who have so much experience in the music business and are still so passionate about music," comments Jon McLaughlin. "I feel like I've found the right fit with Razor & Tie and I could not be more excited about working with them!"
"We are so pleased to announce Jon's addition to the Razor & Tie family," comments Pete Giberga, Vice President of A&R for Razor & Tie. "An accomplished pianist and singer for many years, Jon has written and produced a truly exceptional album that we believe will serve as a benchmark for his career for years to come. I personally could not be more proud to be associated with Jon and Promising Promises."
Promising Promises embodies McLaughlin's irresistible songwriting style and charismatic live performances. The album features songs all written and produced by Jon McLaughlin and was partially recorded in 2011 with additional material currently being completed in Jon's home state of Indiana with his core band. Work on the new material began after parting ways with previous label Island-Def Jam Music Group. Jon wrote over 40 songs and began narrowing them down. As he explains, "A lot of songs over the past few years, there's nothing wrong with them, but there was no weight or significance with me. It feels really good to have a record that I'm working on that I can really deliver wholeheartedly knowing that the fans are getting a piece of me." He continues, "There isn't a note on the record that I didn't spend hours scrutinizing over, or at the very least sitting with and playing over and over again. I feel like it's a real connection to me."
At the core of Promising Promises remains Jon's sweetly melancholy songs. McLaughlin was able to let his stories and characters live through painfully honest and telling lyrics. Key songs include the galvanizing pain of lost love on "These Crazy Times," written after the cataclysmic oil spill in the Gulf of Mexico and "If Only I" bearing a different take on loss, cleverly written from the perspective of a person deeply, madly in love with someone they've never worked up the courage to talk to. With Jon's lead single he returns to a more traditional view of heartbreak with the wistful "Summer is Over," written for a friend in the throes of a crushing break-up. Lest fans begin to think he is about to drown in the depths of love's despair, McLaughlin throws in "Without You Now." Another standout is the title track "Promising Promises" which features a minute long minute spectacular piano solo. Jon explains, "I wrote the song 'Promising Promises' during a really frustrating and challenging time in my career. The song became a turning point and became a clear indication of where I needed to start going as an artist-it became therapy. It says exactly what I wanted to say and says it exactly how I want to say it."
The mid-western born and raised Jon McLaughlin has released two albums 2007's Indiana and 2008's OK Now with Island Records. His hit singles "Beautiful Disaster" and "Beating My Heart" propelled the singer songwriter up the charts and to date he has sold more than 1 million digital tracks and 170,000 albums. In 2008 McLaughlin appeared as himself in the film Enchanted starring Amy Adams and Patrick Dempsey singing the song "So Close." The song was nominated for an Academy Award and Jon performed it at the Oscars in front of 32 million US viewers. The 29 year old McLaughlin plays both piano and guitar and has performed on such television shows as The Today Show, The Tonight Show and The CBS Early Show and been featured on NPR's Weekend Edition. USA Today has raved about his "indelibly catchy" music and Billboard has declared his songs have "instantaneous hit potential, and proper promotion could propel the artist to superstar status." His music has been featured in film and television shows such as Disney's Bridge To Terabithia, Universal Pictures' Georgia Rule, CBS's Ghost Whisperer, CBS's Flashpoint, an ABC Primetime promo spot, NBC's Scrubs, and NBC's The Event. McLaughlin has toured with Kelly Clarkson, Adele, Colbie Caillat, Sara Bareilles, One Republic, Paolo Nutini, Duffy and many more. Jon McLaughlin is managed by Darren Gilmore at Watchdog Management - A Division of Macklam Feldman Management and represented for touring by Brodie Becker at William Morris Endeavor Entertainment.
Jon McLaughlin is the latest addition to independent label Razor & Tie's expanding roster that includes such artists as Vanessa Carlton, Nicole Atkins, Dave Barnes, Dar Williams, Kevin Devine, Saves The Day, Hit The Lights, The Summer Set, Foreigner, Dee Snider and the hard rock/metal bands P.O.D., All That Remains, Norma Jean, For Today, Shadows Fall, Chelsea Grin, Such Gold and many more. The New York City-based label is one of the fastest growing independent record companies in the United States, and has garnered both Platinum sales and Grammy awards in its 20-year history.
LINKS
www.jonmcl.com
www.facebook.com/jonmclaughlin
www.myspace.com/jonmclaughlin
www.twitter.com/jonmclaughlin
iTunes Summer is Over": http://bit.ly/SUMMERISOVER
Listen to "Summer is Over" http://www.youtube.com/watch?v=n_eyb8MIvZ0
CBS Early Show - Performance from 11/26/11
# # #
For more info on Jon McLaughlin visit the JFH Artists Database.