Andrew Peterson Heads Into Studio To Record New 2012 Project Before Joining Spring Leg Of Steven Curtis Chapman Tour
Left To Right (Back Row): Cason Cooley, Producer; Ben Shive, Producer; Andy Gullahorn, Co-Producer; Andrew Peterson front row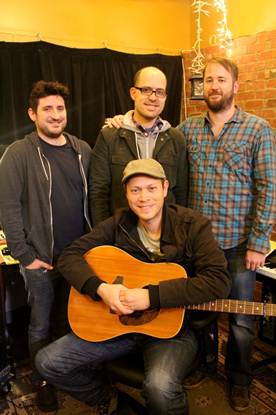 NEWS SOURCE: Bozeman Media
January 18, 2012
Nashville, TN (January 18, 2011) ----- Highly acclaimed singer/songwriter, Andrew Peterson, will be entering the recording studio this week working on his third studio project for Centricity Music, which will release early fall 2012. Peterson, who has been called "one of the greatest Christian lyricists of all time," has written all new songs for the album. The CD will be produced by long-time collaborator, Ben Shive (Sara Groves/Matt Werz/Eric Peters) and Cason Cooley (Matthew Perryman Jones/Katie Herzig/Mat Kearney/Sixpence None The Richer), with Andy Gullahorn co-producing.
"I'm as scared and as excited as ever about going into the studio," says Peterson. "The whole process of writing the songs, then choosing them, then trying to find the best way to record them, feels like fumbling around in the dark looking for a light switch. That's why it's so nice to have guys like Ben Shive, Andy Gullahorn, and Cason Cooley to help me find my way. They're amazing at what they do, and I totally trust them. If I were to stick with the light switch analogy, it's like they have night vision goggles or something."
Peterson's new project is the follow-up to his best-selling album, Counting Stars, which debuted at #1 on iTunes and #6 on the Billboard chart. Besides receiving stellar reviews for the project, the single Dancing In The Minefields reached Top 20 on the AC charts and the accompanying video garnered over 750,000 views online. Counting Stars led to a broadening of Peterson's audience in the mainstream genre with appearances on Nashville's local TV affiliates, WKRN/ABC & WZTV/FOX, a headlining slot on the Americana program, Music City Roots, and reviews from Blogcritics.org and Seattle Post-Intelligencer. The Christian media outlets continue to embrace Peterson's projects with strong support from ChristianMusicToday.com (CTI), Charisma magazine, Stand Firm magazine, ParentLife magazine, Youthwalk magazine, JesusFreakHideout.com, NewReleaseTuesday.com, among many others.
Following the recording of his new album, Peterson will once again join the spring leg of Steven Curtis Chapman's Songs & Stories Tour, which also features Josh Wilson. The fall leg of the tour was such a success with sold-out dates and enthusiastic audiences that Chapman booked the spring 2012 dates that launch February 2nd in Tulsa (Broken Arrow), OK and conclude March 11th in Ocala, FL.
"Being on the road with SCC last fall was an amazing experience," adds Peterson, "not just because of the music or the audiences; I made some great new friends in the process and got to be part of Show Hope's ministry. I can't believe we get to do it again in 2012."
Also upcoming for Peterson this year will be his 3rd annual RabbitRoom.com event, Hutchmoot 2012. The event will be held in Nashville this fall, and dates will be announced soon. Last year's conference, featuring best-selling author Sally Lloyd-Jones, sold out in six hours! Peterson will begin writing the fourth and final installment of his Wingfeather Saga series in early 2013, following his highly successful Behold The Lamb Of God Christmas tour in December. This year the tour will include two shows at Nashville's historic Ryman auditorium.
For more information on Peterson please visit online at www.andrew-peterson.com or www.centricitymusic.com.
###
For more info on Andrew Peterson visit the JFH Artists Database.