Holly Spears Goes from 'Heartache to Hope' with New Album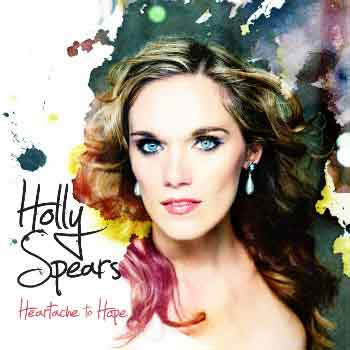 NEWS SOURCE: Nashville Publicity
January 18, 2012
(NASHVILLE, Tennessee) -- Holly Spears will release her highly-anticipated full-length album, Heartache to Hope (Girl on a Mission Music), on April 3rd, via her own label, Girl on a Mission Music, LLC. Spears has just released her debut singles, "Learning to Love" (Christian Radio) and "Watch Over Me" (Pop formats) which has a companion music video. Produced by Mitch Dane (Jars of Clay, Bebo Norman, Caedmon's Call) at Nashville's famed Sputnik Sound recording studio, the album features vocal, bass, keyboard and mastering support from Jars of Clay. v Spears grew up in the small town of Wana, West Virginia, where she found her voice as a little girl, accompanying her father on Sunday mornings in church choir. Her mother enrolled her in piano lessons at an early age, but she began to feel trapped creatively, until a Melissa Etheridge performance on television led her to the search for her first guitar.
"I literally begged my mother to buy that guitar," remembers Spears. "Little did my mom know that the seemingly insignificant purchase of a twenty-five dollar garage sale special would set the stage for a whirlwind of new life experiences."
Spears spent her high school and college years writing songs and learning about the world of music business. She played in various bands and interned at a local radio station, where she was introduced to frontman Eliot Sloan of the platinum-selling pop/rock band Blessid Union of Souls. Soon after, Spears was in the studio with Sloan who worked with her to craft her sound.
"I would attend class during the week and travel to Cincinnati on weekends and during school breaks to write and record," she recalls. "It was clear to me that I was doing what I was designed to do."
With no label, and very little promotion, she released her debut album, Redemption Road in 2009, and found her music used in network shows on MTV and VH1, and popping up on radio stations nationwide. Before long, she was sharing the stage with such notables as Blessid Union of Souls, Spin Doctors, Gin Blossoms and Roger McGuinn of The Byrds, among others.
In April, Spears will release her first national release, Heartache to Hope, which tells the story of a hopeful small town girl with big city dreams and an even bigger heart.
"My dream for this album is to reach the deep, deep wounds in the hearts of everyone who hears it," says Spears. "I hope to connect with people through the pain I have experienced in my own life, only to help them see the hope I have found on the other side. From Heartache to Hope, I have been through a lot in my life, just like everyone else in the world. My goal is to help others find truth in the fact that no matter what they've gone through or what their situation is, there is always hope and they are never alone."
For more information, visit www.hollyspears.com