VOCAL FEW
New EP She'll Be Right
CHARTS ON BILLBOARD, iTUNES, Amazon Without A Budget
Duo Features Matt MacDonald of THE CLASSIC CRIME and Wife Kristie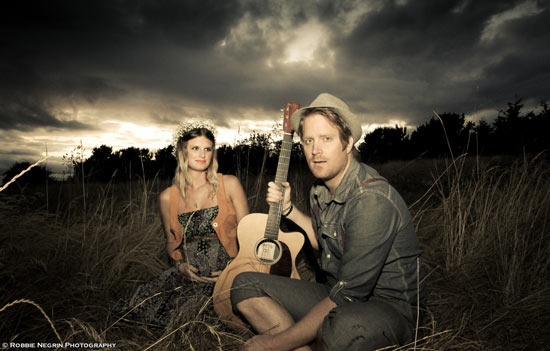 NEWS SOURCE: Another Reybee Prods.
January 23, 2012
NEW YORK, NY - "The biggest factor is creating recordings of songs that people want to hear," says one half of husband/wife folkpop duo VOCAL FEW, Matt MacDonald (who is also the lead singer of postpunk band The Classic Crime), about the surprising success of their debut EP SHE'LL BE RIGHT which was quietly released independently on January 10, 2012. Utilizing a total of zero dollars on promotion or marketing of any sort, the EP debuted at an astounding #12 on Billboard's Heatseeker's Chart and #8 on the Folk Albums Chart. It was also deemed "New and Noteworthy" by iTunes where it debuted at #3 on the Singer/Songwriter Chart and was featured on both the Pop and Rock "New and Notable MP3 Releases" on Amazon.com.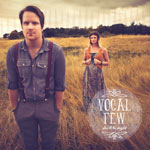 Borne from the exhilaration and nervous excitement of impending first-time parenthood back in March of 2011, Matt and his wife Kristie went through all the normal thought processes that nearly all expecting couples go through. But, unlike most couples, they worked it out in song. "The project was inspired by the idea that in nine months we would be parents, and we should probably make a record to raise money to support this child," he explained. "And if no money gets raised, well, at least we made music together back when we were childless and had free time." Thankfully, the music they made together not only proved to bring them even closer together as a couple but it also has spoken to a larger audience - their fans. "I think the profile of The Classic Crime [TCC] definitely helped us," he continues about the uptick of sales, "but it was all word of mouth from TCC and Vocal Few fans that helped us sell any copies. Really, the credit goes to them."
Texturally lilting and melodically soaring, the music and the lyrics of She'll Be Right is an exuberant celebration of the emotional surges that reflect the experiences they've been living through for the last year. From the laidback waltz of "The Fountain" to the piano-led propulsiveness of "Every Second" to angst-drenched harmonies of "Mexico", the EP has a widespread and broad appeal that crosses genres. "Ever since we married seven years ago our lives have been a journey" Matt says about the epic, acoustic opening track "We'll Make It Someday." "There hasn't been much stability with touring in a band and us moving around a lot, but things have always had a way of working out. We've been anxious or stressed at times about where money will come from or how we were going to pay rent, and adding a baby to the mix doesn't do much to ease any of that, but I think the song is a reminder of where we've been and where we plan to go. It sort of says: True, life hasn't been easy, it may never be, but there's hope, and we'll make it someday." While his primary band, The Classic Crime, gears up for their next studio album, Vocal Few isn't staying for just a recording. "We have both excitedly agreed that hopping in our car with the baby to play a string of shows would be fun, especially if we can pay our rent that way," he says. "Plus, Kristie is no stranger to the road. She tour managed my band for an entire year in 2006 and she loves the idea of traveling again." Stay tuned for touring updates.
Vocal Few is Matt MacDonald (vocals, guitars, keyboards) and Kristie MacDonald (vocals, piano). Their EP She'll Be Right was recorded and produced by Matt in his home studio, mixed by Brandon Metcalf and mastered for vinyl by Troy Glessner. It was released on January 10, 2012 independently.