GRAMMY NOMINATED ROCK OUTFIT
RED HEADLINES 20-CITY "REDVOLUTION TOUR"
All-Star Ticket to Include Thousand Foot Krutch, Manafest, Nine Lashes, KIROS

Band to Take Show Overseas for String of European Dates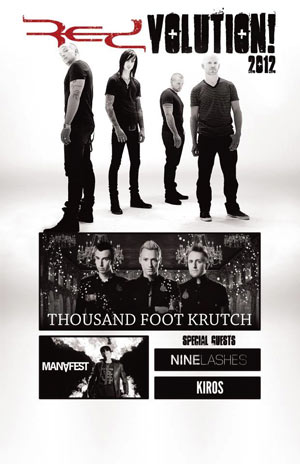 NEWS SOURCE: Provident Music Group
January 24, 2012
(Nashville, Tenn.) Jan. 24, 2012 -- Two-time GRAMMY nominated, Essential Records rock act RED kicks off its second headlining tour in five months, the "REDvolution Tour," on Feb. 10. Visiting 20+ cities domestically, with special guests Thousand Foot Krutch, Manafest, Nine Lashes, and KIROS, the tour will also include a run of "RED only" dates throughout Europe in April.
A year since releasing its acclaimed third studio project, Until We Have Faces, RED continues to make massive career strides, venturing out on back-to-back headlining tours. Following its popular fall "Kill The Machine Tour," RED sets the stage for an all-new endeavor, the "REDvolution Tour." Kicking off two weeks from Friday, the tour will visit more than 20 cities across the U.S., including major markets Washington, D.C., Dallas, Las Vegas, and Phoenix, among others, through late March.
And for the first time, RED will headline its own European tour, taking the show abroad to cities in The Netherlands, Belgium, Germany, Switzerland, Russia and Ukraine. Please refer to the tour itinerary following this release for additional information, or visit www.redmusiconline.com for an updated list of tour dates. For more information on the "REDvolution Tour" artist line-up, go to: www.redmusiconline.com
In addition to headlining its own tour, RED will be headlining select festival dates this summer as well, including Sonshine Festival in Minnesota. Also, look for the band to make appearances at Alive Festival, Ichthus Festival, Creation East, SpiritSong, KingsFest, and Creation West, to name a few. Listen for the RED's latest radio single "Who We Are," now vying for adds at Christian CHR and Rock too.
For a complete tour schedule and the latest news on RED, please visit: www.redmusiconline.com, www.facebook.com/redmusiconline and www.twitter.com/redmusiconline.
For information on supporting artists on the "REDvolution Tour," please visit their respective websites: www.thousandfootkrutch.com, www.manafest.ca, www.facebook.com/ninelashes and www.kiros.com.
About RED:
Nashville-based rock outfit RED comprises Michael Barnes (vocals), Anthony Armstrong (guitar) Randy Armstrong (bass) and Joe Rickard (drums).
Together, its three career albums -- End of Silence (2006), Innocence & Instinct (2009), and Until We Have Faces (2011) -- have sold more than 780,000 units, garnering two GRAMMY nominations, five GMA Dove Awards, two Top 10 Active Rock singles, three Top 10 Mainstream Rock singles and 10 consecutive No. 1 hits at Christian radio.
Most recently, RED's Until We Have Faces (Feb. 1, 2011) was the highest national debut at No. 2 on the coveted Billboard Top 200. Additionally, the project topped the following Nielsen SoundScan charts: Current Hard Music, Current Rock Music, Current Alternative, Christian Rock, Current Contemporary Christian Album and Record Label Independent charts. Also its debut week, two of the album's songs were spotlighted on national TV, with TBS' "Conan" featuring "Faceless" and NBC's "Tonight Show with Jay Leno" highlighting "Not Alone."
In addition, RED has logged an impressive 1,300 + live shows, performing alongside notable rock names such as Hinder, 3 Doors Down, Creed, Breaking Benjamin, Three Days Grace, Godsmack, Sevendust, Drowing Pool, Flyleaf, Seether, Papa Roach, Buckcherry, Saving Abel, Staind, Third Day, Switchfoot, Skillet and others. Rave reviews for the band's live shows and albums have been featured in top media outlets including Billboard, USA Today, Modern Drummer Magazine, Rolling Stone and Guitar World.
REDvolution Tour Dates* February 10 - Rochester, Minn.
February 11 - Thief River Falls, Minn.
February 12 - St. Cloud, Minn.
February 15 - Washington, D.C.
February 17 - Richmond, Va.
February 18 - Cary, N.C.
February 19 - Blountville, Tenn.
February 24 - North Charleston, S.C.
February 25 - Jacksonville, Fla.
February 26 - Saint Petersburg, Fla.
March 8 - Corpus Christi, Texas
March 9 - Dallas, Texas
March 11 - Tulsa, Okla.
March 15 - Las Vegas, Nev.
March 16 - Redlands, Calif.
March 17 - Phoenix, Ariz.
March 21 - Wichita, Kan.
March 22 - Fort Smith, Ariz.
March 23 - Sauget, Ill.
March 24 - Fort Wayne, Ind.
European Tour Dates*
April 17 - Urtecht, The Netherlands
April 19 - Enschende, The Netherlands
April 20 - Bormal-sure-Ourthe, Belgium
April 21 - Frankfurt, Germany
April 22 - Berlin, Germany
April 24 - Cologne, Germany
April 25 - Stuttgart, Germany
April 26 - Zurich, Switzerland
April 28 - Moscow, Russia
April 29 - St. Petersburg, Russia
April 30 - Kiev, Ukraine
*all dates subject to change
# # #
For more info on RED visit the JFH Artists Database.