GMC TV Presents World Premiere Music Special
"The Song That Changed My Life" With Steven Curtis Chapman
Debuts Tuesday, January 31 at 11:30 p.m. ET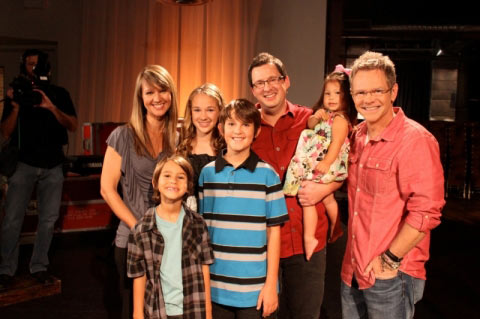 The Pace family with Steven Curtis Chapman. L-R are Shelley, Brody, Kylie, Zach, Chuck, Sophie, and Chapman.
NEWS SOURCE: Merge PR
January 27, 2012
ATLANTA, GA - GMC, America's favorite channel for uplifting music and family entertainment, will present the world premiere of the network's new reality series "The Song that Changed My Life" with Steven Curtis Chapman. This first episode, focusing on GRAMMY® Award-winning artist Steven Curtis Chapman and his song "When Love Takes You In," depicts how this particular song influences a family's decision to adopt from China. The premiere is set to air Tuesday, January 31st at 11:30 p.m. ET. There will be an encore broadcast on Sunday, February 5 at 1:30 p.m. ET.
Meeting the family impacted by the Chapman-penned tune, the Pace's from Greenville, South Carolina, Chapman shared about the experience,"I'm so grateful for God's orchestration to use this song as part of the Pace family's story. Even more miraculous is God's weaving a child into this family."
Before adopting their daughter Sophie, Chuck and Shelley Pace already had three biological children - Kylie (14), Zach (12), and Brody (7). Sophie, now age 3, was adopted from Nanchang, China when she was 14 months old. Shelley always had her heart set on adopting a little girl from China but her husband's heart wasn't in the same place. Yet in April 2005, Chuck went to a Steven Curtis Chapman concert in Greenville and saw the video for "When Love Takes You In." At that show, he had a complete change of heart about adoption.
The family began paperwork that same year but encountered a number of excruciating "delays," typical and known to happen in international adoptions. The family eventually received word at the end of 2009 that their adoption was ready to proceed. During delay process, the Pace's applied for and received a $3,000 grant from Show Hope, the Chapman family's adoption ministry, to help make the adoption possible.
Chapman was able to spend time with the Pace family before heading out on his "The Songs & Stories Tour." He also shares, "It was really a privilege to meet the Pace's who have stepped up with courage. This show is about God's power working through music, and I'm humbled to be a part of the storyline. GMC tells it so well. Thanks to everyone at GMC. I loved being a part of this fantastic program."
To view the trailer for this very special premiere, please click here. "The Song that Changed My Life With Steven Curtis Chapman" is narrated by John Tesh.
# # #
About GMC:
GMC ( watchGMCtv.com) is America's favorite channel for uplifting music and family entertainment. The Parents Television Council™ awarded its Entertainment Seal of Approval™ to GMC for being "an authentic family-friendly cable network." In 2011, GMC was the second fastest growing ad supported cable network in total day households and A18-49. GMC can be seen in over 51 million homes on various cable systems around the country, as well as DISH Network on channel 188, DIRECTV on channel 338 and Verizon FiOS on channel 224. Follow GMC TV on Facebook at http://facebook.com/gmctv and on Twitter @gmctv or http://twitter.com/gmctv.
About Steven Curtis Chapman:
Steven Curtis Chapman has sold over ten million records including two RIAA certified platinum albums and eight RIAA certified gold albums. Along with his five GRAMMY® awards, Chapman has won an American Music Award, has recorded 46 No. 1 US radio hits and been awarded 56 Dove Awards, more than any other artist to date. He is nominated for another GRAMMY for his No. 1 hit "Do Everything." This is his 16th nomination. The GRAMMY Awards will air on Feb. 12th.
Steven Curtis Chapman's "The Songs & Stories Tour" with Andrew Peterson and Josh Wilson kicks off on Feb 2 in Tulsa, OK. Full tour and ticketing information can be found at StevenCurtisChapman.com. Chapman's songs have changed lives since 1987, and he's celebrating a few of them with video content at his website every other Thursday this year with a web series entitled 25, where he shares the story behind the song and then treats the viewers to a brand new one-take acoustic performance of the same song. His latest single, in his long career of 46 #1's that just launched on radio, is "Long Way Home," which is from his latest release, re:creation.
Since his recording career began in 1987, Chapman has recorded seventeen projects with Sparrow Records. He has performed at the White House and has appeared on multiple national programs via CBS, NBC, ABC, CNN, MSNBC, CMT, FOX News, the Hallmark Channel and E!, including Good Morning America, Larry King Live, Fox&Friends, Huckabee, CBS Sunday Morning, The Tonight Show with Jay Leno and more. Chapman and his wife Mary Beth created Show Hope in 2001 after bringing their first adopted daughter, Shaohannah, home from China. The ministry's goal is to help families reduce the financial barrier of adoption, and has provided grants to more than 3,000 families wishing to adopt orphans from around the world. To find out more, please visit stevencurtischapman.com, stevencurtischapman.com/links and ShowHope.org.
About John Tesh:
Tesh is a New York Times Best-selling author, GRAMMY® Award-nominated recording artist and host of the award winning syndicated radio show, "Intelligence For Your Life," airing on more than 400 radio stations with eight million weekly listeners.
# # #
For more info on Steven Curtis Chapman visit the JFH Artists Database.