FINANCIAL EXPERT, AUTHOR AND PHILANTHROPIST JEFF PETHERICK SET TO RELEASE NEW BOOK
Grace Like Rain Examines Powerful Force of God's Grace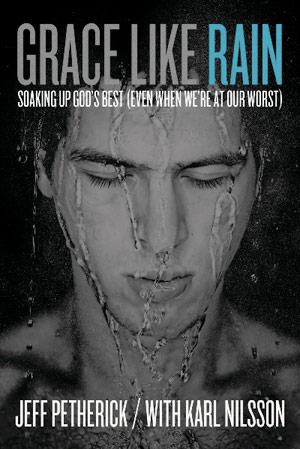 NEWS SOURCE: McCain & Co. PR
January 31, 2012
Nashville, Tenn. (Jan. 31, 2012) - Elk Lake Publishing has announced the Spring 2012 release of Jeff Petherick's Grace Like Rain: Soaking Up God's Best, Even When We're At Our Worst, a book that examines the most powerful and perhaps most misunderstood power in the universe - God's grace - through real-life accounts about a God who did the unthinkable to save the unlovable. The book will be distributed exclusively to the CBA market through New Day Christian Distributors.
Following the release of Petherick's first book, Wavelength: Tuning In To God's Voice In A World of Static, Grace Like Rain offers a non-religious, practical view of what grace does and doesn't look like in our daily lives.
"As we come to gain insight into just how amazing God's grace is, maybe, just maybe we will learn to show it better to others," says Petherick, a successful investment manager, financial expert and philanthropist, who also is in demand as a Christian speaker and teacher. Throughout Grace Like Rain, Petherick writes about grace in action, how God wants people to take the grace they have received and pass it on to others. In the book, he shares gripping stories of people surprised by grace and changed forever.
Grace Like Rain already is garnering positive accolades. "Get ready for a spiritual jailbreak," says Steve Andrews, Lead Pastor of Kensington Community Church. "Grace Like Rain will make you laugh, cry, squirm and do the happy dance. Religion is prison. Grace is freedom."
"Rock stars and prostitutes, convicts and clergy, they're all in this book, grappling with grace and the radical, relentless, unconditional love of God," says Alex McManus, founder of the social network M and creator of Voxtropolis, the innovative annual music jam and film/art festival.
Grace Like Rain is published by Elk Lake Publishing and is distributed by New Day Christian Distributors. For more information on Petherick, Grace Like Rain or Elk Lake Publishing, visit ElkLakePublishing.com.
About Jeff Petherick:
In his writing debut, Wavelength, Petherick shared with readers his stressful world as a rising star mutual fund manager in the 1990s, often finding himself in the role of expert for such weighty financial news organizations as The Wall Street Journal, Barron's, CNBC, Forbes and Kiplinger's Personal Finance. He went on to become founding partner in NorthPointe Capital, an institutional investment management firm with $1.5 billion in assets under management. Petherick put feet to his faith by founding Impact India 360, a non-profit organization dedicated to supporting outreach efforts in eastern India. Impact India 360 has built and funded an orphanage, a school for village children, a hospital and a missionary training school that has trained more than 500 pastors. The organization also offers college scholarships to village children and is involved in church-planting efforts throughout the region. Among his other adventures in his walk with the Lord, Petherick has also led multiple mission trips for high school and college students to the indigenous people of Iquitos, Peru, in the Amazon Rainforest. Petherick is married to his high school sweetheart, Gina. They live in Michigan and have two children.
About New Day Christian Distributors:
New Day Christian Distributors is based in Hendersonville, Tenn., and has been a valuable supplier of consumer products servicing Christian retail for 30 years with music, DVD, gifts, books and Bibles. For more information on New Day, visit newdaychristian.com.