Switchfoot Announce Spring Tour Dates
And give more details on new remix EP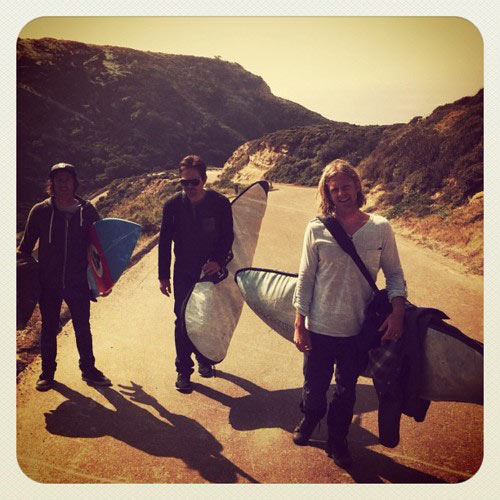 NEWS SOURCE: Switchfoot / Jesusfreakhideout.com
February 10, 2012
Today, Switchfoot announced the dates for their Spring tour, starting later this month. Check it out below...

"As we continue the search for good waves, we are heading to Australia for Soundwave Festival and will be playing- a few headlining shows in Australia and New Zealand during February and March.
We are excited to announce a spring tour of the United States and Canada. Tickets go on sale Friday, February 17th, but you can get your tickets early through www.switchfoot.com. On February 15th we will be hosting our official pre sale which will allow you to purchase our new VIP Experience where you can attend our sound check, meet and hang out with us. More information is available at www.switchfoot.com/c/tourdates
Date City Venue
02/24/2012 Brisbane, Australia The Tivoli
02/25/2012 Brisbane, AUS, Australia Soundwave - Brisbane
02/26/2012 Sydney, AUS, Australia Soundwave - Sydney
02/27/2012 Sydney, AUS, Australia The Factory
03/01/2012 Melbourne, AUS, AUS Prince of Wales
03/02/2012 Melbourne, AUS, Australia Soundwave - Melbourne
03/03/2012 Adelaide, AUS, Australia Soundwave - Adelaide
03/05/2012 Perth, Australia Soundwave - Perth
03/08/2012 Auckland, NZ, New Zealand The Studio
03/22/2012 Kahului, HI MACC Castle Theater
03/24/2012 Kahuku, HI Turtle Bay Hilton
04/12/2012 Norfolk, VA The Norva
04/13/2012 Buies Creek, NC Campbell University
04/18/2012 Madison, WI Majestic Theatre
04/19/2012 St. Paul, MN Northwestern College - Maranatha Hall
04/20/2012 Spring Arbor, MI Spring Arbor University
04/22/2012 Frisco, TX FC Dallas Stadium
04/25/2012 Fayetteville, AR USA George's Majestic Lounge
04/26/2012 Columbia, MO The Blue Note
04/27/2012 Des Moines, IA Wooly's
04/28/2012 Oklahoma City, OK Frontier City Theme Park
05/03/2012 Birmingham, AL Samford University
05/04/2012 Springfield, MO Gillioz Theatre
05/05/2012 Greenville, IL Greenville College
05/07/2012 Asheville, NC The Orange Peel
05/08/2012 Athens, GA Georgia Theatre
05/10/2012 York, PA Pullo Family Performing Arts Center
05/18/2012 Gulf Shores, AL Hangout Music Fest
05/20/2012 Naperville, IL North Central College
05/22/2012 Winnipeg, MB Garrick Centre
05/24/2012 Saskatoon, SK Canada Louis' Pub
05/26/2012 Calgary, AB, Canada MacEwan Ballroom
05/27/2012 Vancouver, BC Commodore Ballroom
06/28/2012 King's Island, OH King's Island
06/30/2012 Shirleysburg, PA USA Agape Farm
07/11/2012 Oshkosh, WI Sunnyview Fairgrounds
07/13/2012 Willmar, MN Sonshine Festival- Willmar Civic Center Grounds
07/14/2012 Hot Springs, AR Magic Springs Theme Park
07/20/2012 Enumclaw, WA Enumclaw Expo Center
08/02/2012 Gilford, NH Gunstock Mountain Resort
08/18/2012 Great Falls, MT Centene Stadium
Living Social Event at La Jolla Playhouse in La Jolla, CA -- March 20th, 2012
Switchfoot, Living Social and NBC SounDiego bring a memorable night to La Jolla Playhouse on March 20th, 2012. Producer Neal Avron will join the band to discuss the making of the record. The band will take you inside the creative process of making the record as well as offering a chance for a meet and greet. Tickets will be available starting February 22nd via LivingSocial.com.
Vice Re-Verses: Vice Verses Remixed
Some of our good friends in bands we love decided to remix their favorite tracks from Vice Verses. We had so many amazing submissions, we decided to release a remix EP. There will be physical limited edition copies available in stores on Record Store Day, April 21st, 2012 and will be available digitally through iTunes on May 1st, 2012. We are really stoked for you to hear these tracks!
Can you be a part of the Remix EP? The answer is YES!
Remix Contest hosted by Talenthouse:
"Remix "Afterlife" the next single from Switchfoot's Vice Verses"
We have a Remix Contest that is now live through Talenthouse. The stems to our next single "Afterlife" are available for you to remix any way you want. The guidelines are on the site. Our favorite remix will be added to the Vice Re-Verses digital release as a bonus track! Also, our friends at Ultimate Ears will be rewarding the top 3 remixers with insane custom in-ear monitors! Check it out. http://www.talenthouse.com/remix-for-switchfoot
###
For more info on Switchfoot visit the JFH Artists Database.