JFH NEWS SHORTS FOR WEDNESDAY FEBRUARY 15, 2012
News on Emery, Abandon Kansas, Audrey Assad, HyperStatic Union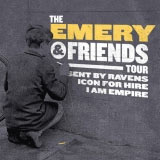 NEWS SOURCE: a Jesusfreakhideout.com report
February 15, 2012
>> Emery Announce "Emery and Friends Tour"
Catch the first leg of the Emery and Friends tour this March featuring Emery, Sent By Ravens, Icon For Hire and I Am Empire! Visit the Tour Page for all the dates and details. Emery's We Do What We Want, Icon For Hire's Scripted and I Am Empire's Kings are available in stores and online now! Sent By Ravens' upcoming album Mean What You Say is available in stores and online February 28th! (from Tooth & Nail)
>> Abandon Kansas Debut New Single, "Chariot"
Abandon Kansas has released a brand new single via YouTube lyric video, titled "Chariot." It's a much different sound for the guys, as it bears a poppier sound, but is certainly worth a listen. Check it out here: http://www.youtube.com/watch?v=vkiTB3-SrMg
>> Live Audrey Assad "O My Soul" Studio Video
Audrey Assad's anticipated sophomore album, Heart, hit stores yesterday, and you can check out a great video of Assad performing her beautiful song "O My Soul" as it was recorded live in the studio in one take for the album. View it here: http://www.youtube.com/watch?feature=player_embedded&v=4_dAswUDjpE. Also, if you happened to pick up a physical copy of Heart or from a digital retailer other than iTunes, the popular Apple digital marketplace is selling an exclusive bonus track, "The Other Side," which is also downloadable apart from the rest of the album. Check it out on iTunes by clicking here.
>> HyperStatic Union Is No More
Pop/soul group HyperStatic Union have been flying under the radar for a few years now, and it was brought to our attention yesterday that the band has officially called it quits. Thanks to faithful reader Micah M, we were told that frontman Shawn Lewis explained, "HSU is no more. Bryan was a critical collaborator and founding member and an awesome friend." According to the band's page on Wikipedia, guitarist Bryan Albrechtson died last October (2011), but no cause of death was listed...
>> Get Your Tooth & Nail Artist Valentines Cards!
This month when you buy anything in the Tooth & Nail Store, receive a free Valentine Card Set and bracelet with your order. The card set features Emery, Icon For Hire, Poema and Rocky Loves Emily and is available while supplies last... (from Tooth & Nail)
For more info on these artists, visit the JFH Artists Database.