SWITCHFOOT ANNOUNCES SPRING HEADLINE TOUR
VICE RE-VERSES, A LIMITED EDITION REMIX CD OF TRACKS FROM VICE VERSES, SET FOR RELEASE ON RECORD STORE DAY, APRIL 21

SWITCHFOOT TEAMS WITH LIVING SOCIAL, NBCSOUNDIEGO FOR HOMETOWN EVENT ON MARCH 20 AT LA JOLLA PLAYHOUSE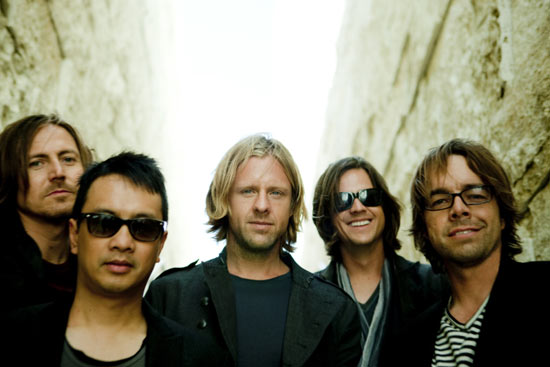 NEWS SOURCE: Big Hassle
February 16, 2012
GRAMMY-winning rock band SWITCHFOOT will launch a North American headlining tour on March 22 in Kahului, HI. (See below for itinerary.) A ticket pre-sale for members of the band's fan club, Friends of the Foot, is underway at www.switchfoot.com.
Next week SWITCHFOOT heads to Australia and New Zealand, where they will headline the traveling Soundwave Festival. They'll also be capturing footage for Fading West, the San Diego-based band's upcoming surf film, which will feature numerous other incredible surfing locations SWITCHFOOT has visited on its world tour.
On March 20, NBC SounDiego + Living Social present "An Evening with Switchfoot at La Jolla Playhouse." SWITCHFOOT and producer Neal Avron (Sara Bareilles, Weezer) will discuss the making of their latest album, Vice Verses (Atlantic Records). The evening will also feature a Q&A and meet-and-greet session. Tickets will be available on February 22 exclusively through www.livingsocial.com.
On Record Store Day, April 21, SWITCHFOOT will release a limited edition CD entitled Vice Re-Verses. The EP will feature remixes of songs from Vice Verses by Paper Route, Owl City's Adam Young, Photek and Darren King. A digital version of Vice Re-Verses will be released on May 1 and will include a remix of the band'snew single, "Afterlife," by the winner of the Switchfoot Remix Contest, which is underway now at http://www.talenthouse.com/remix-for-switchfoot and sponsored by Ultimate Ears.
"Afterlife" is the follow-up to SWITCHFOOT's Top 5 Modern Rock hit "Dark Horses," which was the first single from Vice Verses. Billboard praised the record's "powerful, anthemic rockers" and Relevant Magazine called it SWITCHFOOT'S "most unique" album yet. "[The] gorgeous, swelling 'Restless' sounds plucked from U2's Achtung Baby," said Alternative Press.
SWITCHFOOT - comprising Jon Foreman (vocals/guitar), Tim Foreman (bass), Chad Butler (drums), Jerome Fontamillas (keys/guitar) and Drew Shirley (guitar) - has begun making plans for the eight annual Switchfoot Bro-Am will be held on Saturday, June 16, at Moonlight Beach in Encinitas, CA. The event will feature surfing contests, a live art mural created by local artists and a live concert. It will benefit San Diego area chapters of StandUp for Kids, a non-profit organization dedicated to making a difference in the lives of at-risk and homeless youth (www.standupforkids.org). Further details will be announced shortly.The event has raised more than $500,000 to date for San Diego-based children's charities, including StandUp for Kids.
SWITCHFOOT - UPCOMING NORTH AMERICAN TOUR DATES
WITH SPECIAL GUEST THE ROCKET SUMMER
3/22Kahului, HI @MACC Castle Theater
3/24Kahuku, HI @ Turtle Bay Hilton
4/12Norfolk, VA @The Norva
4/13Buies Creek, NC @ Campbell University
4/15Muncie, IN @ Ball State
4/18Madison, WI @ Majestic Theatre
4/20 Spring Arbor, MI @ Spring Arbor University
4/22Frisco, TX@ FC Dallas Stadium
4/25Fayetteville, AR @ George's Majestic Lounge
4/26Columbia, MO @ The Blue Note
4/27Des Moines, IA @ Wooly's
5/3Birmingham, AL @ Samford University
5/4Springfield, MO @ Gillioz Theatre
5/5Greenville, IL @Greenville College
5/7Asheville, NC @The Orange Peel
5/8Athens, GA @ Georgia Theatre
5/10York, PA @ Pullo Family Performing Arts Center
5/18Gulf Shores, AL @ Hangout Music Fest
5/20Naperville, IL @ North Central College
5/22Winnipeg, MB@ Garrick Centre
5/24 Saskatoon, SK@ Louis' Pub
5/26Calgary, AB @ MacEwan Ballroom
5/27Vancouver, BC @ Commodore Ballroom
6/28King's Island, OH @ King's Island
7/11Oshkosh, WI@ Sunnyview Fairgrounds
7/20Enumclaw, WA @ Enumclaw Expo Center
8/2Gilford, NH@ Gunstock Mountain Resort
8/18Great Falls, MT @ Centene Stadium
For more info on Switchfoot visit the JFH Artists Database.