Audio Adrenaline Teases Possible Reunion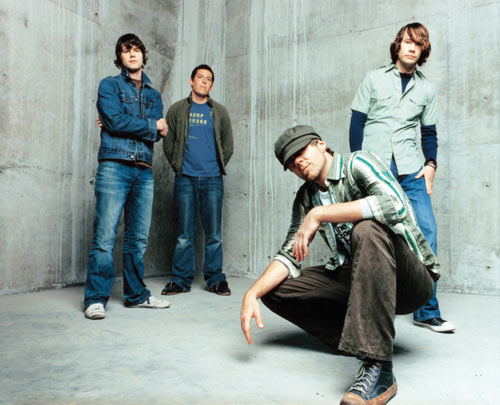 NEWS SOURCE: Jesusfreakhideout.com / Audio Adrenaline
February 21, 2012
This evening, Mark Stuart, former lead singer for Audio Adrenaline, teased the possibility of a "comeback" on a new Facebook page for Audio Adrenaline. Stuart wrote, "What if Audio Adrenaline were to make a come back? What if the music, the concerts, the message was all directly focused on bringing the hope of Christ to the orphaned and abandoned children of the world. That would be worth doing...don't you think? We are praying!!! -Mark Stuart"
While no other details were given, it's probably unlikely that members Tyler Burkum or Ben Cissell would return. Ben has been working full-time for the club Rocketown in Nashville, TN, while Tyler Burkum has been touring as the guitarist for Mat Kearney, as well as part of his own band with Thad Cockrell, called Leagues. One of the main reasons Audio Adrenaline called it quits in the first place, playing their final show in April of 2007, was because of Stuart's vocal troubles. Mark and the band's bass player Will McGinniss have been performing acoustic shows (which morphed into the Know Hope Collective) the past few years, which featured Stuart providing some vocals, but even then he relied on other vocalists to do most of the singing.
While we can only dream that Mark and Will could re-assemble the band with Mark back on leads, I suppose we'll just hold out a little hope and see what unfolds from here. If the idea of their return does indeed sound good to you, though, be sure to head on over to their Facebook page, "Like" it, and post a work of encouragement! (Thanks to Shaun for the news tip)
February 22, 2012 -- UPDATE
Today, Stuart responded on Facebook to fans' encouraging responses...
"WOW!!! Thanks for the amazing responses. We are humbled to know you guys would be excited for a comeback. Your prayers and comments give us strength and courage as we consider what God has for the future of Audio Adrenaline. We will keep you posted as God moves!!! -Mark"
###
For more info on Audio Adrenaline visit the JFH Artists Database.