GOSPEL MUSIC ASSOCIATION'S 43RD ANNUAL GMA DOVE AWARDS
NOMINATIONS ANNOUNCED TODAY

Artist of the Year Nominees are Casting Crowns, Jason Crabb, Laura Story,
Lecrae, and The Isaacs

New Artist of the Year Nominees are Jamie-Grace, Dara Maclean, Royal Tailor,
Beyond The Ashes and The City Harmonic

American Idol Break-out Star Mandisa Nominated along with Array of Top Artists incl. Ricky Skaggs, Switchfoot & Skillet
Awards Show to be Held April 19 at Fox Theatre in Atlanta, Georgia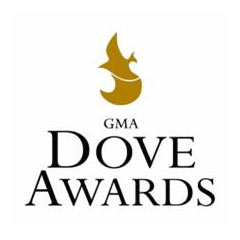 NEWS SOURCE: Rogers & Cowan
February 22, 2012
Atlanta, GA- (February 22, 2012) -The Gospel Music Association (GMA) today announced the 43rd Annual GMA Dove Awards nominees at a press conference held at The Georgian Terrace Hotel in Atlanta, GA, which was streamed live at HearItFirst. Nominees were announced by GRAMMY nominated R&B artist Montell Jordan, known for his iconic hit "This is How We Do It," BET "Lift Every Voice" host CoCo Brother, Daytime EMMY nominated comedian Chonda Pierce, and World Heavyweight Champion wrestler AJ Styles.
Atlanta will host the Dove Awards for a second time at the Fox Theatre on April 19, 2012, following a sold-out show in 2011 hosted by Sherri Shepherd which aired on the Gospel Music Channel and garnered 1.5 million viewers.
The Dove Awards have featured performances and appearances by some of the biggest names in entertainment and sports, including Whitney Houston, Tim Tebow, Sherri Shepherd and Kathie Lee Gifford. It has showcased many of the nation's leading Christian music artists, including Amy Grant, TobyMac, Michael W. Smith, Kirk Franklin, Casting Crowns, Mary Mary, Third Day and more.
"The GMA is excited to again honor the artists, songwriters and creative individuals in our community through the 43rd Annual GMA Dove Awards" said Jackie Patillo, GMA's Executive Director. "This event not only celebrates great work, but provides a platform to further our mission of exposing, promoting and celebrating the Gospel through music."
The 43rd Annual GMA Dove Awards nominees include:
Male Vocalist of the Year Chris August
Chris Tomlin
Jason Crabb
Kirk Franklin
Steven Curtis Chapman
Female Vocalist of the Year:
Francesca Battistelli
Kari Jobe
Laura Story
Mandisa
Natalie Grant
Group of the Year:
Casting Crowns
David Crowder*Band
Gaither Vocal Band
NEEDTOBREATHE
The Isaacs
About GMA:
Founded in 1964, the Gospel Music Association serves as the face and voice for the Gospel/Christian music community and is dedicated to exposing, promoting and celebrating the Gospel through music of all styles including Pop, Rock, Praise & Worship, Urban Gospel, R&B, Hip Hop, Southern Gospel, Bluegrass, Country and more. The GMA community membership consists of agents, artists, church leaders, managers, promoters, radio personnel, record company executives, retailers, songwriters and other industry visionaries. The GMA produces the GMA Dove Awards and IMMERSE. For more on supporting the GMA or becoming a member, please visit www.gospelmusic.org or contact the GMA directly at 615.277.1376. www.facebook.com/gospelmusicassociation
About the Fox Theatre:
The historic Fox Theatre is one of Atlanta's premiere venues for live entertainment. The Fox's 4,678 seat theatre is booked more than 300 performances a year ranging from Broadway to rock to comedy to movies. In December 2009, Billboard Magazine ranked the Fox Theatre in Atlanta as "The #1 non-residency venue worldwide for the decade (5,000 seats or less)." The Fox Theatre is located on Peachtree Street in the middle of the city. Not only is it on the National Historic Register, but it is one of the most beloved landmarks in the city because it is a real memory maker for the citizens of Atlanta. They may have come here to see their first performance or Broadway show; they had their first date here, and maybe even had their first kiss in the balcony. Our ballrooms are spectacular and have hosted everything from Sweet 16s to weddings and corporate events.
###
Full list of Nominees for the 43rd Annual GMA Dove Awards...
Song of the Year
Song Title; Artist; Songwriter/Director; Production Company; Record Label
Alive; Natalie Grant; Bernie Herms and Nichole Nordeman; Wow Partners; Wow Partners
Blessings; Laura Story; Laura Story; New Spring Publishing (ASCAP), Laura Stories (ASCAP); Fair Trade
Celebrate Me Home; Perrys; Joel Lindsey & Wayne Haun; PsalmSinger Music; Daywind Records
Glorious Day (Living He Loved Me); Casting Crowns; Michael Bleecker, Mark Hall; Word Music/SWECS; Beach Street
Hold Me; Jamie Grace; Jamie Grace Harper Toby McKeehan Christopher Steve; Universal Music-BrentwoodBenson Tunes, Songs of Th; Gotee Records
I Smile; Kirk Franklin; Kirk Franklin, James Harris, Terry Lewis, Frederic; Bridge Building Music (BMI), Aunt Gertrude Music P; Gospocentric
I've Been Here Before; Ernie Haase & Signature Sound; Ernie Haase, Joel Lindsey, Wayne Haun; PsalmSinger Music; StowTown Records
Please Forgive Me; Gaither Vocal Band; Gerald Crabb; Chestnut Mound Music; Gaither Music Group
Who Am I; Jason Crabb; Rusty Goodman; Playin' TAG Music; Gaither Music Group
Your Great Name; Natalie Grant; Krissy Nordhoff, Michael Neale; Tow Nords Music (ASCAP), Integrity's Praise Music (BMI); Curb Records

Male Vocalist of the Year
Artist
Chris August
Chris Tomlin
Jason Crabb
Kirk Franklin
Steven Curtis Chapman

Female Vocalist of the Year
Artist
Francesca Battistelli
Kari Jobe
Laura Story
Mandisa
Natalie Grant

Group of the Year
Artist
Casting Crowns
David Crowder*Band
Gaither Vocal Band
NEEDTOBREATHE
The Isaacs

Artist of the Year
Artist
Casting Crowns
Jason Crabb
Laura Story
LeCrae
The Isaacs

New Artist of the Year
Artist
Beyond The Ashes
Dara Maclean
Jamie-Grace
Royal Tailor
The City Harmonic

Producer of the Year
Producer/Production Team
Bernie Herms, Brown Bannister
Ed Cash
Ian Eskelin
Michael Sykes
Wayne Haun

Rap/Hip Hop Recorded Song of the Year
Song Title; Album Title; Artist; Songwriter/Director; Producer; Record Label
Hallelujah; ; LeCrae; ; ; Reach
INTOXICATED; GENESIS SNAPSHOTS; JAYESS; ; ; ZOE RECORDS
Please Don't Let Me Go; Outta Space Love; Group 1 Crew; Manwell Reyes, Pablo Villatoro, Andy Anderson, David Garcia; ; Fervent
Riot; Backlight; Tedashi; ; ; Reach Records
The Overdose; Rehab Deluxe; LeCrae; ; ; Reach Records

Rock Recorded Song of the Year
Song Title; Album Title; Artist; Songwriter/Director; Producer; Record Label
Dark Horses; Vice Verses; Switchfoot; Jonathan Foreman, Tim Foreman; ; Credential Recordings/lowercasepeople/Atlantic
Faceless; Until We Have Faces; Red; Anthony Armstrong, Rob Graves, Jasen Rauch, Mark Holman; ; Essential Records
Invisible; Horseshoes and Handgrenades; Disciple; Kevin Young, Ben Glover, Rob Hawkins; ; Fair Trade Services, LLC
One Day Too Late; Awake; Skillet; John L. Cooper, Brian Howes; ; Ardent
Your Love Is A Mystery; Crazy Love; Hawk Nelson; Jason Dunn & Daniel Biro; ; BEC Recordings

Rock/Contemporary Recorded Song of the Year
Song Title; Album Title; Artist; Songwriter/Director; Producer; Record Label
Born Again; Born Again (Miracle Edition); Newsboys; Seth Mosely, Juan Otero,michael Tate, Wes Campbell; ; InPop
Crazy Love; Crazy Love; Hawk Nelson; Jason Dunn, Daniel Biro, Ian Eskelin, & Tony Wood; ; BEC Recordings
Drifting; TBA; Plumb with Dan Haseltine; Tiffany Arbuckle Lee, Matt Bronleewe, Dan Haseltine; ; Curb Records
Lucy; Awake; Skillet; John L. Cooper; ; Atlantic/Ardent/Fair Trade
Slumber; The Reckoning; NEEDTOBREATHE; Bear Rinehart, Bo Rinehart; ; Atlantic Records

Pop/Contemporary Recorded Song of the Year
Song Title; Album Title; Artist; Songwriter/Director; Producer; Record Label
Alive (MARY MAGDALENE); Music Inspired By THE STORY; Natalie Grant; Nichole Nordeman, Bernie Herms; ; WOW Joint Venture
Blessings; Blessings; Laura Story; Laura Story; ; Fair Trade Services, LLC
Hold Me; One Song at a Time; Jamie Grace; Jamie Grace Harper, Toby McKeehan, Chris Stevens; ; Gotee Records
Someone Worth Dying For; A Beautiful Life; MIKESCHAIR; Benjamin Glover, Michael Alan Grayson, Samuel Anton Tinnesz; ; Curb Records
Your Great Name; Love Revolution; Natalie Grant; Michael Neale, Krissy Nordhoff; ; Curb Records

Inspirational Recorded Song of the Year
Song Title; Album Title; Artist; Songwriter/Director; Producer; Record Label
All Things New; On Our Way Home; Nicol Sponberg; Carl Cartee, Jeromy Deibler, Ronnie Freeman, Jason Ingram; ; Curb Records
Hope Of The Broken World; Hope Of The Broken World; Selah; Carl Cartee, Jennie Riddle; ; Curb
I Surrender; New Day; The Martins; Chris Eaton, Joyce Sanders; ; Gaither Music Group
I'll Take What's Left; Dreamin' Wide Awake; Doug Anderson; Joel Lindsey, Wayne Haun; ; StowTown
Love Is a Cross; Faroe Islands; Russ Taff; Jesse Butterworth, Joy Williams, Regie Hamm; ; Spring Hill Music

Southern Gospel Recorded Song of the Year
Song Title; Album Title; Artist; Songwriter/Director; Producer; Record Label
Celebrate Me Home; Blue Skies Coming; Perrys; Joel Lindsey & Wayne Haun; ; Daywind
If There Ever Was A Time; Together Again; The Crabb Family; Caleb Collins, Sue Smith; Jason Crabb; Gaither
I've Been Here Before; Here We Are Again; Ernie Haase & Signature Sound; Joel Lindsey, Wayne Haun, Ernie Haase; ; StowTown
Please Forgive Me; Greatly Blessed; Gaither Vocal Band; Gerald Crabb; ; Gaither Music Group
Victory In Jesus; A Life Time of Music; John Hagee; ; ; Difference Media

Bluegrass Recorded Song of the Year
Song Title; Album Title; Artist; Songwriter/Director; Producer; Record Label
Indescribable; Indescribable: Bluegrass Meets Worship; Chigger Hill Boys & Terri; Jesse Reeves & Laura Story; ; Daywind
Let It Go; A Mother's Prayer; Ralph Stanley; Sara Evans, Billy Smith, Terry Smith; ; Rebel Records
Mama's Teaching Angels How to Sing; Naturally; The Isaacs; Dottie Rambo; ; Gaither Music Group
Precious Memories; Drive Time; Doyle Lawson & Quicksilver; ; ; Crossroads Records
The Water is Calling; Already Home; Marcy Each; Marcy Each, Lyn Rowel; ; Vine

Country Recorded Song of the Year
Song Title; Album Title; Artist; Songwriter/Director; Producer; Record Label
Dreamin' Wide Awake; Dreamin' Wide Awake; Doug Anderson; Joel Lindsey, Wayne Haun; ; StowTown
Good Things Are Happening; Reach Out; Karen Peck & New River; Wayne Haun & Sonya Isaacs; ; Daywind
I Get To; Expecting Good Things; Jeff & Sheri Easter; Wil Nance, Sherrie Austin, Steve Williams; ; Spring Hill Music Group, She Loved Music
Pray About Everything; Breathe Deep; Guy Penrod; Bob Regan, Jeff Stevens; ; Gaither Music Group, Servant Records
Why Me; The Song Lives On; Jason Crabb (feat. William Lee Golden and Bill Gaither); Kris Kristofferson; ; Gaither Music Group

Urban Recorded Song of the Year
Song Title; Album Title; Artist; Songwriter/Director; Producer; Record Label
All I Need feat. Chris Lee; Captured; FLAME; Marcus Gray, Chris Lee Cobbins, Abraham Olaleye; ; Clear Sight Music
Make It Loud; Make It Loud; Martha Munizzi; Martha Munizzi, Danielle Munizzi, Khristian Dentley, Pablo Villatoro; ; Martha Munizzi Music
SOVEREIGN KING; FROM THE HEART; DEBORAH; ; ; ZOE RECORDS
Sweeter; The Love Album; Kim Burrell; ; ;
Windows; ; Canton Jones; ; ; CAJO International

Traditional Gospel Recorded Song of the Year
Song Title; Album Title; Artist; Songwriter/Director; Producer; Record Label
God Is Great; Keep Living; Ricky Dillard & New G; John Lakin; ; Light Records
Here Comes Jesus; Faroe Islands; Russ Taff; Chuck Cannon, Russ Taff; ; Spring Hill Music
Hold On; Change The Atmosphere; Christ Tabernacle Choir; Wayne Haun, Steve Carey, Matthew Garinger; ; Vine
I Saw the Light; The Song Lives On; Jason Crabb; Hank Williams; ; Gaither Music Group
Let the Church Say Amen; The Journey; Andrae Crouch; Andrae Crouch; ; Riverphlo Entertainment

Contemporary Gospel Recorded Song of the Year
Song Title; Album Title; Artist; Songwriter/Director; Producer; Record Label
He Has His Hands On You; Here I Am; Marvin Sapp; Marvin Sapp, Stan Jones; ; Verity
I Smile; Hello Fear; Kirk Franklin; Kirk Franklin, James Harris, Terry Lewis, Frederick Tackett; ; Verity
I'd Rather Have Jesus; The Song Lives On; Jason Crabb; George Beverly Shea, Rhea F. Miller; ; Gaither Music Group
The Promise; The Journey; Andrae Crouch; Andrae Crouch, Luther Mano Hanes; ; Riverphlo Entertainment
What I Have I Give; Treasures Unseen; Beyond The Ashes; Wayne Haun, Joel Lindsey, Depp Britt; ; Vine

Worship Song of the Year
Song Title; Album Title; Artist; Songwriter/Director; Producer; Record Label
Beautiful Things; Beautiful Things; Gungor; Michael Gungor, Lisa Gungor; ; EMI CMG Publishing
Glorious Day (Living He Loved Me); Mark Hall, Michael Bleecker; Mark Hall,Sony/ATV Tree Publishing/My Refuge Music (BMI) Michael Bleecker,Word Music (ASCAP); Come To The Well; Casting Crowns; Provident Label Group
Hosanna; ; Brooke Fraser; ; ; Hillsong Publishing
I Give Myself Away; William McDowell, Sam Hinn; Delivery Room Publishing; As We Worship Live; William McDowell; Light Records/Entertainment One
When the Stars Burn Down; Jonathan Lee and Jennie Riddle; UNIVERSAL MUSIC- BRENTWOOD BENSON TUNES (SESAC)/ JLEE PUBLSIHING (SESAC). ADMIN BY UNIVERSAL MUSIC/ INTEGRITY PRAISE! MUSIC; When the Stars Burn Down; Travis Cottrell; Inciite Media
Your Great Name; Michael Neale, Krissy Nordhoff; Integrity's Praise Music; Love Revolution; Natalie Grant; Integrity Music

Rap/Hip Hop Album of the Year
Album Title; Artist; Songwriter/Director; Record Label
Backlight; Tedashi; ; Reach Records
Captured; FLAME; Lamontt Blackshire, Courtney Peebles, Stephen Towns, Abraham Olaleye, Derek Johnson, Alex Hitchens, Brandon Shockley, Dion, Burroughs, Alex Medina; Clear Sight Music
Culture Shock; Jai; ;
Rehab: The Overdose; LeCrae; ; Reach Records
The Whole Truth; D.A. Truth; ; Universal

Rock Album of the Year
Album Title; Artist; Songwriter/Director; Record Label
Control; Abandon; Christpher Stevens, Paul Moak, Josh Silverberg; EMI CMG
Until We Have Faces; Red; Rob Graves; Essential Records
Vice Verses; Switchfoot; Neal Avron; EMI CMG
What I've Become; Ashes Remain; ; Fair Trade
With Shivering Hearts We Wait; Blindside; Mike Plotnikoff and Igor Khoroshev for Howard Benson Productions, LLC; Fair Trade Services, LLC

Rock/Contemporary Album of the Year
Album Title; Artist; Songwriter/Director; Record Label
Ad Astra Per Aspera; Abandon Kansas; Mark Lee Townsend; Gotee Records
Come Home; Luminate; Ed Cash, Paul Moak, Ben Glover; EMI CMG
Crazy Love; Hawk Nelson; ian Eskelin; BEC Recordings
Mountains Move; Kristian Stanfill; Jason Ingram, Rusty Varenkamp; EMI CMG
The Reckoning; NEEDTOBREATHE; ; Atlantic Records

Pop/Contemporary Album of the Year
Album Title; Artist; Songwriter/Director; Record Label
A Beautiful Life; MIKESCHAIR; Matt Brownlewee; Curb Records
Blessings; Laura Story; Nathan Nockels; Fair Trade Services, LLC
Hundred More Years; Francesca Battistelli; ; Fervent
One Song at a Time; Jamie Grace; Chris Stevens, David Garcia, Arch Nemesiz; Gotee Records
What If We Were Real; Mandisa; Christopher Stevens, David Garcia, Dan Muckala; EMI CMG

Inspirational Album of the Year
Album Title; Artist; Songwriter/Director; Record Label
A Man Like Me; Wes Hampton; Gordon Mote, Michael English, Nathan Zwald, Wes Hampton; Gaither Music Group
Captivated; Nicole C. Mullen; Ed Cash; Maranatha! Music
Faroe Islands; Russ Taff; Jakup Zachariassen; Spring Hill Music
God is Able; HILLSONG; Joel Houston, Reuben Morgan, Ben Fielding; Hillsong Music Australia
Hope Of The Broken World; Selah; Jason Kyle, Todd Smith, Allan Hall; Curb Records

Southern Gospel Album of the Year
Album Title; Artist; Songwriter/Director; Record Label
A LIFETIME OF MUSIC; JOHN HAGEE; MICHAEL SYKES, DAVID HUNTSINGER; DIFFERENCE MEDIA
Miracles & Memories; Bowling Family; Mike & Kelly Bowling, Terah Penhollow and Kathy Crabb Hannah; Big Ten House of Music
Part of the Family; Collingsworth Family; Wayne Haun; StowTown
Reach Out; Karen Peck & New River; Wayne Haun; Daywind
The Song Lives On; Jason Crabb; Bill Gaither; Gaither Music Group

Bluegrass Album of the Year
Album Title; Artist; Songwriter/Director; Record Label
A Mother's Prayer; Ralph Stanley; Ralph Stanley II; Rebel Records
Family Chain; John Bowman; John Bowman, Ben Issacs, Jimmy Edmonds; Pisgah Ridge
Grassroots Rambos; Rambo McGuire; Dony McGuire; Rambo McGuire Records
Indescribable: Bluegrass Meets Worship; Chigger Hill Boys & Terri; Mark Dunham; Daywind
Satisfied; Paul Williams & The Victory Trio; Paul Williams; Rebel Records

Country Album of the Year
Album Title; Artist; Songwriter/Director; Record Label
Brighter One; Marshall Hall; Marshall Hall, Jay DeMarcus, Michael English; Daywind
Dreamin' Wide Awake; Doug Anderson; Wayne Haun; StowTown
Family Ties; Wilburn & Wilburn; Ben Isaacs; Daywind
Going Places; Crabb Revival; Michael Sykes; Daywind
New Day; The Martins; Jay DeMarcus; Gaither Music Group

Urban Album of the Year
Album Title; Artist; Songwriter/Director; Record Label
Angel & Chanelle; Trin-i-tee 5:7; PJ Morton, Rockwilder, Fred Jerkins, Surefire Music Group, Andrew Scott, Tito Ali, Stan Jones, David Mullen; Music World Gospel
Church on the Moon; Deitrick Haddon; Deitrick Haddon; Verity Gospel Music Group
From Now On; Dawkins & Dawkins; Executive Producers: James Robinson Co-Executive Producer: Dawkins & Dawkins; Light Records
Something Big; Mary Mary; ; Sony
The Next Dimension; GI; Lamonte Harris, Curtis Langley, Marlon Anderson, Levi King, Tavis Simmons , Michael Clemmons, Derek Clark, Teraike Crawford, Joeworn Martin); BGA Music Group

Traditional Gospel Album of the Year
Album Title; Artist; Songwriter/Director; Record Label
How I Got Over; Smokie Norful; Jason Lyson; EMI Gospel
If you didn't know Now you Know; Norman Hutchins; Michael Bereal; co-producer Vicki Lataillade; Sueekey Entertainment/IR Music Group
Promises; Richard Smallwood; Steven Ford; Verity Gospel Music Group
The Legacy Project; John P. Kee; ; Verity
XV Live; Chicago Mass Choir; Percy Gray, Jr.; Jeral Gray, Sr.; New Haven Records

Contemporary Gospel Album of the Year
Album Title; Artist; Songwriter/Director; Record Label
Becoming; Yolanda Adams; ; N House Music
Change The Atmosphere; Christ Tabernacle Choir; Wayne Haun, Kevin Ward, Steve Carey; Vine
Committed; Committed; ; Epic
Hello Fear; Kirk Franklin; Kirk Franklin, Shaun Martin; Verity Gospel Music Group
Make It Loud; Martha Munizzi; Martha Munizzi; Martha Munizzi Muisic

Instrumental Album of the Year
Album Title; Artist; Songwriter/Director; Record Label
A Moments Peace, Vol. 3; Great Worship Songs Players; Christopher Phillips, Luke Gambill; Great Worship Songs
Feedback; Derek Webb; Derek Webb; Fair Trade Services, LLC
Inspirational Moods: Inspiring Hymns featuring Piano and Orchestra; Michael Omartian; Michael Omartian; Green Hill Productions
Jesus Calling: Instrumental Songs For Devotion; Various Artists; Steve Ivey; EMI CMG
Unfailing Love: 20 Worship Songs of Comfort and Peace; Stan Whitmire; Stan Whitmire; Green Hill Productions

Childrens Music Album of the Year
Album Title; Artist; Songwriter/Director; Record Label
From The Inside out For Kids; Kids Choir; Matt Huesmann & Steve Ivey; EMI CMG
Great Worship Songs For Kids, Vol. 5; Great Worship Songs Kids Praise Band; Dale Mathews, Luke Gambill, Johnathan Crumpton, Stacey Willbur, Daniel Deffenbaugh, John Andrade; Great Worship Songs
Groovy; Denver and the Mile High Orchestra; Jamie Statema, Denver Bierman and Darren Rust; Go Fish Kids Records
Hosanna! Today's Top Worship Songs for Kids; VeggieTales feat. Mark Hall from Casting Crowns and Amy Grant; Scott Williamson; Big Idea Entertainment
I Am A Promise; Gaither Vocal Band; Bill Gaither, Ben Isaacs; Gaither Music Group

Spanish Language
Album Title; Artist; Songwriter/Director; Record Label
25 Concierto Conmemorativo; Marcos Witt; Marcos Witt, Sergio Gonz?lez & Roberto Prado; CanZion
De Vuelta Al Jardin; Christine D'Clario; Integrity Music
Dile Al Corazon Que Camine; Jacobo Ramos; Integrity Music
M?s fuerte que nunca; Coalo Zamorano; Coalo Zamorano, Chris Rocha & Mike X Z??inga; CanZion
Somos uno; Generaci?n 12; Lorena Castellanos & Iv?n Contreras; CanZion
Top 25 Cantos de Alabanza 2012; Various; Phil Sillas; Maranatha! Music

Special Event
Album Title; Artist; Songwriter/Director; Record Label
Ashes To Fire: Songs of Remembrance and Celebration of the Passion; Consuming Worship; Dave Clark; Maranatha! Music
Medicine: Live At The Black Academy; Ruben Studdard and Various Artists; Sam "Shake" Anderson and Curtis King; MCG Records
Passion: Here For You; Passion; Nathan Nockels; EMI CMG
The Journey; Andrae Crouch; Luther "Mano" Hanes; Riverphlo Entertainment
The Story; Matthew West, Leigh Nash from Sixpence None the Richer, Mark Hall & Megan Garret from Casting Crowns, Brandon Heath, Bart Millard from Mercy Me, Michael Tait From Newsboys, Blanca Callahan from Group 1 Crew, Lecrae, Chris Tomlin, Peter Furler, Mandisa, Tod; Bernie Herms, Brown Bannister; EMI Provident, Word

Christmas Album of the Year
Album Title; Artist; Songwriter/Director; Record Label
A Skaggs Family Christmas Volume 2; Ricky Skaggs, The Whites, Molly Skaggs, Luke Skaggs, and Rachel Leftwich; Ricky Skaggs; Skaggs Family Records
Christmas Hope; Benjamin Utecht; David Grow, Brian Siewart, David Hamilton; Green Hill Productions
Christmas in Diverse City; TobyMac; Toby McKeehan, Christopher Stevens, Mike Woods, David Garcia, Victor Oquendo, SUPERHEROSE, Tre Corley, Arch Nemeciz, Tim Rosenau, Matthew Edwards, DOA Allen for the DESIGNATED HITTERS, Todde (toddiefunk) Lawton, Byron Mr. Talkbox" Chambers; EMI CMG"
Irish Country Christmas; Craig Duncan; Craig Duncan; Green Hill Productions
Oh For Joy; David Crowder*Band; David Crowder*Band; EMI CMG

Praise and Worship Album of the Year
Album Title; Artist; Songwriter/Director; Record Label
10,000 Reasons; Matt Redman; Nathan Nockels; EMI CMG
Aftermath; Hillsong UNITED; Michael Guy Chislett, Joel Houston, James Rudder, Christopher Stevens; EMI CMG
And If Our God is For Us..; Chris Tomlin; Ed Cash, Dan Muckala; EMI CMG
Ghosts Upon The Earth; Gungor; Michael Gungor; Brash Music
Make It Loud; Martha Munizzi; Martha Munizzi; Martha Munizzi Music

Musical of the Year
Album Title; Artist; Songwriter/Director; Record Label
Come and Adore Him; Dave Clark, Steve W. Mauldin; ; ; ; Lillenas Publishing Company
Down From His Glory; Mike Speck; ; ; ; Lillenas Publishing Company
Gone; Geron Davis; ; ; ; SpiritSound Music Group
Love Won; Kenna Turner West; ; ; ; Daywind
Mary, Did You Know? A Ready to Sing Christmas; Russell Mauldin, Sue C. Smith and Johnathan Crumpton; ; ; ; Brentwood-Benson Music Publishing

Youth/Childrens Musical of the Year
Album Title; Artist; Songwriter/Director; Record Label
Extreme, Songs for Modern Youth Choir; Cliff Duren and Johnathan Crumpton; ; ; ; Brentwood-Benson Music Publishing
God of This City; Susie Williams, David Ebensberger & Luke Gambill; ; ; ; Brentwood-Benson Music Publishing
Help! My Kids Have to Sing at Christmas!; Cherry Garasi; ; ; ; Lillenas Publishing Company
The Amazing Grace Race; ; ; ; Celeste Clydesdale, David T. Clydesdale; Word Music
The Great Christmas Giveaway; ; ; ; Celeste Clydesdale, David T. Clydesdale; Word Music

Choral Collection of the Year
Album Title; Artist; Songwriter/Director; Record Label
A Brooklyn Tabernacle Christmas; ; ; ; Carol Cymbala, Jason Webb; Word Music
Everlasting Praise 3; Mike Speck, Stan Whitmire; ; ; ; Lillenas Publishing Company
O What A Savior; Dave Clark, Steve W. Mauldin; ; ; ; Lillenas Publishing Company
Ready to Sing the Songs of Bill and Gloria Gaither; Russell Mauldin and Johnathan Crumpton; ; ; ; Brentwood-Benson Music Publishing
When the Stars Burn Down; Travis Cottrell; ; ; ; Brentwood-Benson Music Publishing

Recorded Music Packaging
Album Title; Artist; Songwriter/Director; Record Label
A Way To See In The Dark/Sp Ed.; Jason Gray; Joanna Dee; Joanna Dee; Centricity
Burlap To Cashmere; Burlap To Cashmere; Theodore Pagano; Sean Mosher Smith; Chris Phelps; Essential Records, Jive Records
Christmas In Diverse City; TobyMac; Jan Cook; Eddy Boer for Boerhaus; Lee Stephen, Ryan Lampa, Nick West
Leveller - Deluxe Box; August Burns Red; Ryan Clark; Jordan Crane; Cory Morton; Solid State Records
This Is What We Believe/Deluxe; Aaron Shust; Joanna Dee; Joanna Dee; Centricity

Short Form Music Video of the Year
Album Title; Artist; Songwriter/Director; Record Label
7&70; Chris August; Evan Kaufmann, Randy Peterson; Detail Film; Fervent
A Thousand Generations; Sean Spicer with Tilly Cryar; Dustin Marcellino; Yochanan Marcellino; City of Peace Films; City of Peace Media
As For Me And My House; John Waller; Dustin Marcellino; Yochanan Marcellino; City of Peace Films; City of Peac Media
Crazy Love; Hawk Nelson; John Reuben; BEC Recordings
Feed The Machine; Red; Erwin Brothers; Dan Atchison; Alabama Production Group; Essential Records
I Lift My Hands; Chris Tomlin; Nathan Corrona; Nathan Corrona; Dustbrand Films; EMI CMG
Miracles; Newsboys; TK McKamy; TK McKamy; Revolution Pictures; inpop Records
You Are More; Tenth Avenue North; Wes Edwards; Drew Langer; Ruckus Films; Reunion Records

Long Form Music Video of the Year
Album Title; Artist; Songwriter/Director; Record Label
A Skaggs Family Christmas LIVE; Ricky Skaggs, The Whites, Molly Skaggs, Luke Skaggs, and Rachel Leftwich; Matt Coale; Ricky Skaggs,Billy Paul Jones, and Charlotte Scott; RS Entertainment Inc.; Skaggs Family Records
Fear Not Tomorrow; The Collingsworth Family; Curt Casassa; Jim Hammond; P&KC Music; P&KC Music
Tent Revival Homecoming; Bill & Gloria Gaither and Homecoming Friends; Doug Stuckey; Bill Gaither, Barry Jennings, Bill Carter; Gaither Television Productions; Gaither Music Group
The Song Lives On; Jason Crabb; Doug Stuckey; Bill Gaither; Gaither Television Productions; Gaither Music Group
Yahweh; Hillsong Chapel; Luke Irvine; Executive Producer: Joel Houston; Producers: Reuben Morgan, Ben Fielding; ; EMI CMG