Passion Founder Louie Giglio Unveils SYMPHONY, I LIFT MY HANDS DVD;
Latest Installment in the Highly Successful Passion Talk Series Debuts March 13th
Alongside Passion: White Flag
Passion World Tour to Visit Vancouver on March 23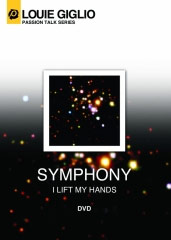 NEWS SOURCE: The M Collective
February 23, 2012
Nashville, Tenn... February 23, 2012… Just weeks before the Passion World Tour hits Vancouver, and alongside the March 13 release of the Passion: White Flag live album, Passion founder and recent GRAMMY ® nominee Louie Giglio will debut the latest in the 900,ooo+ selling Passion Talk Series, SYMPHONY, I LIFT MY HANDS. As seen by over 200,000 people on the 50-city Chris Tomlin "And If Our God Is For Us... Tour," SYMPHONY, I LIFT MY HANDS is one of Giglio's most compelling talks and one that left audiences spellbound.
"It's staggering when we begin to realize that all creation is singing the praises of the One who fashioned and formed the universe," comments Giglio about this special new series. "Yet, singing stars and earth's ovation cannot drown God's desire to hear your voice. In the midst of a miraculous and immense symphony of praise, God is still mindful of you, going to extraordinary lengths to give you life and breath through His Son."
The Passion Talk Series has received an astounding 7.5 million views on YouTube. To experience a preview of SYMPHONY, I LIFT MY HANDS, click here.
In addition to the release of SYMPHONY, I LIFT MY HANDS, March 13 also welcomes the debut of Passion: White Flag. Recorded live at Passion 2012, the project features sixstepsrecords' artists Chris Tomlin, David Crowder*Band, Charlie Hall, Matt Redman, Christy Nockels and Kristian Stanfill, along with the voices of more than 42,000 college students at Atlanta's Georgia Dome. The Passion World Tour will stop in Vancouver on March 23 and features Giglio, along with Chris Tomlin, David Crowder and Kristian Stanfill with future 2012 dates soon to be announced in Rwanda, Uganda and South Africa.
About Passion:
Centered on Passion's core scripture, Isaiah 26:8, the unique purpose of Passion is to gather college students from campuses and churches across the nation, uniting them across ministry and denominational lines to seek the face of God together in worship and prayer. Affirming and valuing the work of local churches and campus ministries, Passion seeks to foster unity and connectivity among them, encouraging them to draw strength and encouragement from each other, resulting in a louder anthem of God's renown.
About sixstepsrecords:
Founded in 2000 by Louie Giglio, sixstepsrecords is a worship label and a division of Passion Conferences. sixstepsrecords' artists include Chris Tomlin (How Great Is Our God: The Essential Collection) David Crowder*Band (Give Us Rest), Charlie Hall (The Rising), Matt Redman (10,000 Reasons), Christy Nockels (Life Light Up), Kristian Stanfill (Mountains Move), and Passion (Passion: Here For You). The label partners with Sparrow Records/EMI CMG Label Group for A&R, marketing, sales and distribution operations.