TOOTH & NAIL RECORDS' NINE LASHES SPLASHES ONTO
THE BILLBOARD HEAT SEEKERS CHART WITH LABEL DEBUT
NEWS SOURCE: Merge PR
February 24, 2012
Seattle, Wa -February 24, 2012 - Last week, Tooth & Nail's newest signing Nine Lashes debuted their album, World We View, to stellar reviews and fan response. This buzz band also debuted on the iTunes Rock chart last week peaking at No. 7 in addition to No. 5 on the Bilboard Heat Seekers chart and No. 3 on the Rock/Alternative charts (Christian).
During street week, media raved about this talented band and debut. HM Magazine stated that "If there is a new hard rock band built to succeed, it is definitely Nine Lashes." The album also received high ranks from JesusFreakHideout and NewReleaseTuesday in addition to the new reviews below.
"If you're looking for some new modern rock, Tooth & Nail Records' latest signing delivers." - The Mix Blog, Rhapsody.com
"Tooth & Nail newcomers Nine Lashes possess the kind of raw energy and massive sound that's sure to appeal to the rock set at large. The Alabama rockers' debut, World We View, is an eclectic mix of rock styles, and while it reveals a band still finding its sound, there's more than enough to provide a mid-winter pick-me-up to starving rock fans." - Crosswalk.com
"Nine Lashes has produced a satisfying debut record that hopefully won't go unnoticed and forgotten. Displaying a note-worthy amount of maturity, the band has garnered a new listener... I can see the World We View easily being popular amongst those who enjoy Christian rock or a good rock album in general." - The New Review
Taking their rock energy show on the road, Nine Lashes is currently on the REDvolution tour featuring RED, Thousand Foot Krutch and Manafest. Dates below.
- ### -
About Nine Lashes:
Nine Lashes is Jeremy Dunn- vocals, Noah Terrell- drums, Jared Lankford- bass, Adam Jefferson- guitar and Jonathan Jefferson- guitar. This Alabama-reared band worked with producer Aaron Sprinkle crafting their national debut. Together, the team turned in a sophisticated blend of modern, alternative and indie rock, undercut by a slew of rhythmic influences, cutting edge beats and even an appearance from screamo legend Ryan Clark (of Demon Hunter fame) on "Our Darkest Day" and Thousand Foot Krutch's Trevor McNevan on "Adrenaline."
Follow their journey on Twitter @NineLashes and on Facebook for updated information and tour dates.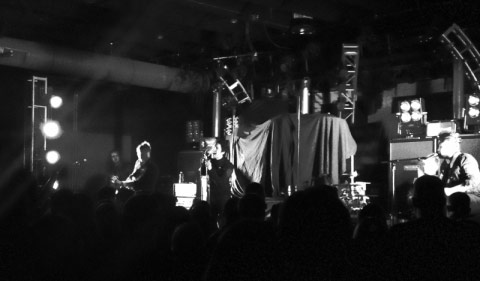 REDvolution Tour Dates - all dates subject to change
February 24 North Charleston, SC
February 25 Jacksonville, FL
February 26 Saint Petersburg, FL
March 8 Corpus Christi, TX
March 9 Dallas, TX
March 11 Tulsa, OK
March 15 Las Vegas, NV
March 16 Redlands, CA
March 17 Phoenix, AZ
March 18 Albuquerque, NM
March 19 El Paso, TX
March 21 Wichita, KS
March 22 Fort Smith, AR
March 23 Sauget, IL
March 24 Fort Wayne, IN
For more info on Nine Lashes visit the JFH Artists Database.