New Collection Celebrates Decade of Music From
Grammy Award Winner Israel Houghton
Two-Disc Set Available March 6, Features 26 Beloved Songs Including "Friend of God," "Not Forgotten," "Moving Forward," "You Are Good" and New Congregational Favorite "Jesus At The Center"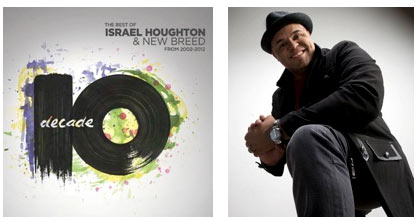 NEWS SOURCE: Integrity Music
February 27, 2012
Colorado Springs, Colo. (February 27, 2012) - - Over the past decade, Israel Houghton has amassed a legion of fans while blasting down musical barriers and drawing together people of all ages, races and cultures through worship. On March 6, Integrity Music celebrates the past 10 years of Houghton's music and ministry with Decade, a two-disc collection that includes 26 of his best-loved songs including "Friend of God," "Moving Forward," "New Season," "Say So" and many more.
As a worship leader, songwriter, producer, multi-instrumentalist and leader of the ministry ensemble New Breed, Houghton has created a canon of songs that have become standards in houses of faith around the globe. And along the way, has been fittingly graced with six Dove Awards, two Stellar Awards, a Soul Train Award and four Grammy® Awards.
Decade features songs that are fan and congregational favorites from Houghton's celebrated albums including New Season, Real, Live From Another Level, Alive in South Africa, A Deeper Level, The Power of One and Love God.Love People. The collection also includes the new song "Jesus At The Center," which will be featured on Houghton's new live recording titled Jesus At The Center available this fall.
"After a Decade worth of projects, hundreds of songs, thousands of nights of worship, and hundreds of thousands of people who have allowed us to usher them to Jesus, whether by way of recording or live events, I am so grateful that you gave us an opportunity to worship with you," says Houghton. "Thank you for singing songs like 'You Are Good,' 'Friend of God,' 'Alpha and Omega,' 'Moving Forward,' and so many others and for responding to us over the last decade with such humbling words of encouragement."
"There's one decade down and generations more to come," he adds. "We feel like we're just getting started and we're already putting finishing touches on the first project of the next decade!"
The complete tracklist for the Decade album is: Disc 1
1. Friend Of God
2. Again I Say Rejoice
3. You Are Good
4. We Have Overcome
5. Not Forgotten
6. Who Is Like The Lord
7. New Season
8. Alpha And Omega
9. No Limits (Enlarge My Territory)
10. To Worship You I Live
11. There's A Lifting Of The Hands
12. Hosanna (Be Lifted Higher)
13. Jesus At The Center Of It All
Disc 2
1. Saved By Grace
2. Just Wanna Say
3. With Long Life
4. Nothing Else Matters
5. Love God. Love People.
6. Going to Another Level
7. I Know Who I Am
8. Say So
9. The Power of One (Change The World)
10. You Hold My World
11. If Not For Your Grace
12. Another Break Through
13. Moving Forward
Decade will be available everywhere Christian music is sold beginning March 6. It will be distributed to Christian retail stores through Provident Distribution and to mainstream stores through Sony Music Entertainment. A digital deluxe version of Decade, featuring additional songs and videos, will be available exclusively through iTunes.
A worship leader and member of Houston's Lakewood Church, Israel has also led worship for Hillsong conferences, Franklin Graham crusades and a variety of music festivals around the world. Houghton is the leader of New Breed Ministries, an organization comprised of noted musicians and singers who serve within their respective churches and together serve the Church at large. Additional information can be found at http://newbreedmusic.com.
# # #
For more info on Israel Houghton visit the JFH Artists Database.