JFH NEWS SHORTS FOR TUESDAY MAY 8, 2012
News on Anberlin, Spoken, Chris August, War of Ages, Kutless, Leviticus, Blue Like Jazz, Warr Acres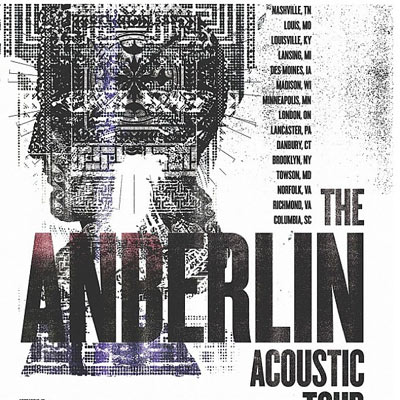 NEWS SOURCE: a Jesusfreakhideout.com report
May 8, 2012
>> Anberlin Announces Acoustic Tour
This week, Anberlin announced a new acoustic tour coming to a city near you this spring, "Hey guys - so we have been wanting to do something for a while now and are finally able to make it happen. We are heading out on a short run of dates next month and we will be approaching our songs from a slightly different perspective...stripped down, acoustic, alternate, intimate, redux, re-approached, etc. All of these will factor into the set... We will be hitting smaller rooms, and playing some cities and areas we don't get to that often. We wanted to attempt something special for you guys, and we hope you'll bring some friends and family out to experience it and sing along with us." The band has been working on a new album, too, which is set to release later this year. (from Anberlin.com)
>> Help Spoken Make Their New Album!
While it's already fully funded, you can still help Spoken (and therefore preorder) the band's brand new album via Kickstarter. The still untitled album will be the guys' first new studio album since their self-titled 2007 album on Tooth & Nail Records. Check out their Kickstarter campaign here!
>> Chris August Recovers From Recent Head Injury
He's been busy in the studio working on a new album with producer Ian Eskelin, but recently things came to a hault for Chris August after he suffered a head injury while skateboarding. His website, ChrisAugustMusic.com announced on April 26, "We regret to inform you that Chris August suffered an injury Tuesday night in a skateboarding accident and has been hospitalized. Due to this accident, we are sorry to have to announce that he is unable to participate in this weekend's concerts. On behalf of Chris, his family, and his friends, we ask for your thoughts and prayers as he recovers and his body heals." For the latest on Chris, visit http://www.chrisaugustmusic.com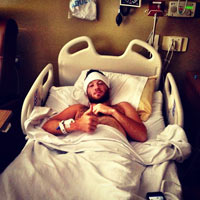 Photo: Chris August in the hospital on April 27th.
Credit: Chris August's Instragram
>> War of Ages Debut New Music Video
With their new album, Return To Life, out now, War of Ages has debuted a brand new video for their song "Silent Night." Directed by DJ Cosgrove of RSM Creative, you can view the video for "Silent Night" here: http://youtu.be/JtzuG5KbaiY (from Facedown Records)
>> Kutless Drummer Exits Band
Kutless recently announced their departure of longtime drummer, Jeff Gilbert, "After 7 years and hundreds of thousands of miles traveling together, sadly the time has come for Kutless and our drummer, Jeff Gilbert, to part ways. We wish him the best and are looking forward to seeing how God continues to use him in his new endeavors. Please be praying for both Jeff and Kutless during this time of transition as we both pursue God's will in our lives and ministries. Good luck Jeff, we love you and we're going to miss you!" (From Kutless.com)
>> Leviticus Return With New Song
Last Saturday, at the Rock For God's Sake in the Pentecostal Church in Orebro, Sweden, Swedish heavy metal legends Leviticus played a new song, titled "You're The One For Me." The song is the first new song Leviticus since 1989. After a brief comeback in 2003, when the live album "Live At Bobfest" was released, Leviticus reunited in May last year when the band celebrated 30 years. Leviticus does not dare to promise a new album yet, but "You're The One For Me" shows that the joy of playing is back. Listen to the song here: http://www.youtube.com/watch?v=NpTlzDv9qQM (from Rickard Bransell, Noizegate Music magazine, Sweden)
>> Blue Like Jazz Movie Soundtrack Announced; Features New Steve Taylor Song!
If you enjoyed the music in Steve Taylor's latest feature film, Blue Like Jazz, you're in luck! The folks behind the film have announced preorder options for the project, which includes a brand new song from Steve Taylor--his first new song since 2000's "Shortstop" on the compilation Roaring Lambs. Click here for more details on the soundtrack.
>> Warr Acres Debut New Music Video
Warr Acres' new radio single, "You Are Joy," has been released as a new music video as well. The song can be heard on their new self-titled album from Dream Music. Check it out here: http://www.youtube.com/watch?v=PL6o9HNbbv0
For more info on these artists, visit the JFH Artists Database.