SUCCESSFUL STREET WEEK FOR LEGENDARY VOCALIST JOHN SCHLITT AND THE GREATER CAUSE
Media Interviews, Special Appearances, Top Charting News Surround CD Release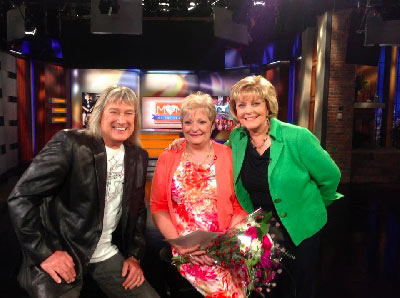 NEWS SOURCE: McCain & Co. PR
May 18, 2012
NASHVILLE, Tenn. (May 18, 2012) - Multiple Grammy and Dove Award-winning recording artist John Schlitt enjoyed a busy and successful Street Week surrounding the May 8 release of The Greater Cause, with the vocalist's first CD since 2008 claiming top spots on the Amazon sales charts, as well as landing on iTunes' prestigious "New and Noteworthy" list. The Gospel Music Hall of Famer's schedule also included radio and TV interviews and special appearances, including taking part in the Mother's Day edition of 700 Club Interactive.
"It has been an exciting week," John Schlitt says. "Interest in the CD and reaction to The Greater Cause has been great. I couldn't be more encouraged with personal comments I've heard and reviews. And it looks like it's just getting started."
Within days of the release of The Greater Cause, the CD had landed at No. 2 and No. 4 on amazon.com's Christian Praise and Worship music chart and Christian Contemporary music chart, respectively. Simultaneously, editors at iTunes selected the CD for its "New and Noteworthy" listing, providing premium exposure for Schlitt's latest musical offering.
Schlitt celebrated the release of The Greater Cause with an exclusive listening party for fans at the Pethead "PC3" Indy convention, multiple media and radio interviews and features, including NewReleaseTuesday.com, HearItFirst.com, Jesusfreakhideout.com, Hardrock Haven, KORB-Broken FM in Santa Rosa, Calif., where the station played the entire CD for its listeners, and a live morning drive-time interview with Billboard reporting station, Static Radio in Albuquerque, N. Mex.
"Not gonna lie…one of my personal favorite interviews ever," says Stevo Jeter, program director and morning show host at Static Radio. "(John) knocked it out of the park. So much fun!" Schlitt finished the week with two special events. First, he traveled to Virginia Beach, Va., where he was part of the surprise when Jeanelle Rawles was honored as the 2012 Mom of the Year on the May 11 episode of the Christian Broadcasting Network's (CBN) 700 Club Interactive. The show, which airs daily on the ABC Family Channel, can be viewed online at cbn.com/700ClubInteractive. Next, he was a guest at New Day Christian Distributors' Hendersonville, Tenn., headquarters, where he shared a morning devotional and talked about his new CD with the staff.
"Hope That Saves The World" also surged from No. 57 to No. 28 on the Christian Music Weekly (CMW) Rock chart during Street Week, with the single in heavy rotation at such notable stations as KVRK-Dallas, and KORB-Broken FM.
"He's still got it!" says Chris Goodwin, music director at Dallas' KVRK, says of Schlitt.
The Greater Cause is available from 4K Records and distributed by New Day Christian Distributors. For more information about Schlitt and The Greater Cause, go to johnwschlitt.com. Photo caption: Legendary vocalist John Schlitt, left, helps surprise the 2012 Mom of the Year, Jeanelle Rawles, center, on the May 11 episode of 700 Club Interactive with hosts Gordon Robertson (not pictured) and Terry Meeuwsen, right. (CBN photo)
About John Schlitt:
With more than three decades worth of water under the musical bridge, John Schlitt has enjoyed a stellar career as a solo artist, as the former lead singer for Grammy Award-winning Christian band Petra, one of the most successful Christian rock bands of all times, and as the former lead singer for popular '70s mainstream rock band Head East.
Schlitt has been inducted into the Gospel Music Hall of Fame as the lead singer of Petra during the years when the band won 10 Dove Awards and four Grammy Awards. Schlitt was recently named the best rock singer in Christian music history by GospelMusicChannel.com. According to the website, Schlitt "remains one of the most distinctive and impactful men to ever stand behind a microphone." Schlitt was also named Male Vocalist of the Year in About.com's 2011 Readers' Poll in a category that included Chris Tomlin, Jeremy Camp, Brandon Heath and Bebo Norman. Follow John Schlitt on Twitter (@johnwschlitt) or Facebook (facebook.com/johnwschlitt).
For more info on John Schlitt visit the JFH Artists Database.