Project 86 to Release New Studio Album Wait For the Siren August 21, 2012
NEWS SOURCE: Project 86
May 22, 2012
Los Angeles, CA--May 22, 2012--In the three years since Project 86's last release Picket Fence Cartel, band founder and front man Andrew Schwab has been inspired by the idea of getting back to his roots-and why he started the band back in 1996.
"The first time I walked on stage to perform it felt foreign, other-worldly. The freedom I felt was powerful. We were part of an underground movement that took hardcore and made it accessible. With the new album, Wait For the Siren, I wanted to pull from a similar place emotionally while integrating new sounds, new instruments and new collaborations."
Schwab called on an all-star lineup of musicians to join him in the studio and bring his vision for P86's 8th album to fruition. The new album features Andrew Welch (Disciple), Blake Martin (A Plea for Purging), Rocky Gray (Evanescence), Cody Driggers (The Wedding) and guest vocal appearances by Bruce Fitzhugh (Living Sacrifice), Brian "Head" Welch (Korn, Love and Death). To help steer the recording process, Schwab also tapped Nashville producer Steve Wilson (Juliana Theory, Jonezetta) and engineer/mixer Steve Blackmon (The Showdown, Hank Williams Jr). As the chief songwriter and co-producer, Wait For the Siren has become an opus of sorts for Schwab:
"On this record I was really able to take the reins of the creative process in a direction I was passionate about. I was able to write songs that pushed me to grow as an artist. I was also empowered by a great sense of camaraderie in working with so many talented friends."
P86 has always taken a progressive approach to the evolution of their patented sound. Wait For the Siren is a combination of what fans have come to expect--a blend of heaviness, melody, and lyrical prowess--but Schwab has added another layer this time around, using his personal lineage as influence on sonic growth:
"My ancestors came over from southern Ireland, and during the process of writing this record, I went on a journey of personal discovery, hoping to better understand who I am in the context of where I come from. So, there are some definite lyrical themes of ancestry, breaking generational curses, and the fight for territory, as a metaphor for personal discovery. We even added some instrumentation which captured some of these themes--hammered dulcimer, mandolin, and Ueallian pipe. Adding these to the heavy elements really took the music to an epic place, where you can almost taste the fight in these songs."
There is little doubt that this chapter in P86's history is about reinvention. Not only is this true in the musical sense, but in the lineup as well. And the changes are palpable, with fans being treated to a reinvigorated live show which includes Scott Davis on drums, Dustinn Lowry on guitar, and Mikee "Norman" Williams on bass. Schwab is excited by P86's new direction:
"I look at it like any living organism: there are times when you have to be pruned in order to grow back stronger. If it's a truly inspired change, it will show."
The band has a busy touring season ahead and will be hitting the road again this summer on the Wait For the Siren US tour with special guests I Am Empire on the west coast and Wolves At the Gate on the east coast. P86 will also be featured on more than a dozen premiere summer festivals, including appearances at Purple Door, Creation East/West, Spirit West Coast, Kingdom Bound, Lifest, Soulfest, Joshua Fest, Uprise Festival, Awesome God Fest, Jesus Fest and more. Project 86's new album Wait For the Siren is slated for release on August 21, 2012 and the band's debut single "Fall, Goliath, Fall" will be hitting rock radio at the end of May.
Additional info on Project 86:
P86's music has been featured on television shows such as: MTV's Real World/Road Rules, Parental Control, Date My Mom, Next, One Bad Trip, Pimp My Ride and Viva La Bam. They have also been featured in EA games WWE Raw vs. Smackdown, NFL Tour 2008, Project Baja Racing, Arena Football as well as Indie film "Pathology" and Spike TV show "The Shield". They have been spotlighted in Billboard Magazine, Alternative Press, Outburn Magazine, Mean Street Magazine, Revolver Magazine, HM Magazine, CCM and Relevant Magazine. The band has also had live performances on G4's Attack of the Show along with appearances on major national rock outlets such as: KROQ-Los Angeles, WXDX-Pittsburg, The Edge-Tulsa, KRXQ-Sacramento, KRZR Fresno and more. Project 86 has toured with artists such as Linkin Park, P.O.D, Sevendust, Trapt, 30 Seconds to Mars, Queensryche, Taproot, Finger Eleven, August Burns Red, Haste the Day, Disciple, Brian "Head" Welch and Blindside. The group is also a 3 time Dove award nominee, has 8 No. 1 singles, received multiple SESAC awards, as well as the Orange County Music award for Best Hard Rock Performer.
For more information regarding P86 visit project86.com or facebook.com/project86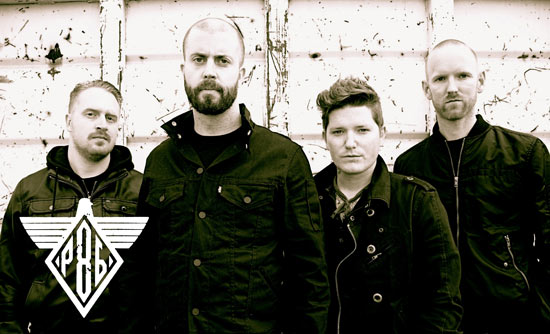 For more info on Project 86 visit the JFH Artists Database.