EXPERIENCE VEGGIETALES® LIVE THIS SUMMER IN BRANSON, MISSOURI!

BIG IDEA ENTERTAINMENT PRESENTS
VEGGIETALES LIVE! GOD MADE YOU SPECIAL
AT THE MANSION THEATRE FOR THREE WEEKS BEGINNING JUNE 20
VeggieTales Live! Show Is Sure To Warm The Hearts of Kids and Families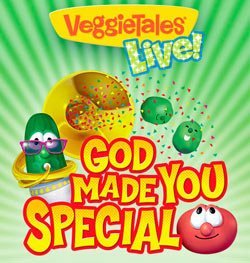 NEWS SOURCE: Hoganson Media
May 24, 2012
FRANKLIN, TN (May 24, 2012) -- Big Idea Entertainment, a leading studio and producer of children's and family programming, characters and brands, announced today that the VeggieTales Live! God Made You Special show is coming to Branson, Missouri, a family destination in the Ozark Mountains, for three weeks starting June 20 through July 7, 2012. For current tour dates, ticket information and group sales, please visit VeggieTales.com/live, TheMansionTheatre.com, or call (866) 707-4100.
Popular VeggieTales® characters Bob, Larry and the rest of the cast share timeless values and lessons that celebrate just how unique and special each person is in a high-energy musical extravaganza. The show includes crowd-pleasing Silly Songs like "His Cheeseburger," "Love My Lips," "The Hairbrush Song" and many more. The VeggieTales Live! God Made You Special tour debuted in February 2012 and hit 40 different cities nationwide for nearly 50 performances through mid-April.
"We're looking forward to bringing this entertaining VeggieTales Live! show to families visiting Branson," said Leslie Ferrell, General Manager of Big Idea Entertainment. "The summer season is the perfect time to bring families together, and this show is filled with memory-making experiences for both parents and their children."
Chick-fil-A's Springfield, MO location has partnered with Big Idea Entertainment and The Mansion Theatre for the VeggieTales Live! God Made You Special summer stage production. This Chick-fil-A will distribute VeggieTales Live! postcards and VeggieTales coloring sheets inside each kid's meal, in addition to displaying show posters beginning May 21 through July 7 and offering onsite family packs with VeggieTales Live! Tickets during the shows at The Mansion Theatre.
About Big Idea Entertainment
Big Idea Entertainment is a leading studio and producer of children's and family programming, characters and brands. Big Idea's best-selling series VeggieTales® is a leading animated home video series in the US with moms of pre-schoolers*. Since 1993, VeggieTales® has sold 60+ million videos, 13 million books and more than 7 million CDs. VeggieTales® and Big Idea's property, 3-2-1 Penguins!®, enjoyed four seasons as top-rated series on NBC Saturday mornings, Telemundo and ION TV via the qubo® children's programming block. The studio's two theatrical releases, Jonah-A VeggieTales Movie® (2002), and Universal Pictures' and Big Idea's The Pirates Who Don't Do Anything®-A VeggieTales Movie® (2008), are distinguished among the most successful faith-based films of all time. Big Idea also maintains an extensive presence in publishing, licensing and live entertainment arenas. For more information on Big Idea, visit: www.VeggieTales.com.
*Spring 2011 Q-Score
About The Mansion Theatre
The beautiful Mansion Theatre and Entertainment Center sits atop the highest hill in the nation's live entertainment capital-Branson, Missouri! The Mansion is a 3,000 seat state-of-the-art entertainment venue with the best that sound and lighting technical advancements have to offer. The theatre was originally built in 1992 (with construction beginning in 1991) for performer Wayne Newton. The Mansion's stage is backed with a full multi media 60 feet by 20 feet projection screen. The Mansion's capabilities with its three high resolution projectors are 3000 pixels, nearly twice the quality of a high resolution TV. The Mansion uses the three projectors to overlap images to produce what you see on the screen. Other features of The Mansion include: extensive parking facilities, easy entry, handicap access, elevators, production and stage access for special promotions or conventions (complete with a full staff - sound, lights, stage, etc.). The Mansion can provide specialty catering in its expansive lobby, sales space to your members and customers, as well as box office, concessions, and ushers. When broadcast quality digital video meets a superb audio facility in a venue like The Mansion…anything can happen! For more information on The Mansion Theatre, visit: TheMansionTheatre.com.
# # #