WOMEN OF FAITH, THE NATION'S LARGEST LIVE EVENT FOR WOMEN, LAUNCHES ALL NEW LIFE-CHANGING EVENT NATIONWIDE
Women of Faith urges audiences to "Celebrate What Matters" in 2012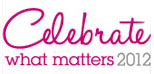 NEWS SOURCE: Rogers & Cowan
June 11, 2012
Plano, Texas (June 11, 2012) -- Women of Faith, the nation's largest live event for women, will unveil its most transformational tour yet: "Celebrate What Matters." The cross-country tour will highlight some never-before-seen elements including a live worship band, a new state-of-the art stage and live ballet, among others. This revitalized experience features a 4-month, 23-city North American tour launching on August 3rd in Columbus, OH with a diverse line up of 27 well-known speakers, authors, musicians and performers spread throughout.
"I'm honored to return to Women of Faith and the 'Celebrate What Matters' tour," said Max Lucado, pastor and international best-selling author. "This tour endeavors to remind women of their value to their Father God. I can't think of a worthier goal. That's something to celebrate!"
Women of Faith, reaching 4.6 million over the last 16 years, is reaching out to women across the nation to say: this is a never-been-done-before tour that you don't want to miss. "Celebrate What Matters" will give attendees hope and reason to celebrate, knowing that God loves them. It will feature, new to Women of Faith, inspirational speakers including Ann Voskamp, Jennie Allen, Pat Smith and Liz Curtis Higgs. Multi-award winning CeCe Winans returns to Women of Faith along with Mandisa, Amy Grant and Selah. Women of Faith favorites such as Sheila Walsh, Patsy Clairmont, Sandi Patty, Brenda Warner, Marilyn Meberg, Andy Andrews, Ken Davis and Lisa Harper are back to deliver personal stories that share a fresh, deep and honest message of God's love. Other well-known speakers will join to create a unique line-up for each city.
"It doesn't matter how old or young you are, your life is broadened or diminished by the company you keep," said Amy Grant, multi-award-winning Christian music pioneer. "Being part of the Women of Faith community has given me new tools of laughter, hope, anticipation and courage for this chapter of life."
Enhancing this live experience is Ballet Magnificat!, the world's premier, professional Christian ballet company. Ballet Magnificat! will bring Scripture and songs to life through visual and artistic witness. The new stage design will also allow the audience to engage on a more personal level, with speakers and performers positioned in the aisles and on satellite stages. "We want (the women attending) to see the power of the living God, His awesomeness and His holiness," said CeCe Winans, Grammy Award winning singer, songwriter and author. "Nothing is more powerful than when you are face to face with God."
This year, Women of Faith seeks to build on its 16-year foundation and take the in signature event to the next level for a new, uplifting and transformational experience for women to grow closer to God. It believes when individuals know that they are fiercely loved by God, just as they are, that is the beginning of living free. According to Women of Faith, living in freedom allows one to celebrate what matters in all aspects of life.
To find a city hosting "Celebrate What Matters 2012" or for more information about the event, go to www.WomenofFaith.com/events, or on Facebook or Twitter.
Live Event Management, Inc., a Thomas Nelson company, based in Plano, Texas, is the leading nationwide producer of Christian live events. It produces Women of Faith® and The Revolve Tour® events in multiple cities across the United States, inspiring women to grow in faith and spirituality. For more information on these events, please visit www.WomenofFaith.com or www.RevolveTour.com. Thomas Nelson, Inc. is the largest Christian publisher in the world. For information about Thomas Nelson, please visit www.ThomasNelsonCorporate.com.